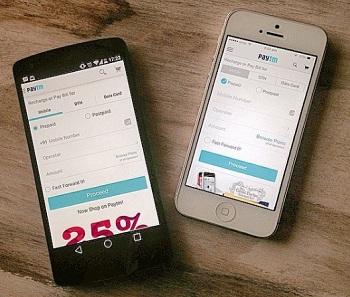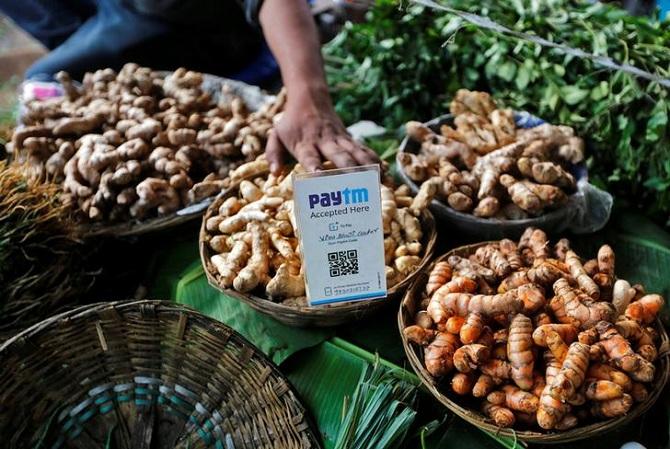 IMAGE: Many people use mobile wallets only to avail discounts or cashbacks and did not store money in the wallets. Photograph: Shailesh Andrade/Reuters.
Sai Manish & N Sundaresha Subramanian offer a fresh perspective on the digital wallet business.
Paytm might now be riding the demonetisation wave, adding wallet users by the millions and transactions in crores. But as of March, most of its wallets had little or no money. The average balance of Paytm wallets at the end of September was Rs 22, meaning a good number of these had balances less than that.
Business Standard accessed the auditor's quarterly certificate of the escrow account filed by One97 Communications, the company that operates Paytm, with the ministry of corporate affairs. These filings offer a fresh perspective on the wallet business as these numbers are not cited or analysed often.
As on September 30, the balance in the account was Rs 332.7 crore.
Paytm's public statements have quoted 150 million as the number of active customers before demonetisation. The average wallet balance for these customers thus works out to around Rs 22.
This is lower than the figures six months ago, when the firm had fewer customers and a slightly higher escrow balance. As on March 31, the balance in the account was Rs 339 crore.
In April, Peng Yije of Ant Financial, One 97's largest investor, claimed it had 122 million active users at the end of March. This translates into roughly Rs 28 on an average in every wallet.
Wallet sizes of competitors ranged between Rs 6 and Rs 40.
Mobikwik, a relative new entrant with 32 million users, had an escrow balance of Rs 20.5 crore, filings showed. This worked out to Rs 6 per wallet.
Similar filings for others such as Oxigen and Freecharge were not available.
According to Reserve Bank of India regulations, wallet companies are required to keep their money in a segregated escrow account. An escrow account is one in which a third party holds the money of the customer to be paid to another party. Money in the account cannot be diverted for any other use, except for the one for which it is meant.
Paytm's escrow account submissions show its lowest quarterly balance during the last quarter of 2015-16 was Rs 2.5 crore. At this level, the average wallet size was about 20 paise. Even if the maximum quarterly balance of Rs 367 crore is taken into account, it works out to roughly Rs 30 in every account.
Madhur Deora, chief financial officer, Paytm, referred e-mail questions, seeking average size of wallets and other financial details to the company spokesperson. E-mails and subsequent reminders to the spokesperson last week did not elicit a response.
Pramod Saxena, managing director, Oxigen Services, said the average sleepover balances was around Rs 40 for Oxigen. He said averages could vary, depending on the parameters companies use to define active users and the mechanisms used such as cash collection systems and proportion of cashbacks.
Assuming a portion of the users maintained significant balances in their wallets, there is a high possibility that a large number of Paytm wallets had zero balances, said an analyst with one of the big four consultants. The analyst added that many people use mobile wallets only to avail discounts or cashbacks and did not store money in the wallets themselves.
Even the average balance of Rs 22 was an improvement over the previous year.
On April 30, 2015, the average balance in Paytm's escrow account with a private sector bank was only Rs 13. It had around Rs 128 crore in the account with 100 million users in its kitty during the time.
However, the number of registered merchants fell to 39,671 at the end of FY16 from 54,665 at the end of FY15. At the end of September 2016, this jumped to 73,846 merchants. Share of funds transfers in total payments made increased to 20.7 per cent in September from 11.6 per cent in March and 2.4 per cent the previous year.
In comparison, Mobikwik had 1,100 merchants and a funds transfer ratio of 27 per cent.
As part of these disclosures, the firm said a portion of the payments went to One 97 itself. A column in the annexure to the escrow account statement reads 'liability to One 97 as merchant'. Account details, pertaining to March 21-31 this year, reviewed by Business Standard, shows the highest "liability to One 97 as merchant" was almost Rs 44 crore on March 27. Between April and June in 2015, the highest "liability to One 97 as merchant" was around Rs 17 crore.
Mobikwik did not have such liabilities to own company as merchant.
Company documents show in India, similarly-named companies include One 97 Communications India and One 97 Enterprise Mobile Solutions. It also has subsidiaries of the same name in African countries like Ghana, Uganda, Rwanda, Tanzania, Kenya, Benin, South Africa and Ivory Coast.