The first half of 2019-20 will be under pressure, since prices are expected to go up by Rs 7,000-8,000 at a time when sentiment is poor.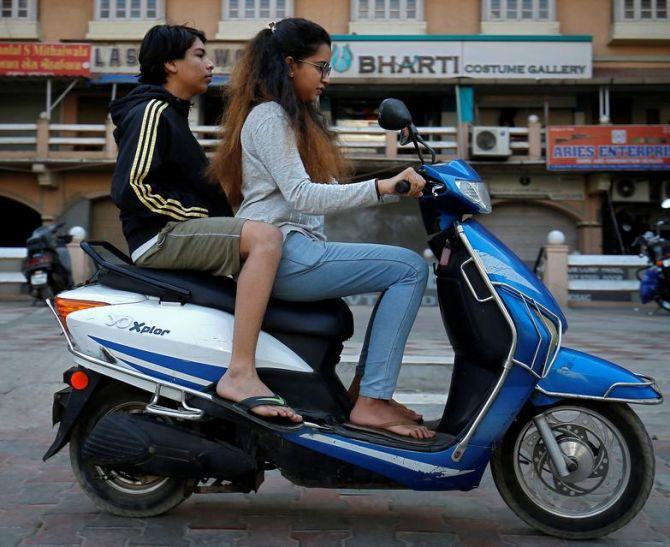 Scooter sales, after having dropped in 2018-19 for the first time in 13 years, are expected to see pressure for at least the first half (April to September) of this financial year.
Scooters account for nearly a third of all two-wheeler sales.
Buying sentiment is down in urban and semi-urban markets, and the price is also expected to go up, due to cost factors.
Industry experts said firms were likely to come out with products with engines below 125cc to address the cost factor.
While the top three firms - Hero, Honda and TVS - did not comment for this report, dealers and analysts said the first half of 2019-20 will be under pressure, since prices are expected to go up by Rs 7,000-8,000 at a time when sentiment is poor.
The price rise is due to various new regulations and required compliance.
The latter would be less for products below 125cc, which is why companies are expectd to offer more here.
"We would see some uptake from only the second half," said a senior official at one of the top manufacturers, who asked not to be named.
Rakesh Batra, partner at consultancy EY India, said high FY19 year-end inventory was likely to depress production in this year's first quarter.
An increase in disposable income of the middle class, on the back of a tax rebate announced in this year's interim government budget, will give some help for sales.
The segment is also expected to see some pre-buying during the second half of the financial year, ahead of the implementation of the stricter BS-VI emission norms (which take effect from April 2020).
"We believe the industry and scooter segment would see mid single-digit growth over the next two years.
"We believe that pre-buying ahead of BS-VI implementation would help FY20, while FY21 would see more turbulance," said Reliance Securities.
Scooter sales dropped 0.3 per cent to 6.7 million units in 2018-19 from the previous year, the first drop since a 1.5 per cent decline in 2005-06.
On the other hand, motorcycle sales rose 8 per cent, according to the Society of Indian Automobile Manufacturers (Siam).
Scooter sales grew at a compounded annual 18.1 per cent rate during 2013-18.
Vinkesh Gulati, vice-president of the, Federation of Automobile Dealers Associations, said scooters are more of an urban and semi-urban story.
In the past year, people have been facing problems since the economy was not growing enough - including salaries, investments in gold or mutual funds, in share prices and others.
This affected sentiment and people decided to postpone a replacement of adding of a two-wheeler at home, which is 60-70 per cent of sales.
Batra said the cost of ownership rose due to higher insurance fees, fuel prices and interest rates.
Also, some one-off factors, such as regulatory changes in West Bengal and floods in Kerala.
"Another very scooter segment-specific trend was low job growth in the urban and semi-urban parts of the country, due to slowing white collar job growth and impact of the goods and services tax," said Batra.
He also said the high base on which FY19 growth was measured, after strong growth over the earlier five to six years.
Mitul Shah, vice-president at Reliance Securities, said: "Apart from the high base, higher discounts offered by Bajaj Auto in FY19 and aggressive pricing for entry-level bikes (motorcycles) motivated some to shift from scooters.
"In the second half of FY19, the overall industry (also) got impacted by high insurance cost, the NBFC (non-bank financiers) liquidity crisis and rural slowdown, impacting the overall two-wheeler industry."
Photograph: Amit Dave/Reuters