What worked for Hyundai in India when so many other auto manufacturers have had to eat humble pie?
Pavan Lall finds out.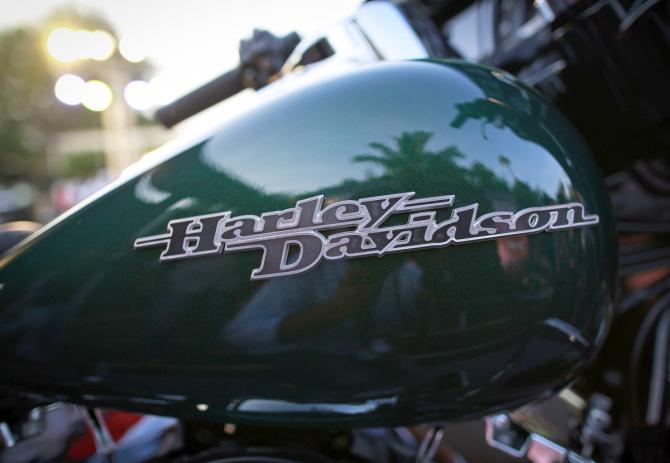 In recent weeks, cult motorcycle company Harley-Davidson made waves as it announced its exit from the subcontinent just seven months after buzz that US President Donald Trump would actually push for favourable trade terms on his visit here.
The goal being that Harley could up the ante in terms of its Indian footprint. Instead, the company that the 1969 Peter Fonda-starrer Easy Rider made famous, slammed the brakes hard on sales and manufacturing operations, taking a $75 million hit because it missed volumes and revenue targets.
Such failure isn't uncommon.
Between 2014 and 2015, General Motors CEO Mary Barra came to India not once but three times. Eventually, its company Chevrolet, which started here over two decades ago, threw in the towel and announced in 2017 that it would pull out of the country altogether.
The other American automotive icon, Ford Motor Co, which started in India, fared marginally better. It first came here in 1995 with a joint venture with Mahindra & Mahindra (M&M), which didn't last long and then got some traction with its first car, the Ikon, in 1999 that was truly made for India.
Its Fiesta hatchback and EcoSport threw up successful numbers but slowed down as the company ran out of new cars to launch.
In 2019, Ford announced that it once again would partner with M&M, which had a chequered history around partnerships: M&M-Renault (2007), Mahindra-Navistar (2005) and M&M-Ford (1995), all struggled to hit pay dirt and ended unsuccessfully.
India is a vibrant auto market and despite the downturn, became the fifth-largest in 2019 with sales reaching 3.81 million units.
It was the seventh-largest manufacturer of commercial vehicles in 2019. Which is why foreign players come here. But it wasn't just the Americans who had a rough ride.
The Volkswagen Group had a good thing going with Skoda but then lost its way with the positioning of its VW badge and pricing strategy, something it's striving to correct; Japanese auto majors Toyota and Honda, despite their engineering pedigree, couldn't drum up market share and volumes.
The only company to have made strides are Korean player Hyundai and its sister brand Kia, which has shown strong performance with 100,000 unit sales of Seltos in barely a year.
Hyundai, meanwhile, has clocked a 17 per cent market share, the second-largest slice of the pie after Maruti Suzuki.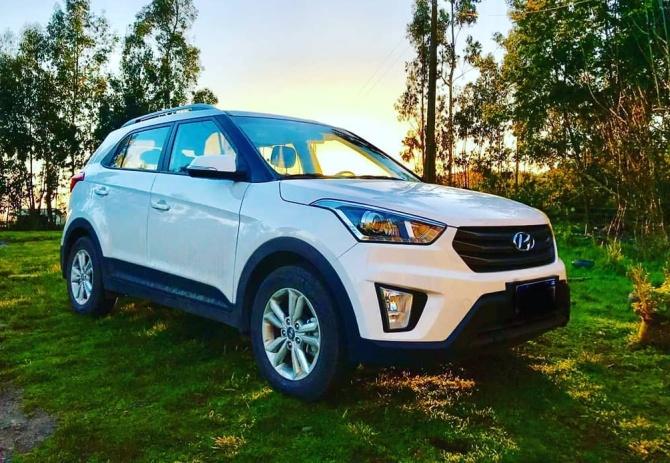 Ganesh Mani, director of production, Hyundai Motor India, said the car business is a lot like Bollywood: "There are many heroes and heroines in many films but on a new release on Friday, what works is decided by customers."
The key, he added, is to take inputs from them and plow those ideas back into the cars. Come what may, he said, Hyundai has to deliver at least four new products annually.
In the past 18 months, Hyundai has launched the Nios, the Kona, the Venue, the Elantra, the new Verna, the new Creta, the new Tucson, and the Aura.
When a company does that over a period of time, it does generate best-sellers. The numbers speak for themselves. All cars, barring the Kona Electric, come in both petrol and diesel BS6 engines with multiple options for manual and automatic transmissions.
Hyundai Creta, launched in 2015, has sold over 500,000 units; Venue (2019) has sold over 100,000; and Aura (2020) sold over 19,000 units, a Hyundai spokesperson said.
So why have other seasoned multi-billion-dollar global auto majors been unable to break into the Indian auto market?
Kaushik Madhavan, vice president, mobility practice, Frost & Sullivan, explained that Hyundai has launched cars with a frequency not seen in any player -- Indian or otherwise.
"The key reasons for Korean OEMs in India gaining market share at the expense of Indian and Japanese OEMs over 2018-2020 are sustained product refreshes and new launches," he said.
"Similar to what VW Group and PSA Group have done in Europe, Hyundai and Kia in India have periodically introduced new models and targeted high growth areas such as connected cars."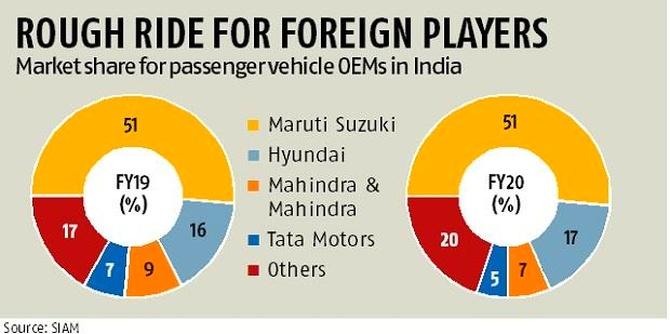 There's also a management angle. Paris-based automotive author Gautam Sen said there is a similarity in the mistakes automakers make when they come in here: "They hire foreign CEOs who almost always don't understand the business landscape. They come in with a sense that this market is going to be like China or other emerging markets, which it never is, and they push products that have worked elsewhere assuming they will here."
Hyundai owes much of the early foundation and success of the Santro -- a made-for-India car -- to its Indian CEO BVR Subbu, who came from Tata Motors, Sen pointed out.
He added that it's key to see the country not just as a local sales market but also a base for manufacturing for exports with an almost 50-50 share for both.
Many auto majors come to India with presumptions that fail.
Suraj Ghosh, principal analyst-powertrain Forecasts, IHS Automotive, said: "Foreign players see India as a predominantly cost-conscious market, which has a narrow range of product segments". And then the taxation system favours smaller cars, which doesn't help foreign players who make larger bodies and powertrains, he added.
Cars less than four-metre long and with engines smaller than 1.2 litre for petrol and 1.5 litre for diesel get subsidised, but nowhere in the world is that seen as a rational definition of a quality automobile, he added. Recently, Toyota rolled back expansion plans in India citing the asymmetric tax structure as a reason.
If culture eats strategy for breakfast, then tuning one's business to India would include roping in local leadership, creating products to consumer demand and not force-fitting them to a market because of price constraints.
"A lot of car companies make the mistake of thinking that Indians don't want to spend money on a car and only shop on a budget. The truth is they expect value for their money," Ghosh said. "It's as simple as that."
Feature Presentation: Rajesh Alva/Rediff.com