'Given all the linkages, the monthly registration data for new vehicles, may well be the single most accurate indicator of India's economic health,' points out Devangshu Datta.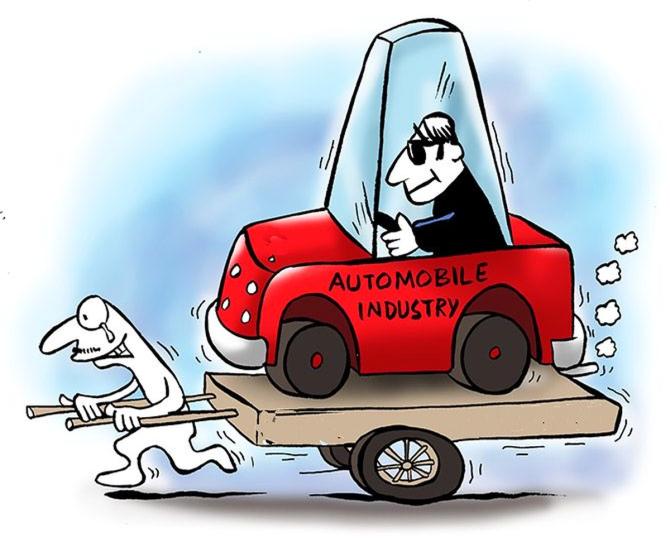 The auto industry experienced a drastic collapse in demand between April and August this year.
According to the Society of Indian Automobile Manufacturers, domestic passenger car sales fell to 552,429 units in April-August 2020, compared to 1,091,928 units in April-August 2019, down by 49.41 per cent.
Three-wheeler sales was 40,022 units in April-August 2020 compared to 264,334 units in April-August 2019, down by 84.86 per cent.
Two-wheeler sales were 4,134,132 units in April-August 2020, compared to 8,038,980 units in April-August 2019, down by 48.57 per cent.
Growth in 2019-2020 was negative compared to 2018-2019, and the growth rate in 2018-2019 was low, compared to 2017-2018.
So, while the pandemic and lockdown played a part in the collapse of demand in 2020-2021, the industry has been struggling for at least three years.
Some rebound in demand in the second half is more or less guaranteed since even a marginal recovery would be a rebound from such a low base. But the overall numbers will surely be poor in the current fiscal.
Sales will also be poor in the next fiscal, even if that performance is masked by the low base of 2020-2021.
We may have to wait till 2022-2023, or even 2023-2024 before sales climb back to the levels attained in 2018-2019 and, as mentioned above, even those numbers were not inspiring.
The automobile value-chain contributes about 40 per cent to India's manufacturing.
Every vehicle has many different parts, all of which are manufactured by different units, and assembled in the factory.
It is the only industry with a value chain present across the entire economy.
At the primary level, it contributes to the off-take of industrial metals, which means it's a driver for mining.
It also absorbs high-end electronics, leather, rubber, paints and glass. At the tertiary level, in services, it's a huge contributor to the finance industry.
Auto financing is the commonest unit in retail financing deals and every commercial vehicle is financed.
It's also a major contributor to other services segments, including marketing and advertising, as well as creating steady demand in maintenance and repair. And of course, it's a big driver for fuels and lubricants.
When the auto industry is not doing well, it's a clear sign that the economy is not doing well.
It's also a 'bootstrap sector': A strongly performing auto industry leads to higher overall economic growth and stronger consumption demand because the industry is a major employment generator.
The optimists are hoping for a big rebound if consumer behaviour changes, due to fear of infection and social distancing norms.
The logic is, people are scared to use public transport and hence, they will buy more personal vehicles.
The pessimists, however, are looking at behavioural changes created by the massive loss of employment in the past six months.
Consumers tend to put off purchases and avoid taking on loan commitments in such depressing circumstances.
My personal take is that the second factor -- a drop in consumer confidence -- is well-known behaviour, which has been noted and documented across centuries, and seen to be prevalent across all sorts of economies. The first possibility, therefore, may just be wishful thinking.
The trends suggest auto manufacturers will struggle with excess capacity, and low demand, for at least two years, may be even longer.
In that context, the reluctance of companies to invest more, and the industry's complaints about a complicated tax regime with high rates, make eminent sense.
Why would any auto-manufacturer invest in expansions, given that every auto plant is running at well below current capacity? This would be irrational.
Also, why would the government impose excessive and complex taxes on a cornerstone industry, under this sort of pressure? This is even more irrational.
Auto cycles can be long. This particular cycle seems to have started trending down in the third quarter of 2016-2017 when demonetisation was imposed.
But the pandemic-related lockdown may have caused problems going far beyond the normal ebb and flow of cyclical demand.
Given all the linkages, the monthly registration data for new vehicles, may well be the single most accurate indicator of India's economic health.
Feature Presentation: Rajesh Alva/Rediff.com