Sales poised to expand further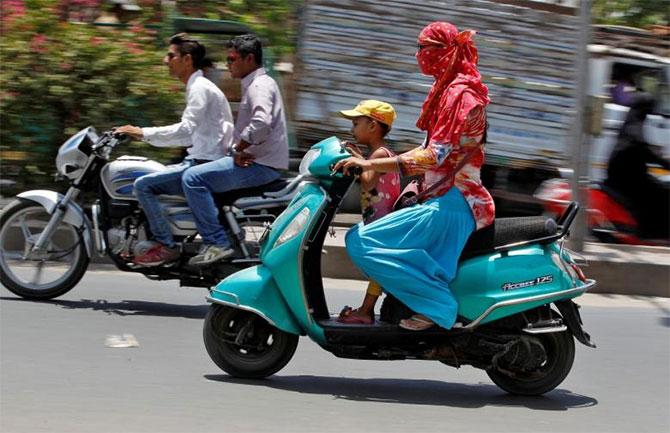 Scooters have captured a little more than a third of the domestic two-wheeler market for the first time in about a decade.
Sustained double-digit growth in scooter sales year after year has inched up its share to about 34 per cent in the world's biggest two-wheeler market.
Motorcycle sales, commanding about 70 per cent of share in 2013-14 (FY14), is now down to 62 per cent. Mopeds form a measly four per cent of two-wheelers.
Motorcycles sales have grown only five per cent between FY14 and FY17, while scooter volumes have zoomed about 55 per cent during the period.
India is getting scooterised like never before, said Y S Guleria, senior vice-president, sales and marketing, Honda Motorcycle & Scooter India (HMSI).
"The segment contributed only 12 per cent to industry in FY07. It is now contributing 34 per cent, while the motorcycle contribution has declined from 83 per cent to 63 per cent in this period."
Honda is the largest player in the domestic market, with 61 per cent share.
The domestic scooter market has expanded 25 per cent in the first two months (April-May) of FY18, to 1.15 million units.
In the period, motorcycles grew four per cent to 2.09 million units. Scooters are leading the expansion of the two-wheeler market.
"The trend of the first two months is an indication of the future growth story in scooters," said Guleria.
More Indian customers are now choosing scooters over mass motorcycles as their first two-wheeler model.
Experts say scooter could well account for 40 per cent of the market in the next two to three years, leaving motorcycles with approximately 55 per cent.
"Scooters have had more than 50 per cent in the past. So, there is historical headroom for growth. At least a two percentage point shift is taking place annually.
It might not take long to reach 40 per cent," said Aniruddha Haldar, vice-president, marketing (scooters) TVS Motor, the second biggest scooter player.
An important pillar for growth in scooters will come from markets outside cities, primary centre of demand till now. Improvement of roads in rural markets will help companies expand reach in these untapped areas.
Honda last week launched its first scooter for the country. It has positioned the two-wheeler for buyers in semi-urban and rural markets.
The 110cc scooter, Cliq, comes with block pattern tyres (for extra grip on patchy roads), flat footboard (for more legroom) and bigger under-seat storage. It has an optional rear carrier for carrying load. It has been priced at Rs 42,499 against its previous entry-level price of Rs 51,855.
"Cliq is a perfect blend of practicality and value for money," said Guleria.
More companies could develop such products. Haldar said there are opportunities waiting to get tapped in the scooter market and its emerging sub-segments.
"A rural buyer needs a vehicle that can handle his usage conditions. If there is a consumer need that evolves, we will cater to it. We are working on a few of these," he added.
Photograph: Amit Dave/Reuters