Dealerships, too, are going all out to roll out the red carpet for women.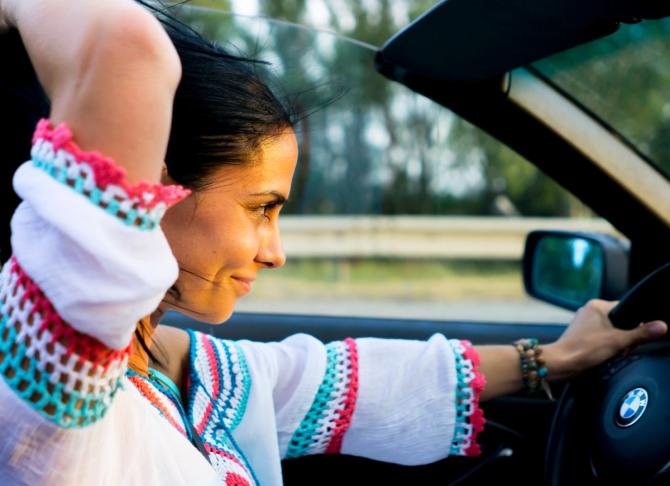 Increasingly, more women are in the driver's seat -- literally.
While roughly 30-32 per cent of used car buyers are women in this country, now women buyers of luxury cars in India, too, are on the rise.
Around 15 per cent of Mercedes-Benz cars sold in India are bought by women.
By comparison, salaried professionals account for 10-12 per cent of this German brand's customer base.
Speaking about the demographics of the customer base, Santosh Iyer, managing director and chief executive officer (CEO), Mercedes-Benz India, says, "We have seen our average customers getting younger. Also, more women buyers, salaried individuals, and professionals prefer a Mercedes-Benz, compared to seven/eight years ago."
"Currently, women buyers comprise 15 per cent of our customer base, whereas 10-12 per cent of customers are from a salaried/professional background. Many of these customers are opting for our core luxury and even the top-end vehicle segments. This is an encouraging trend," he adds.
Luxury car dealers corroborate Iyer's claim.
A dealer of a German luxury car brand says, "More women are choosing sport utility vehicles (SUVs) since these are automatic. The shift in trend started from around a decade ago, when automatic SUVs rolled in, with 'women-friendly' features like run-flat tyres."
Audi India head Balbir Singh Dhillon feels the luxury car segment in India is evolving quickly.
"Younger people, especially in the category of start-up owners and young professionals, are keen on experiencing luxury at an early age. They have both the desire and the means with increasing disposable income," says Dhillon.
At Audi India, the Audi A4, an entry-level sedan, right up to the RS e-tron GT, which is its top-end electric car priced upwards of Rs 2 crore, are witnessing strong demand, the company claims.
"We have seen a rise in first-time and first-generation buyers over the past two to three years. There is also an increase in demand for luxury pre-owned cars," says Dhillon.
Audi India has registered 27 per cent growth, compared with last year, selling 4,187 retail units in 2022.
Audi Approved: Plus (Audi India's pre-owned car business) has seen 62 per cent growth in 2022.
What is causing this gradual shift in demographics?
Iyer feels this is driven by new-age customers who are very successful in their professions and highly aspirational.
Dealerships, too, are going all out to roll out the red carpet for women.
"We do special driving events for women as part of our marketing initiative. This is a special target segment for luxury carmakers. Women drive SUVs with ease, even in off-roader events. Many are now coming forward to own a luxury car for self-drive," says a Mumbai-based dealer.
Another clear trend emerging after the pandemic is that the demand for top-end variants is rising fast.
Vikram Pawah, president and CEO, BMW Group India, points out, "There is a greater realisation among people to enjoy the best things in life. Also, personal mobility has gained a lot of importance in the wake of the pandemic."
The demand for high-end cars from the BMW stable has been going strong.
"Within the luxury circle, there are those who want to be further differentiated by owning only the best-in-class. For this clientele, there are flagship cars, performance cars, coupés, and convertibles, such as the BMW 7 Series, the X7, the 8 Series, and the M series, among others," says Pawah.
The growth for this segment has remained resilient even during the pandemic. These models command a sizeable portion of overall sales.
The BMW 7 Series and the BMW X7, its flagships, have a very long waiting period of more than six months.
BMW India also sees a significant contribution of nearly 50 per cent coming from the locally produced sport activity vehicle range that includes the entry-level X1.
The same is true for its arch-rival Mercedes-Benz.
Mercedes-Benz's top-end vehicle segment, comprising cars like the Maybach, the AMG, the S-Class, the EQS, and the GLS, has grown by 69 per cent in Calendar 2022.
"For perspective, Mercedes-Benz increased the volume penetration of its top-end segment to 22 per cent in 2022, up from 12 per cent in 2018. Although all three segments - luxury, core luxury, and top-end luxury - have grown in absolute volume on-year, the growth for the top-end has been the highest," says Iyer.
Why this sudden penchant for super-luxury?
Dhillon feels that after the pandemic, the you-only-live-once attitude has given rise to the indulgence quotient when it comes to buying luxury goods, including cars.
"There is also an increase in disposable income that is aiding this growth. The pandemic has further pushed people to live life to the fullest," observes Dhillon.
Pent-up demand due to manufacturing slowdown on account of semiconductor chip shortage has further fuelled growth.
IN THE DRIVER'S SEAT
15% of Merc buyers in India are women
In Europe, 25-30% of luxury car buyers are women
Young people, especially start-up owners, are keen to buy luxury cars
High-end luxury brands like Maybach saw 69% growth in sales last year
BMW India also sees a significant contribution (of nearly 50%) coming from the locally produced sports activity vehicle range
Feature Presentation: Rajesh Alva/Rediff.com