The electric Chetak has already sold close to 25,000 units in India, and the European version will be based on the same platform.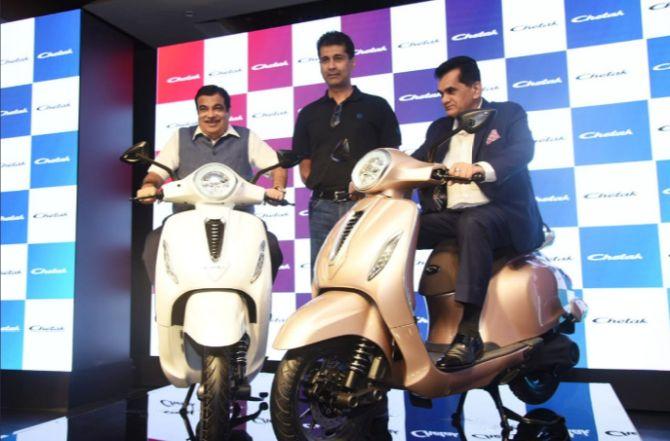 Iconic scooter brand Chetak, which has been resurrected by Bajaj Auto in its electric avatar, will be sold in Europe by early 2024 by Pierer Mobility (the parent company of KTM).
Speaking on the sidelines of the one millionth KTM bike roll out from Bajaj Auto's Chakan plant, Stefan Pierer, chief executive officer (CEO), Pierer Mobility, said he will take the Chetak to Europe in early 2024. "It's a great product," Pierer said.
He, however, added that component prices for electric batteries have gone up five-six times in the recent past. This is due to higher demand and government push to switch to electric mobility.
Pierer also said it is not feasible for high-powered bikes to run on electric engines. This is because the weight of the battery required to generate equivalent power of a gasoline engine would be too high. And moreover, motorcycles have a space constraint.
As for the electric Chetak, which has already sold close to 25,000 units in India, the European version will be based on the same platform.
Bajaj Auto's Chetak, which was named after the legendary horse of the great Rajasthani warrior Maharana Pratap, was produced from 1972 onwards.
It had a waiting period of up to 10 years in 1980. Bajaj sold over 500,000 units of this iconic scooter by 1983, and around 100 million units by 1995. But as the years passed, competition intensified, and by 2004, Bajaj discontinued the scooter.
In October 2019, the Pune-based two-wheeler maker re-introduced the iconic scooter brand in an electric avatar. It is currently offered in around 40 Indian cities, and costs around Rs 1.4 lakh.
Bajaj Auto's wholly-owned subsidiary, Chetak Technology (CTL), has set up an electric vehicle plant in Akurdi, near Pune.
Meanwhile, Bajaj's Chakan plant rolled out the one-millionth KTM bike on Friday.
Rajiv Bajaj, managing director (MD) and CEO, Bajaj Auto, said that when KTM and Bajaj tied up in 2007, the goal was to build affordable innovation that will reach KTM's brand to all parts of the globe.
"Fifteen years later, we have not only been successful but have also become strategic partners with a restructured ownership," Bajaj said.
Bajaj had acquired a 14.5 per cent stake in the Austrian bike maker in 2007. Over the years, Bajaj's stake has grown to 49.9 per cent in KTM's parent company Pierer AG.
Already, India is a major sourcing hub for KTM. Out of the 370,000 units of KTM sold in 2022, around 150,000 units came from India.
"We are also sourcing parts from India for EU operations -- suspensions and brake components, among others. Sourcing from India will only grow," Pierer said.
In India and the neighbouring markets of Sri Lanka and Nepal, around 50,000 KTM bikes are sold every year. Pierer said that while the first million bikes took around 15-16 years, the next million units will happen much faster -- within 5-6 years.
Bajaj makes small-capacity KTMs and the sub-400 cc Husqvarna models at its Chakan unit. The KTM-Bajaj partnership may explore bringing in more mid-range models to India in the 600-690 cc range.