Maruti will launch its first electric vehicle (EV) in the next financial year (FY24), and will roll out six EVs in the country by FY30, the automaker's parent firm Suzuki said on Thursday.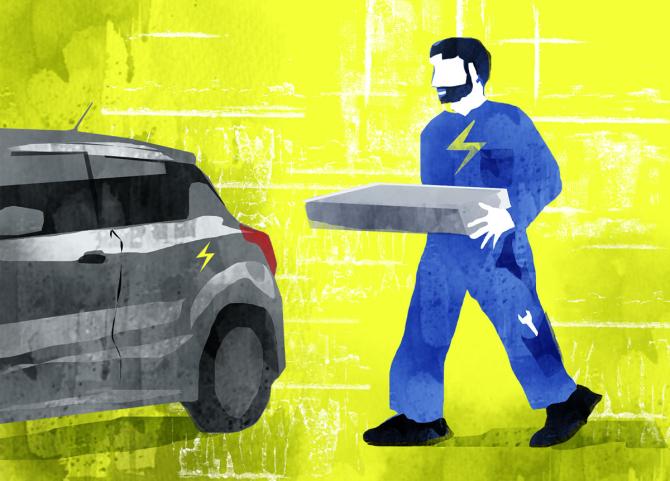 Moreover, EVs, hybrid vehicles and internal combustion engine (ICE) vehicles will constitute 15 per cent, 25 per cent and 60 per cent, respectively, of Maruti's total production by FY30, Suzuki stated in its global forecast.
"In India, we will launch the sport utility vehicle (SUV)-battery EV announced at the Auto Expo 2023 in FY24, with six models set to be launched by FY30.
"To provide a full range of products and services, Suzuki will provide battery EVs and carbon-neutral internal combustion engine vehicles that use CNG, biogas, and ethanol mixed fuels," Suzuki's forecast noted.
Earlier, at the carmaker's annual general meeting on August 31 last year, its chairman R C Bhargava had said that the company expects to launch its first EV in FY25.
MSIL, on January 11 at the Auto Expo 2023, unveiled the concept electric SUV eVX, powered by a 60 kilowatt-hour (kWh) battery pack offering up to 550 kilometre of driving range.
To reduce its carbon dioxide emissions in India, the Japanese company is majorly focusing on its CNG models, and specifically on biogas.
Suzuki said: "While we expect the Indian market to grow by FY30, we also expect that an increase in carbon dioxide (CO2) emission amount is unavoidable, regardless of reduction in CO2 emission from products.
"We will challenge to strike a balance between increasing sales units and reducing CO2 emissions."
Suzuki said that the biogas business is a challenge in this regard, saying "Biogas can be used for Suzuki's CNG models that account for approximately 70 per cent of CNG car market in India," it mentioned.
Based on the target date set by each government, Suzuki aims to achieve carbon neutrality in Japan and Europe by 2050 and in India by 2070, the firm noted.
"For FY30, Suzuki will contribute to the realisation of a carbon neutral society and the economic growth of emerging countries, with our main business regions, Japan, India, and Europe, as the core," it added.
"Suzuki Innovation Center is exploring new connections and innovations for Suzuki to thoroughly take root in India.
"We will enhance our manufacturing strength by also cooperating with outside partners including start-up companies, Suzuki Suppliers Association, and cooperation with universities in Japan and India," it added.
In India, Tata Motors dominates the EV market by holding about 85 per cent share.