Four XUV700s entered the challenge and all four recorded over 4000 km in 24 hours, says Rajesh Karkera.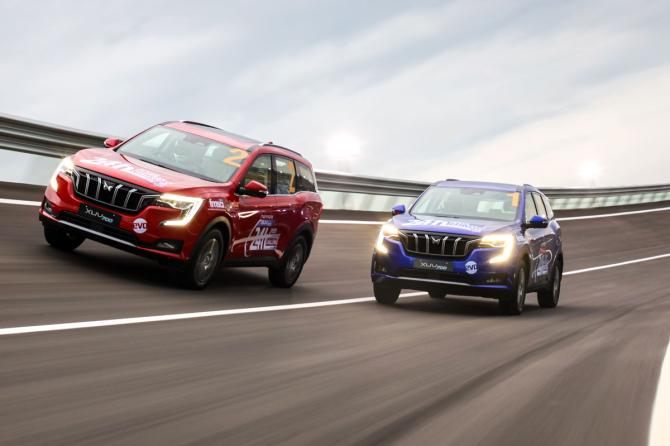 We did say in our first drive of the Mahindra XUV700, that this is a powerhouse that ushers in a new era of excellence for cars in India.
To add another feather in its cap the XUV700 has set a series of new Indian records at Mahindra's SUV Proving Track(MSPT) in Chennai.
Four XUV700s entered the challenge and all four recorded over 4000 km in 24 hours.
The Diesel Manual variant led the pack with 4384.73 km, the Diesel Automatic clocked 4256.12 km, the Petrol Manual did 4232.01 km and the Petrol Automatic squeezed out 4155.65 km.
The previous record holder was the Tata Bolt for 3161 km in 2016.
In addition to the national record, the XUV700 broke a total of 80 additional records during this challenge at the MSPT, which was inaugurated on August 14 this year.
Even the onset of the monsoon with a torrential downpour couldn't prevent the XUV700 from unleashing its fury as the vehicles averaged an astonishing speed range of 170-180 km/h at the track.
All the four XUV700's were driven for 24 hours at a stretch at the same speeds of 170-180 km/h with quick stops only for fuel refill and driver change.
The drivers were all enthusiasts from the automotive fraternity in the country under the stringent regulations and observation of the Federation of Motor Sports Clubs of India, the event was organised by EVO India and the records were validated by the India Book of Records.
The XUV700 we reviewed had only partially revealed its prices and variants. Below is the full list of variants now available, with an addition of the AX7 Luxury variant.
MX Series
AdrenoX Series
The bookings for the XUV700 opened on October 7 and in just a little more than 24 hours 50,000 bookings were confirmed! Watch out, SUVs, there's a new breed on Indian roads!