Just as Jio Platforms controls Reliance Jio, Bharti Airtel has carved out a new subsidiary in Airtel Ltd which will run the mobile, broadband, and enterprise business followed, later on, by the DTH business too.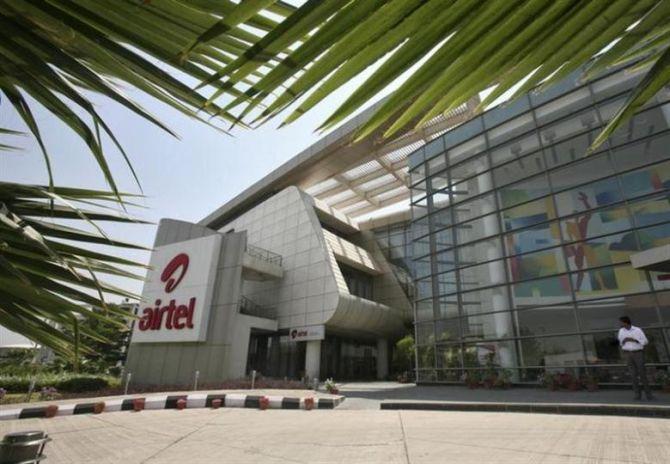 When, recently, Bharti Airtel announced a Rs 21,000 crore rights issue, analysts pointed out that its structure was similar to that of Reliance's issue in June 2020.
One similarity is that shareholders in both companies have to pay only 25 per cent of the money on application.
The rest is to be paid in two tranches.
In Bharti Airtel's case, it is within 36 months; in Reliance Jio's, it is within 17 months.
Two, both managements have committed that the promoters will subscribe to the unsubscribed portion of the issue to give it a solid backing.
Uunil Mittal, chairman of the Bharti group, in an analysts' call said that the company is following the best leading rights issues in the marketplace which include Reliance and the Tatas and said its issue gives shareholders a better time value for their money.
Three, Mittal was clear that one key goal of the rights issue (and other measures such as a tariff hike) is to reduce the debt to EBIDTA ratio to a mere 2 in the next two years from 3.03 currently.
The remark sounded similar to Mukesh Ambani's promise in an AGM speech in August 2019 that he will transform Reliance into a debt-free company in 18 months. In fact, he managed it much earlier.
This is not the first time that Bharti Airtel has followed its arch rival's strategy.
Over 4G, it followed a similar policy too which differentiated them both from their legacy telecom rivals.
In June 2010, Reliance bought over 2300 MHz of spectrum (known as broadband wireless access or BWA) in 22 circles across the country from HFCL.
This was the key to launching 4G services which needed capacity or more bandwidth.
The government offered a substantial 20 MHZ of spectrum for each circle when the norm in other bands was not to give more than 5MHz.
However, rivals like Vodafone and Idea kept away and the reason was that they believed that India was not a 4G market.
Even as late as 2013, former CEO of Vodafone India, Marten Pieters, said emphatically that it was too early for 4G in India.
But not Bharti Airtel. While it made a tentative entry in the 2010 auction by buying BWA spectrum in four circles, in the next few years it used the acquisition route aggressively to expand its 4G spectrum footprint (together with 1800 and 900 MHZ) to become a pan-Indian player, ready to take on Reliance.
Between 2012 and 2017, Bharti Airtel bought BWA spectrum from Qualcomm, Aircel and Tikona Digital who were the second players in different circles.
What's more, it was ahead of Reliance in launching the service in cities such as Kolkata in 2012, followed by Bangalore, Pune and Chandigarh.
But owing to its large 2G and some 3G customer base, Bharti Airtel did not push for an aggressive 4G roll out until Reliance Jio came in with an all 4G network and disrupted the market with its entry in September 2016.
But analysts say Bharti Airtel was clearly much readier for the battle than its incumbent rivals.
Bharti Airtel also borrowed Jio's corporate restructuring model when it made changes last April.
A Kotak Institutional Equities report said that its new corporate structure 'wherein all the digital assets will be merged into the parent entity and the licensed telecom business will be transferred to a new subsidiary, Airtel Ltd, is akin to Jio Platforms'.
Under the restructuring, the entire digital business under Airtel Digital was merged with the listed parent entity Bharti Airtel.
This included Wynk, Airtel Xstream, Airtel IQ, Mitra Payments, Airtel Secure, and Airtel Thanks among others.
This was similar to Jio Platforms where all the key digital platforms from Jio Cinema, Jio Saavn, Jio News, and Jio TV reside.
And, just as Jio Platforms controls Reliance Jio, Bharti Airtel has carved out a new subsidiary in Airtel Ltd which will run the mobile, broadband, and enterprise business followed, later on, by the DTH business too.
There are several advantages to this structure.
J M Financial points out that the separation of the telecom assets into a separate legal entity will enable Bharti Airtel to reduce statutory dues (like AGR).
After all, revenues from the digital business will not be exposed to any licence fee.
ICICI Securities has also pointed out that this will sharpen Bharti Airtel's focus on the digital business and will lead to possible value unlocking in the future.
Mittal said that its revenues would be given out separately very soon the moment they reach a certain level.
In the wireline business, Bharti Airtel has been offering fixed broadband with copper last mile for years but the numbers were very small - around 2.6 million - and limited to 100-odd cities.
The tariffs were pretty high too though in some areas it was replacing copper with fibre.
What changed the game was when Jio announced in 2019 that it was going to offer fibre to homes in 1,500 cities and that it was targeting 50 million homes with an attractive price beginning with Rs 699.
A price war ensued. A year later, Bharti Airtel was back with a vengeance when it decided to shut down its copper network and replace it with fibre and tied up with cable operators to enter 2000 cities and towns and have 35 million home passes in the next three years.
Mittal told analysts during the call that this is one area where the money raised from the rights issue will be invested.
Photograph: Ajay Verma/Reuters