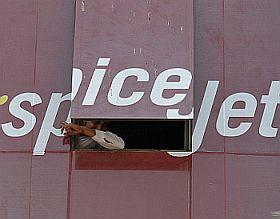 The airline sector is running through a "lot of turbulent weather" with troubled Spicejet seeming to give "us heart attacks", Civil Aviation Minister Ashok Gajapathy Raju said on Thursday.
The minister also said that certain regulations restricting the growth in the aviation sector needs to be re-looked to attract investments.
"We are running through a lot of turbulent weather...not only the public sector, private sector is also crashing. (With) Kingfisher crashing and, right now, SpiceJet seems to be giving us heart attacks as far as airlines are concerned," Raju said.
He was speaking at the MoU signing ceremony between national carrier Air India and National Building Construction Corporation (NBCC) for a joint venture to develop and manage Air India land assets.
Urban Development Minister Venkaiah Naidu was also present on the occasion.
The minister's comment comes against the backdrop of industrialist Kalanithi Maran's budget carrier SpiceJet curtailing its operations by reducing both flights and fleet, citing fund crunch.
The airline has reported fifth straight quarter of net losses for the July-September period at Rs 310 crore or Rs 3.10 billion which is down from Rs 559 crore or Rs 5.59 billion net loss during the corresponding period last year.
Noting that the growth in the aviation sector was restricted due to some "odd reasons", Raju said certain regulations needs to be re-looked to attract investments in the sector.
"For some odd reasons, we have restricted the growth of airlines in the country. We have developed regulations which pulls back Indians, which does not allow Indians to perform.
So, I think there also we have to work," he said. Advising Air India to work as a team, he said the cohesiveness of a team only delivers performance.
"Somehow we have lost sight on that and its high time we get back to it," he said, urging the national airline to keep its focus on core business of aviation.
On Air India forming a joint venture with NBCC to monetise its land assets, the minister said the strength of the two public sector companies will be complimentary in the interest of the country.
"These synergies have to be harnessed in the interest of the country. This is a step in this direction," he said.
Terming the JV as a "wise decision," Naidu expressed hope that the collaboration will go a long way and help Air India in improving its financial situation.
Earlier, Air India chairman and managing director Rohit Nandan and NBCC CMD Anoop Kumar Mittal signed the MoU in the presence of the two Union ministers.
The Cabinet Committee on Economic Affairs (CCEA), while approving Air India's Financial Restructuring Plan and Turn Around Plan, has envisaged monetisation of assets in Air India to the tune of Rs 5000 crore or Rs 50 billion over the next 10 years.