At a time of massive job losses that is what the much-vaunted Indian IT sector needs. Ritwik Sharma reports.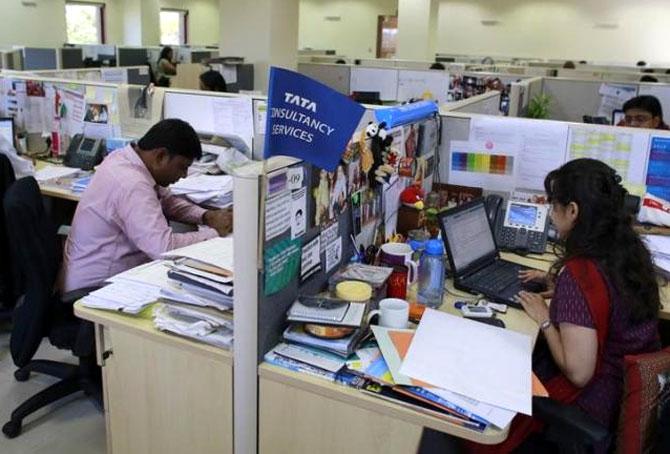 Photograph: Danish Siddiqui/Reuters
Tough times ahead
IT services sector currently employs around 3.9 mn
The sector sees growth declining to single digit, beginning FY17
Companies can no longer afford thousands of employees on the bench
IT sector hired 27,000 less people in FY17, says Nasscom
Infosys automated nearly 11,000 jobs
Companies to face dual impact of automation and local hiring in the US
Projects become short-term and outcome-based
A large chunk of mid-level employees may be at risk unless they reskill
At a time of massive job losses in the much-vaunted Indian IT sector -- with the likes of Wipro, Cognizant and Infosys handing out the pink slip to numerous employees in recent months -- the need for reskilling workers to avoid redundancy is greater than ever. Companies are adopting automation with an eye on cutting costs.
The question is, how can companies help minimise the resulting threat of lay-offs by reskilling employees?
In response to queries, a statement from Wipro Limited pointed out that in FY 17, it trained 39,600 employees in digital skills and now has 61,000 such technical personnel.
"We have created technology academies, which provide hands-on immersive training on emerging technologies by way of virtual projects. We also introduced different learning interventions leveraging collaboration tools, peer mentoring and crowdsourcing to encourage employees to develop expertise in new-age technologies," the statement notes, adding the company has tie-ups with premium universities to offer courses on emerging technologies.
While companies claim to upskill workers, the sense is that mid to senior level employees are in the firing line, especially those resistant to change.
Rishabh Kaul, co-founder of outbound hiring platform provider Belong, says, "We're witnessing a new tech order where systems of engagement technologies in the form of IoT [Internet of Things], augmented and virtual reality are fusing and enabling systems of insight technologies in the form of artificial intelligence [AI]/cognitive and deep learning to drive action for businesses. Macro factors like increase in the number of connected devices projected at a CAGR of 34 per cent -- to reach 21 billion by 2020 -- and the fact that customers are becoming more discerning toward products and services and heightened competition are driving this change."
He adds that a tricky part for companies is that anything repetitive is going to be automated.
And with changes in curriculum being a slow process, educational institutions may not be able to keep pace with the new skills demanded. As a result a new ecosystem -- MOOCs (massive open online courses), certification programme providers, third-party services which interact with large companies in terms of learning management -- has gained importance.
"Freshers are easier to reskill, since they don't have the baggage of years spent on a single role. So, the real challenge happens at the mid to senior level, where you've been used to doing something for 10 years."
S Viswanathan, chief people officer, NIIT Technologies Ltd, says changes in technology and industry are heightened now and we may be at a point of inflection. The company hasn't faced the scourge of lay-offs, and it says annually every employee goes through training depending on their specific needs.
"But what we did last year is probably more important than historically what we do. We put about 10 per cent of our technical staff through a digital programme, to completely skill them in new roles. And in the current year, we are looking at pushing that number up to 20 per cent of our workforce, because customer needs are completely changing."
The challenges vary for different types of companies.
"If you look at our key verticals of travel and insurance, they went digital much sooner. And therefore, we have got more exposure and visibility into what's happening. I guess some other organisations got surprised to see things change so dramatically and therefore they are adapting to 'how do I retool employees'," he says.
Tata Communications has an innovation programme, "Shape the Future", that encourages employees to come up with product or business ideas and if selected, it supports them with the wherewithal to even incubate them as new business.
Aadesh Goyal, global head, HR, Tata Communications, says: "We have the rare advantage of having a view into both the emerging markets and developed economies and to make appropriate changes to the way we conduct our talent strategy. We've transformed our learning strategy and made learning digital, virtual and always available."
According to Tata Consultancy Services, the company has managed to stay ahead and get the time for preparedness and to avoid lay-offs.
Ashok Krish, head, workplace reimagination practice, TCS, says, "Almost three years ago, we embarked on skilling about 200,000 employees out of their legacy technologies into digital ones. You had two years to do that. But today you need to be able to transform people skills in six months and need to take the very same people in the next six months to train them in something entirely different, because technologies and priorities will keep changing."
In the last one year, he adds, the firm has pushed everyone into "a culture of continuous learning anytime, anywhere".
He calls it a reskilling programme on steroids -- moving away from a classroom model where one spends four to six weeks in learning something deeply to a mobile-friendly learn-as-you-go approach.
The message to employees is that there is a groundbreaking change in industry business models across sectors. And to enable those changes, there are diverse digital technologies where one can't specialise but learn a bit of everything.