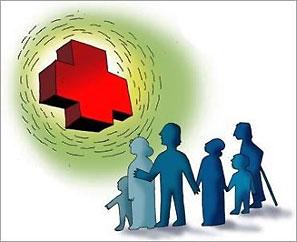 If any of your family members is a diabetic, you would know the pains he has gone through to get a health cover. Yes, on paying a little extra premium he would get a life cover easily, but not a health cover. The reason? Not many insurers are willing to take the risk of a diabetic.

There are a limited number of health insurers who cover diabetics. Ashvin Parekh, partner, global financial leader Ernst & Young, says, "Being a complicated condition, insurers have many reservations before taking this risk on their books and are hence wary of insuring them instantly."

India will have 75 million diabetics by 2015, according to a global report published by the 'Diabetes Atlas'.

There are limited number of policies available for diabetics. Most have a waiting period of four years. However, most individual health plans have sub-limits, such as room rent restrictions, rise in premiums or loading after one claim.

One alternative for a diabetic is a group health insurance policy. Harsh Roongta of ApnaPaisa suggests group policies sold by general insurers in partnership with banks. These policies usually don't have sub-limits, premium loading or co-pay clauses. Group health plans also pay for hospitalisation for any ailment related to diabetes. "Since the diabetic is applying for a policy through a bank, the bank has to give an official reason if it wishes to decline issuing him a policy," adds Roongta.

Group policies are a bit expensive, but one needs to understand these are more flexible
and can be tweaked according to your needs with respect to the coverage needed. For instance, to get a Star Health plan, one has to pay Rs 2,300 for a sum assured of Rs 3 lakh. Whereas to get a group policy (one offered by the Bank of Baroda and National Insurance) for a similar cover, you have to pay Rs 7,200
Now, the advantage here of a group health policy is that your premium will not increase till you attain the age of 65. After that, premiums will inch up and again hold constant till one is 80 years of age. In individual health policies, premiums keep rising every year.
Secondly, there are sub-limits on the room rents, which directly put a cap on the claim amount the insurer can settle. For instance, most individual health plans have a sub-limit on room rent, which is two per cent of the sum assured or a maximum of Rs 2,500 per day. This limit is very low because in most hospitals one will only be eligible to use a general ward within that limit, which will automatically lower the amount of claims the insurer is liable to pay, as all other hospitalisation expenses are linked to the room rent applicable.On the contrary, most group policies have no such room rent limits.
"After having served the waiting period, insurers will still insist on co-pay when it comes to settling their claims, which is not the case with most group policies" says Divya Gandhi, head (general insurance and principal officer) at Emkay.
However, when opting for a group policy ensure that your condition is covered and that there are no clauses that will exclude your case. Also, pay your premiums regularly and keep your policy update with the bank so that you can have a hassle-free claim, if one arise.