'Prices are rock, bottom, developers are ready to negotiate and banks are keen to lend.'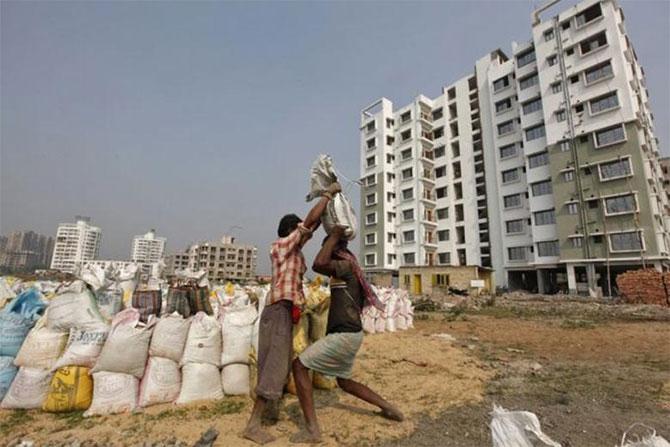 A fourth of India's property market is cash-based and this has affected home sales after high value notes were scrapped on November 8, 2016.
Property developers, battling a prolonged slowdown, are caught between demonetisation and implementation of the Real Estate Regulatory Act, under which state governmens should set up a regulatory authority by May.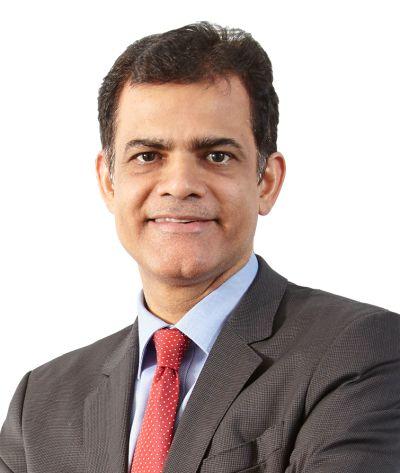 In an e-mail interview with Rediff.com's Syed Firdaus Ashraf, Anuj Puri, left,, who recently stepped down as chairman and country head of real estate consultancy firm Jones Lang LaSalle, India, speaks about the effects of demonetisation on India's real estate sector.
How has demonetisation affected India's real estate sector?
Because of the corrections in the market, residential property rates in the primary segment have already reached their lowest point and cannot fall any further.
And now, demonetisation has put downward pressure on property prices in the resale homes segment.
That said, despite demonetisation and an overall poor scenario in the real estate industry, it has attracted Rs 38,000 crore (Rs 380 billion) in 2016 on the back of the policy changes, which will make the industry more transparent and increase corporate governance.
With limited cash outflow allowed until completion of the project (thanks to the Real Estate Regulatory Authority or RERA) and lower demand for properties (thanks to demonetisation and the Benami Property Act), developers are under pressure.
New cash flow generation will reduce further.
With limited scope for further leverage, developers will be open to providing good entry points to long-term equity investors.
Few investors have already realised this and have taken steps accordingly.
Will the prices of homes drop further in the near future?
Prices in the resale properties and luxury segments will doubtless fall further.
In the primary sales segment, smaller developers may go in for further rate cuts to woo buyers.
We may see such price reductions happening more in tier 2 and tier 3 cities.
However, large, organised developers who have already made it a practice to conduct businesses only through transparent channels like banks will not see any big impact.
As a buyer, what advantages do I get from demonetisation, in terms of, say, falling prices, no cash component, etc?
All things considered, this is the best time for buyers to make their move.
RERA will certainly render the market more transparent, but the stricter procedures it introduces, coupled with the fact that the market would have recovered significantly by the time it is implemented nation-wide, may not render available options more cost-effective than those that already exist.
With the government keen to push a cashless or digital economy, will the component of black money disappear from the real estate market?
It will take a long time for black money to disappear entirely from India's real estate sector.
The digital economy needs to penetrate at all levels, and must also be accepted at all levels.
That said, policy initiatives like RERA will certainly help in making the sector more transparent.
At present the economy is in a bad shape. Do you think banks will be reluctant to give home loans?
On the contrary -- they are vying with each other to offer home loans.
Banks are currently flush with funds due to the return of cash on the back of demonetisation, and they are eager to deploy these funds and put them to work.
What about the launch of new projects? Do you feel they will be on hold for the moment?
There will doubtlessly be a slowdown in project launches, especially in the unorganised segment.
However, big developers who have access to institutional funding and are patronised by home buyers who believe in transparent deals will not hold back their projects for long.
What should the government do to help revive the real estate sector at this moment?
The government should deploy the Real Estate Regulatory Bill post-haste, as this will infuse a lot of confidence among foreign institutional investors.
It should also provide sufficient incentives to potential home buyers in the upcoming Union Budget.
Do you feel the concept of budget homes will pick up in the near future?
Absolutely. This is where the biggest share of demand lies in Indian real estate, and every developer knows the huge business potential in catering to it.
Moreover, with Modi's 'Housing for All by 2022' vision, budget housing has lost its 'down market' tag and become prestigious for players to become active in.
If a person is staying on rent, what would be your advice to him? Is this the best time to buy a house?
There will probably never be a more fortuitous time for people to buy homes in India.
Prices are rock-bottom, developers are ready to negotiate and there is plenty of good supply in the market, even in the ready-to-move category.
Moreover, banks are keen to lend.
Post demonetisation, which are the cities that are growing in terms of sales?
With the government's recent demonetisation move, cash transactions, especially in resale, will take a hit, and we hope to see a gradual revival of genuine buyer interest in residential markets across key geographies.
Buyer affordability and revised seller expectations, will help dictate a new market-determined pricing.
In such a scenario, selecting the correct micro-market within a geography will be of immense importance as value picks will be found here.
In the National Capital Region, projects along the Noida Expressway, NH-24 in Ghaziabad, Dwarka Expressway and extended Gurgaon look promising.
In Bangalore, Sarjapur, Kanakpura Road and Varthur look attractive.
These destinations are close to the IT hubs and will witness continuous rental demand.
Mumbai markets will offer attractive projects in the Kharghar, Ulwe, Taloja and Kalamboli locations for end-users and investors.
In Thane, Ghodbunder road and Kolshet will dominate.
In Chennai, Guindy, Alandur, Avadi, Perumbakkam, Oragadam and Medavakkam look promising.
In Pune, areas close to the Mumbai-Pune Expressway like Punawale and Mamurdi will offer attractive rental returns.
Undri and Pasoli will look good as they will continue to see the spillover effects from Hadapsar and Kharadi. Dhanori, Bhugaon and Pirangut will also offer opportunities.
Buyers interested in Hyderabad should look at Gachibowli, Miyapur, Chandanagar, Kokatpally and Miyapur.
Small office spaces just outside of Gachibowli at Kondapur have seen increased interest from startups and maybe worth considering.
How far will the reduction of home loan interest rates help in boosting sales?
Interest rates play a bigger role in tier 2 and tier 3 cities, where property prices are more affordable.
In the metros, prices are so expensive that lower home loan interest rates do not help much in increasing affordability.
However, they still play a big role in boosting overall sentiment -- and Indian real estate is very much a sentiment-driven industry.
Will the push given to rural housing scheme help the real estate sector?
It will encourage developers to move into rural areas, and thereby grow the scope of development.
Opening up new areas of growth will help push demand into these areas, and encourage infrastructure deployment there to increase viability of these markets.
It will also help reduce the pressure on expensive urban areas.