'ISRO facilities are very expensive and any damage caused by these start-ups can create havoc to our space programme.'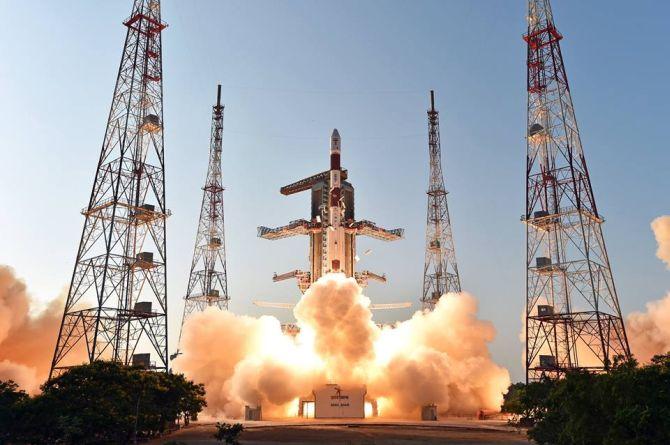 In a major policy decision, the Union Cabinet on Wednesday allowed the participation of private players in the space sector, including in areas like planetary exploration.
The decision comes at time when there has been a clamour for restructuring the Indian Space Research Organisation and bring in private players into the system.
"Who will be answerable if any damage is caused by the private user?" former ISRO chairman G Madhavan Nair, who headed India's premier space organisation for six years, asks Shobha Warrier/Rediff.com. The first of a two-part interview:
Last week you released a statement on the loud cry to restructure ISRO and also allow private players in the field. How do you react to the government's decision to allow private players in space activities?
The government's decision to form INSPACe (the Indian National Space Promotion and Authorisation Centre) is the follow-up of the announcement made by Finance Minister Nirmala Sitharaman earlier to strengthen the Indian economy.
I welcome any move by the government to create an ecosystem to boost private participation in space activities.
The ball is now in the court of the private players and start-ups. How well they play the game will decide whether it is going to be a success or a failure.
I don't know whether this is the right time to implement these reforms, and whether adequate preparations have been made.
The economy is in deep recession, coronavirus cases increase every day, and now border skirmishes with China... Do you feel space activity is one area that will suffer against this background?
There will be some impact, but it will not be as drastic as what you see in the economic sector.
The reason is because the work for the projects scheduled for this year started two years back. So, those projects are in the mature stage and once the lockdown is over, they should be able to resume the work.
The only impact will be the reduction in number of missions from 11 to 6 or 7.
Of course, there will be some impact on the long-term performance because of the budgetary constraints as the space sector depends solely on government funds.
Now we all know that the priority is to tackle the pandemic, migrants problem and the economy. So, there may be some reduction in the funding to the space programme. To that extent, the future programmes may get affected.
So, there will be some delays in our future plans, especially on Gaganyan which was in top gear, but reduced funding to that programme will certainly have an impact.
Could the shrinking economy be the reason behind the decision to allow private participation in Indian space research?
I think it started quite some time back, maybe a year ago, by some vested interests.
I would say the points raised by them were baseless because ISRO is known for its industrial partnership.
Right from SLV3, ISRO's first satellite launch vehicle which was in the 1970s to till now, industry has shared the production responsibility unlike other R&D departments in the country.
Today even the cryogenic engine is manufactured by industries.
Nearly 60% of ISRO's budget is spent through industry.
The fact that s manpower is stable at around 17,000 over the last two decades while the number of missions grew by a factor of 10 is proof of the effectiveness of industrial policy in space activities. The additional resource came from the industry.
As a next step for enabling industry to take up full system realisation, the new entity NSIL was formed a year back and it is progressing well.
Satellites manufacturing, earth observation applications and navigation applications have got enough scope for industry participation and opportunity for start-ups.
Now those who make a noise want to use ISRO facilities and want to establish some start-up companies. There is nothing wrong in that.
But one thing that we have to keep in mind is that ISRO facilities are very expensive and any damage caused by these start-ups can create havoc to our space programme.
ISRO is not like an airport where any certified aircraft can take off and land.
From our space launch station, if a rocket has to take off, it has to go through a series of quality control and safety checks.
And then, of course, one has to address the liabilities arising out of a space launch.
In case of any accidents, there could be a damage to the launch pad.
Then once it takes off, it is going to the international area -- above 100 km in space is international area -- and the launch State is answerable to anything happening in that area.
ISRO infrastructure like a thermos-vacuum chamber. Environmental test facilities are established at a huge cost.
Who will be answerable if any damage is caused by the private user?
In the satellite sector, a collaboration is possible in the small and medium scale satellite programmes, but they also have to comply with our satellite policy.
As a former chairman of ISRO, how do you react to the talk of ISRO needing structural changes? Do you think it is necessary?
It is like killing the goose that lays golden eggs.
ISRO is known for its performance, so also the Department of Atomic Energy. Both these organisations are top-notch performers in technology development and application of this technology for the benefit of society.
All this is done on a shoe-string budget. The amount we spend in India is about one-fifth of what others spent on their space programmes.
How does ISRO make it possible?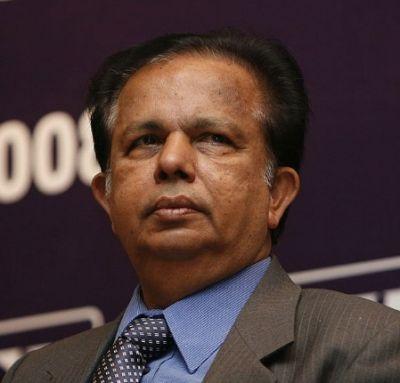 One thing is, we have a very systematic futuristic planning with roadmaps for at least 10 years.
Each element of technology to meet the goals is defined in the development programme.
Repetition in development cost is avoided as much as possible. We optimise on the number of tests we conduct.
Third reason is the wage difference. Indian scientists are paid hardly one-fifth of what developed countries pay.
All these put together, ISRO manages its space programmes in a highly efficient manner.
In spite of ISRO being the best performer, there are certain quarters that are crying for change. They have to say why and what is specifically wrong with ISRO.
If there is something wrong somewhere, corrective action can be taken.
Then, we have to talk about the management structure and work culture.
Both ISRO and DAE are evolved by Dr Homi Bhabha, and Dr Vikram Sarabhai way back in the 1960s.
One major thing in their plan was to cut down the bureaucratic interference in development activities in the programmes of these key sectors, through the commission mode of working.
These commissions had strong government control by including members from the PMO, the finance secretary and some of the concerned persons from the science department.
This apex body takes all the decisions on behalf of the government in matters related to space. And a high-level committee clears the budget for programmes and reviews the progress through a totally transparent process.
For ensuring unity of command, and focus on the real development issues, they had decided that only a technocrat would head as the commission chairman as well as secretary to the government.
Not a bureaucrat, like with other departments?
Yes. This is a very unique structure and if you look at history, you will see that it has worked exceptionally well.
There is not even a single project that was overrun beyond the deadline while in other departments, projects overrun three or four times the scheduled time.
When you plan something at ISRO, it is done within the stipulated period. And within the allotted budget too.
Also, in space programmes, you require a long-term vision.
It is not like you order a satellite launch vehicle today, and you can accomplish it tomorrow. We have to have a roadmap for the next 10 years, and it is this 10-year profile that drives ISRO programmes to success.
That way, ISRO is a unique organisation with a structured set-up where bureaucratic control is absolutely not there, and programmes are run in a very cost-effective manner.