Amit Jain, president of Uber India, tells Alnoor Peermohamed that the company's India focus has not changed with the change in management.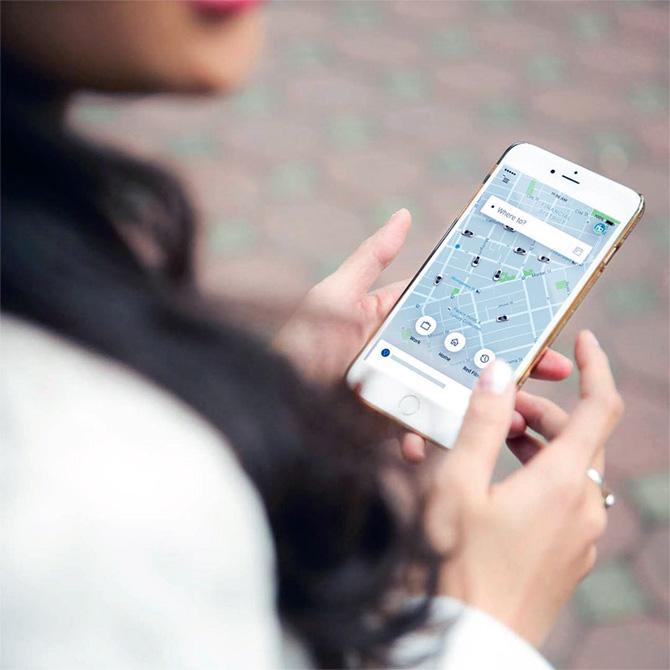 Photograph: Courtesy Uber/Instagram.
Japanese giant SoftBank is planning to invest over $10 billion in Uber's global operations, a move that could spur consolidation in India's ride-hailing space.
Amit Jain, president of Uber India, tells Alnoor Peermohamed that, regardless of recent management change and impending investment, the company remains focused on becoming profitable here, just as it has been over 12 months.
The pace of growth in the industry has come down as payouts to drivers have reduced. Has that changed, has the growth come back?
The way we think about this is, we are at the very early stages of our journey in India.
As we look at the last four years, we've continued to have exponential growth.
In the last 12 months, we've definitely taken a focus on moving from a start-up to a more sustainable model and on our path towards profitability.
But as we look at our journey, the way we look at ourselves is we are still about 1 per cent of the total rides that happen in a city today.
Our vision is very simple, how do we provide the most simple transportation everywhere and to everyone and that every ride in a city happens in an Uber and nobody feels the need to buy a car.
If you take that perspective in a lens that we're just 1 per cent of the rides in a city, the slight growth rate changes month-over-month are irrelevant, because we continue to grow the industry, we continue to build a sustainable business, we continue to add thousands of driver-partners on our platform every week and we are at the start of a journey which is going to stay here for decades.
There's some perception that the quality of the service has gone down. Why has this happened?
Our wait times are consistently under five minutes, and in most cases our ETAs (estimated time of arrivals) are two to three minutes.
We are consistently and constantly reducing our ETAs and that's our endeavour.
I think the quality of service in terms of what we do for our riders and drivers has continued to become better and better; there may be some anecdotal incidents that you might have heard of, but as a broader trend, the quality of service has continued to improve for our riders and drivers.
We measure service not just during the time on the trip. For a rider it is from when they open the app, to finding a car, through the trip and to any post-trip support, if required.
Similarly, for a driver-partner, it's from when he comes to a greenlight centre for onboarding, to the multiple trips and to any post-trip issue.
That's what is service and quality experience for our riders and drivers and our view is to take a look at the entire perspective and make sure we continue to improve that.
A lot of drivers say since earnings have come down, Uber or Ola is no longer as lucrative as they used to be for them. Is this a big problem?
The number of drivers on our platform has grown consistently. We add thousands of driver-partners on our platform every week.
Former Uber chief executive Travis Kalanick took a very keen interest in India and was pretty clear he wanted to win here. How has this changed with Dara Khosrowshahi taking over as chief executive?
The way we operate is that all regions are autonomous.
One of the reasons we have grown so fast as a company in the last seven to eight years, growing in 500 cities in 90-plus countries, is because regions have the autonomy to innovate, they have the autonomy to grow the business and serve riders and drivers in cities in unique ways that are relevant to the region.
That hasn't changed a bit.
Coming to India, Uber's commitment to India remains absolute, and there has been no change in direction, no change in the level of investment that we are willing to continue to put into India.
The transition from Travis to Dara has been exactly the same for us in India.
I used to interact with Travis regularly, I interact with Dara regularly now; there has been no change.
What happens if SoftBank ends up investing in Uber? If consolidation is coming, what position are you in today?
That's a great question for SoftBank, even I would like to know the answer.
Investments in global are independent and not specific to any region. It's a commitment to the global business that we have, irrespective of our multiple regions.
In terms of investments, you've said that Uber is still committed to making them in India. Have they ramped up in the past year?
It depends on the kind of investment.
We have ramped up investments in various areas. Our product and engineering centre right here in Bengaluru continues to expand.
We have got a centre of excellence in Hyderabad and we have got one in Bengaluru recently to support our riders and drivers.
So, investments in various areas have increased. We continue to grow our headcount.
Our emphasis on everything we talked about from quality to safety to the experience that our riders and drivers have, we have doubled down on investments in that. So, all those areas of investment have continued to increase and will continue to do so.
There is a sense that your competition is starting to push more in the autorickshaw category, things that are a lot cheaper, but Uber's play in that space is lacking. Why do you not see that as an opportunity?
It's difficult to comment on things that competition are doing.
But for us, we are just 1 per cent of the rides that happen in a city and we believe even with our core product, the potential for growth and expansion and to serve all our riders at the price point that is applicable to them is immense. This is our core business and our focus is on expanding this.
From a regulatory perspective, what are we seeing today? The Union government has been more open to the idea of surge pricing and things like that, but states are yet to agree. Are you working with them?
The central government came out with guidelines last December, which was a very welcome move and the thinking was very progressive. We were very pleased with those guidelines.
I think there's also an amendment to the Motor Vehicles Act, which is currently in Parliament; it has gone through the Lok Sabha and is currently pending in the Rajya Sabha.
We are very excited by the positive view the central government has taken.
I think since transport continues to remain a state subject, we are working with the various state governments and we are at various levels of discussions with them. Conversations are underway, but we have got robust and healthy operations in all the cities that we operate in.
Have any fruitful decisions emerged out of these conversations with states? Would there be any examples?
We have had some fantastic states that we have worked with.
The state of Telangana has been amazing; they are very progressive in their thinking, very progressive in trying new ways to serve the mobility issues of riders and provide economic opportunities to drivers.
We are very happy with Rajasthan. They were the first state which came out with formal regulations that were forward-looking and progressive. They have also come out with regulations for motorcycles and bikes, so we are very happy.