'Prime Minister Modi stated several times that we shall not let this challenge go away without converting it into an opportunity to undertake systemic reforms.'
'And hasn't that been reiterated in action?'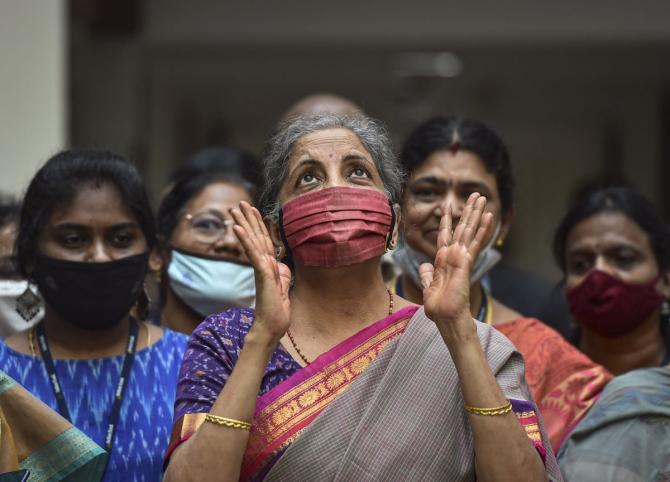 All eyes are now on the second tranche of stimulus measures from the government.
Finance Minister Nirmala Sitharaman tells Indivjal Dhasmana and Shyamal Majumdar that the government is willing to spend, but is yet to take a call on the timing and quantum.
She does not agree with the allegations that relations between the Centre and states has deteriorated during the second stint of the Narendra Modi government.
She also rebuts criticism of the government over farm and FCRA Bills, recently passed by Parliament.
While reiterating that the government is against retrospective amendments, she says a call is yet to be taken whether to challenge the Vodafone verdict or not.
The first of a multi-part interview:
Whenever there is crisis, India has taken big decisions like during the economic crisis in 1991. Critics say the government has missed the bus this time...
Absolutely not. We could have easily opted for providing some succour and not done anything (after the Covid shock), but we went in for quite a few critical reforms.
Prime Minister Narendra Modi stated several times that we shall not let this challenge go away without converting it into an opportunity to undertake systemic reforms. And hasn't that been reiterated in action?
Parliament has passed labour codes, farm Bills, and certain banking sector reforms have happened.
Also, the reform-driven assistance to states were announced such as in providing digitised ration cards. By doing this at this time, you're not losing out on the opportunity.
One of your biggest reforms -- the Farm Bills -- is being criticised because there is speculation that the minimum support price (MSP) system will ultimately go away, and small farmers will not get fair prices from big corporate houses.
If that is the plank on which the Opposition is going to the streets to have violent protests, I condemn it.
Speculation on MSP is what was giving them enough ammunition to even question what has been passed in Parliament. They should have actually come to the table and said these things during discussions and stakeholder consultations.
Even at the time of passing the ordinances, none of these apprehensions came up.
The first question that all of us, including several Opposition parties, kept putting in our manifestos was that the farmer is the only producer today who does not have choice on whom to sell, where to sell, and at what prices.
We have empowered them in such a way that there is a system through which they can bargain for better prices, and avoid middlemen.
The FCRA Bill passed by Parliament has become quite controversial. Civil society organisations are saying that the government is strangulating it. Amnesty International has decided to wind up its operations in India.
What does this Bill do? It says you are welcome to receive funds, but you have to do just one thing -- let the funds that come from abroad, come to State Bank of India, let's say its branch in Parliament street. We are not expecting you to come to Delhi to open this account. You can digitally transfer the funds.
It does one thing that you and the government knows where this money is, and to whom it is going. Nobody is stopping it.
I think some major reports have said that only 50 per cent of the funds received is accounted for and nobody knows where the remaining is going. Does it help India's national security?
Amnesty International is a separate issue. I think they were given permission under FCRA in 2000, but the permit was withdrawn in 2009 when Modi was not the PM.
Now you have become a company and showed funds that you received as foreign direct investment. So, there is this questioning and telling them that you cannot do this.
There is no witch-hunt here. This government has nothing against civil society...
Do you know there are more NGOs than schools in our country? Amnesty has to understand the norms. I am sorry to hear that Amnesty is building a narrative that the government is witch-hunting.
Relations between the Centre and states have strained due to many developments including the possibility of voting in the GST Council over compensation to states. Do you agree?
I don't know on what basis you say that. Whether it is the pandemic or whether it is any of the major issues, the PM himself has been engaging with the states on a regular basis.
Now, if you take the GST-related issues, everything has been laid on the table in the GST Council. Nothing related to the GST is being done outside of the Council. There's a lot of talk with states.
That doesn't have to be perceived as strained relations between the Centre and the states.
Do you see voting happening in the upcoming GST Council meeting?
I have no idea. I will be talking to them definitely.
The RBI had to postpone its monetary policy committee meeting for the first time as the government could not appoint its nominees. Was it not a mess?
Yes, the RBI had to postpone the MPC meeting, but there was no mess.
Yes, we couldn't announce in time. But that's without any prejudice or malice. There was no intention not to announce it before. We just couldn't.
Coming to the economy, spending can be revived with fiscal support. But the government has not been able to do so. What is your position on this?
The government has done fiscal support, to whatever extent it can. Of course, people have every right to think whether that was adequate or whether it wasn't.
As regards any further help or stimulus, I've kept my options open.