'Willing to spend is different from when to spend and how much to spend.'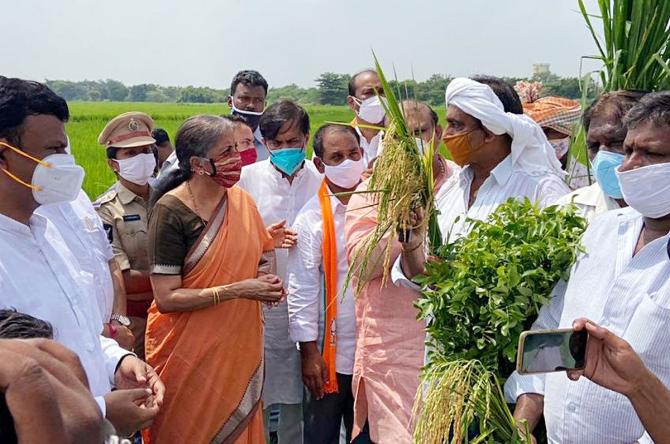 In the first of a 3-part interview, Finance Minister Nirmala Sitharaman told Indivjal Dhasmana and Shyamal Majumdar that the government was willing to spend but is yet to take a call on the timing and quantum.
"What is important," Sitharaman says in the second part of the interview, "is if there is a difference being made on the ground."
Give us your assessment of the economy during the six months since the lockdown. And, going forward, will it be more difficult due to the uncertainty?
It has been a big challenge. I don't think in India's history, post-Independence, there has been a challenge of this scope and scale.
Therefore, you can't compare it with anything before. We are in the midst of it even now, and are still talking about what it could be in the future.
The impact on the economy in the first quarter is there for everyone to see. There is no denying that it was an intense impact.
And, even as we are talking, at the end of the second quarter there is still only patchy revival happening and patchy revivals are very difficult to document in terms of measurability. So, we'll have to see how it goes.
Do you still believe that we are going to see a V-shaped recovery as the finance ministry had said in its latest monthly report?
I am not getting into any of these alphabets.
Many economists and agencies have raised their projections for the rate of gross domestic product contraction in FY21 and most of them pegged it at double digits. Do you agree with them?
We have not yet made any assessments.
The main concern is that the government is just not willing to spend...
I am not sure that is right. Willing to spend is different from when to spend and how much to spend.
The government is listening to so many people, listening to literally everyone who has been contacting and giving us inputs. Of course, we will have to time what we want to do.
Can we expect anything before Diwali?
I may not be able to say it now.
How do you assess the verdict given by the Permanent Court of Arbitration at Hague in favour of Vodafone. Will the government challenge it?
We've not taken a call on whether we want to challenge it.
But how do you see the order?
We are studying that verdict. Amending an act and making it retrospective is something that PM Modi and then finance minister (Arun Jaitley) have voiced against since 2014.
How do you respond to criticisms against increased protectionism through Customs duty hikes?
First of all, I would want to dispel this interpretation that atmanirbharta or the duties that we have been bringing in or Customs-based restrictions that are being put in are protectionist in nature.
You know the rules of origin are becoming a bit of an issue. You are being used as a ground for dumping goods, which probably you can produce yourself.
We try to impose anti-dumping duty to stop these, but these are getting routed through free-trade agreements.
Simple day-to-day items are also now getting flooded into the country. Even agarbattis, Ganesh murtis are getting flooded into the country. So, can we not stop them?
Then, there are units that produce some of the goods, which are raw material for intermediary, but because of predatory pricing or because of better marketing by others, we stopped buying them from domestic units.
I assume the standards are comparable. Where these are not comparable, I'm not worried. I'm not going to touch them.
What is the finance ministry's stand on moratorium on interest on loans given by banks? What will it tell the Supreme Court in the next hearing, and what did the Rajiv Mehrishi Committee say in its report?
The committee was appointed because we wanted to understand the issue very clearly.
On the one hand, you have the prudential norms for banks, and on the other, COVID-19 has come in as the unforeseen pandemic. It is affecting very many small borrowers.
Everyone was worried how to ask these very borrowers to pay interest and also interest on interest during the lockdown.
We've gone into the committee's report. We are at a very high stage of seeing what we can do about that report. That is why we have asked for a bit of time.
Do you think there should be a cut-off below which small borrowers could be ring-fenced from paying interest on interest?
I don't want to say anything at this stage except that we are very clearly understanding this matter with a sense of sympathy and assessing the ground situation. We will make our position clear in the court.
Banks are saying where will we get money from if there is a moratorium on interest. Then, the government will have to provide money...
That is right. This affects the entire core banking business. So, there is a point beyond which we cannot go.
How will the factoring Bill passed in Parliament help banks?
Banks are setting aside capital on the basis of gross amount of transaction. But after this Bill is passed, banks will have to keep the capital only on net transactions, making more money available to them for onward lending.
Has the Centre transferred the task of heavy lifting to the RBI?
I don't agree with it at all. I am glad what I am doing is not seen. What is important now is to address the issues.
Whether I am seen as addressing the issues is a different aspect. I would love to be seen as doing it also. But I am sorry if it is not seen.
Markets want the finance minister to be seen as well...
What is important is if there is a difference being made on the ground. It may be adequate or it may not be adequate.
What RBI does in terms of liquidity management, OMOs, keeping a watch on yields is absolutely its job, and it has to do it. I am glad it is doing it.
And I am actually grateful that the RBI is not confining itself just to monitoring inflation. But it is not for me to say that look, as opposed to that I am doing this. We are doing it. And I am sure you are watching that.
On reforms announced, the only thing pending is your public enterprise policy. You had said last time when we met that we will do it soon... Six-seven months have passed since then...
I know it has taken unexpectedly long time because every ministry wanted to give their inputs. We did one round, again there was a second round for fine-tuning it. But, I now honestly expect that it should be going to the Cabinet soon.
Whether banks will be included in the strategic list will depend on the Cabinet.