'People are doing a lot of trading.'
'Short-term euphoria can be seen.'
'Retail participation is best through MFs and PMS.'
"Currently, it is a great market for stock pickers and one is spoilt for choice," Vikas Khemani, founder, Carnelian Asset Management, tells Vishal Chhabria.
The markets have run up sharply and the leading indices are 10 to 12 per cent from all-time highs, but earnings visibility hasn't improved commensurately. Are the markets in a bubble zone?
The market's recovery from the bottom is surely sharp and gives a feeling of euphoria.
However, one should not forget that on the other side of the Covid crisis, lies a great future.
Low interest rates augur well for equities.
Two things go into the valuation of equities -- earnings and cost of capital.
While earnings are compromised for 2020-2021, the interest rate drop compensates for that.
Once earnings growth comes back, which it will, the markets will do well.
However, short-term correction and volatility can happen at any time.
Rural India is reportedly doing well. To what extent can it help lift the GDP and India Inc's earnings?
Yes, rural India is relatively insulated from the Covid crisis.
It is not only agri-productivity, but also rural consumption, which helps contribute to GDP.
It will provide a very good cushion to both GDP and earnings.
Are you seeing any green shoots in other parts of the economy, such as manufacturing and services?
I see India embarking on to a manufacturing boom over the next 5 to 10 years and it will surprise everyone.
Manufacturing GDP can hit $1 trillion in the next five-seven years.
We have many non-believers in this.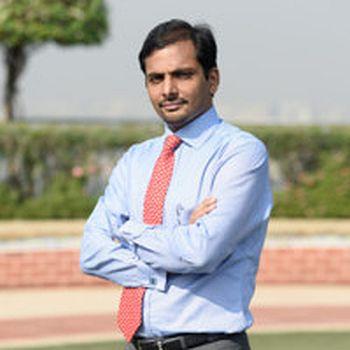 The COVID-19 crisis is a very big catalyst for growth in local manufacturing, led by import substitution and exports.
Do you know India has half the labour cost, equal power cost and a third of logistics cost when compared with China?
India is already competitive and this event, coupled with tariff and non-tariff barriers, will serve as a catalyst.
Even in the services sector, IT services will see big growth.
Every organisation has to get ready for the new digital economy and billions of dollars will be spent.
This is non-discretionary just like Y2K.
We shall see a big growth in IT services.
Both these themes will result in record levels of employment generation over the next five years.
You can well imagine the impact of that on consumption.
Many banks have raised huge sums through equity and debt, even as their capital adequacy was comfortable? Is this a preparation for a surge in non-performing assets?
The pandemic has brought a lot of short-term uncertainty, especially for the banking sector.
This pandemic will cause significant cash flow and profitability issues for MSMEs and individuals, both salaried and self-employed.
This is likely to create a risk of NPLs (non-performing loans) in the industry.
In a leveraged business, it is sensible to be prepared for it and keep the balance sheet strong.
In case, NPLs are less than anticipated, banks can grow without raising capital for three-five years which again is a great scenario for banks.
We like to see a well-capitalised and stronger banking sector as it is essential for confidence and growth.
There was a time when consumption was a key theme. How do you see it play out over the next one-two years?
Consumption is still a theme and will remain for the next two decades.
India has a young and aspirational population.
Non-discretionary spending is linked to an increase in earnings, hence might happen with a lag, but will pick up for sure.
Given the muted demand, many stocks have corrected, thereby creating an opportunity for an investment.
What is your reading of the rise in global prices of commodities?
Global cyclicals like commodities are strongly linked to liquidity in the system.
A combination of quantitative easing and fiscal spending by the central banks and governments across the globe will lead to a significant run in commodities.
We are looking at a three-four years bull run in commodities.
It may be similar to the 2003-2007 period.
In the current situation, how difficult has it become to pick stocks?
Stock picking is always important in all kinds of markets.
Currently, it is a great market for stock pickers and one is spoilt for choice.
We are fully convinced about India's recovery, a boom in manufacturing, and significant scale-up in services.
India will see a widespread recovery.
What are your preferences in terms of stocks and sectors?
We like IT, pharma, industrials, non-discretionary consumption and financials, especially non-credit financials.
How do you view the rising direct retail participation in equities?
It is worrisome to see such a rise in direct retail participation.
We have seen many penny stocks without fundamentals being traded.
People are doing a lot of trading.
The markets can always disappoint you.
Short-term euphoria can be seen.
Retail participation is best through MFs (mutual funds) and PMS (portfolio management schemes).