'Let's not get carried away by stocks like D-Mart, Jubilant Foods and all those companies that are trading at an expensive valuations.'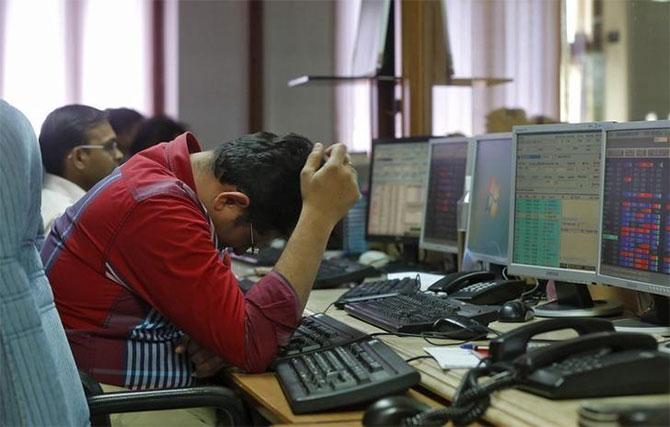 Independent stock market expert S P Tulsian tells Prasanna D Zore/Rediff.com about stocks that are overstretched and stocks that he is comfortable buying even as markets keep hitting new all-time highs.
Are the Indian stockmarkets on steroids? Are the growth concerns behind us? Markets are hitting new all-time highs every second day.
I don't understand why we must be so negative about the Indian markets. Why should we use the word 'steroids'?
Ultimately, who is driving the markets? Those who have the money, the deep pockets. These are the players who are the most intelligent people; they are the smart money.
If I have the money, and if I am deploying my cash knowing fully well that I can lose money also, and if I am still investing my money in the market, then I know what I am doing.
Let me tell you that in India we are estimating FY22 growth figure of 10-11 per cent. And this will be the first time in the history of India, barring a couple of years of double-digit growth that we witnessed before.
Global liquidity is there too, and this money will definitely chase growth wherever it happens.
As of today, India is being seen as that happening place for investments by global market players.
I don't know why we get negative when we get some negative figures on the IIP (index of industrial production) going down, GDP going down, CPI (consumer price inflation) going up, and we all start being negative. We love to highlight the negatives.
But we are yet grappling with the COVID-19 pandemic and there are legitimate growth concerns.
See, COVID is happening only in Mumbai and Delhi and Kolkata and Chennai and Ahmedabad, but not in the villages in India.
If you go and talk to people in UP, none of the villages are hugely affected by COVID.
We are into the earnings seasons now and if you look at the growth being posted by some companies, then you will see huge pent-up demand being reflected in those numbers.
Talking about your word steroids, can you give any justification why the market is discounting D-Mart at 150 PE (price earnings multiple -- a metric based on which a company's stock price is valued)?
You will find HUL very expensive at 55 PE multiple, but you will say 'wow, D-Mart looks very good at 150 PE multiple', 'Jubilant Foodworks looks very good at 110-120 PE multiple. Why?
My point is why are we taking a general call if PVR with all the cinema halls closed for the last nine months can trade at Rs 1,400, then what is the harm in Asian Paints trading at Rs 2,800 or HUL trading at Rs 2,400?
Stocks are valued based on perceptions.
Now all these big people are invested in Titan, D-Mart, Jubilant Foodworks and they are finding comfort even at these levels.
Has the market started to discount FY22 earnings today?
100 per cent.
See, when a big player is invested in any stock or market then that person is discounting FY27, FY28, FY30 earnings also. That is the craziness (that goes into valuation of stocks).
Now, in January 2021, obviously, one has to discount FY22 earnings across the board; you cannot discount your valuation based on FY21 (the period between April 1, 2020 and March 31, 2021) earnings now.
FY21 is history now; so you have to take a call based on at least FY22.
For valuing FMCG companies, people are taking call based on (estimate earnings in) FY23, FY24.
Now in the automobile sector, (the success of) Tesla has changed the economics of all the car makers in India like Maruti and Tata Motors. There was a wild rumour that Tesla is likely to invest in Tata Motors, so the stock shot up by 30 per cent in the last two days.
What would be your advice to investors today?
Go with quality stocks; buy pedigree, buy performance.
Let's not get carried away by stocks like D-Mart, Jubilant Foods and all those companies that are trading at an expensive valuations.
I will be comfortable buying Asian Paints and HUL, which are ruling at decent PE multiples of around 60 than D-Mart that is being valued at a PE of 150.
Are the Indian markets a bit overstretched trading at a PE multiple of 40?
Suppose in your room there are five students and one of them is 8 feet tall and one is two feet tall. The average height is around four feet, but none of them is four feet.
Similarly, why are you taking the average of 40 PE multiple (at which the Nifty is trading)?
This average is getting distorted by the eight feet tall students like Jubilant Food, PVR, and Titan kind of stocks.