'It is going to be a buyers' market and you will get a good number of companies at reasonable valuations and that's when one has to be very greedy.'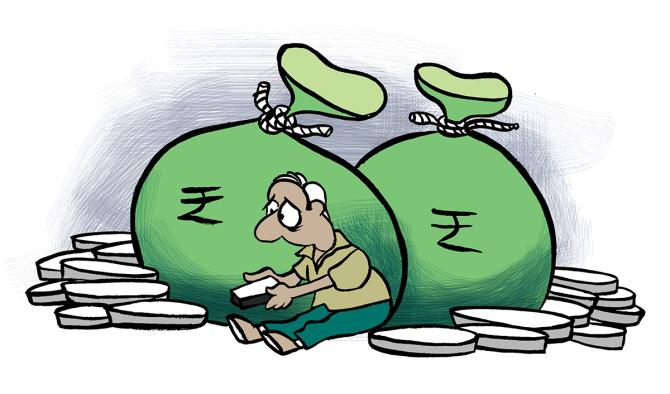 Just a week before the Union Budget, the stock markets went into a tailspin as the bellwether Nifty saw a selloff of more than 1,000 points after hitting a new all-time high of 14,753 on January 21 and closed the week ending January 29 at 13,635.
Market participants expect the markets to be volatile and possibly "swing like a pendulum gone crazy".
Against this backdrop, Naveen Kulkarni, chief investment officer, Axis Securities, tells Prasanna D Zore/Rediff.com that markets will give enough opportunities to retail investors with pretty cash in hand.
"Any level between 13000 and 12500, I would be very greedy," Kulkarni says when asked when should one go on a buying spree.
A week before the Budget the 50-stock bellwether index Nifty crashed by more than 1,000 points in just six trading sessions from its all-time high of 14753 recorded on January 21, 2021.
Why was the market so jittery before Budget day?
The rally had genuine conviction given that there is a good amount of tailwind in the Indian economy; (third quarter) corporate earnings (October-December 2020) have been pretty strong; the banks have reported good set of numbers; they managed to contain the NPA (non performing assets) challenges much, much better than expectation.
But then the markets valuations are definitely expensive.
When a pendulum swings it doesn't stop mid-way before hitting the other extreme. So, some bit of exuberance was expected and that did happen.
This kind of correction, which is happening in the market since the last week, is also healthy and in the absence of which there would have otherwise been no rationality in the market.
I consider this correction to be quite healthy and important for the next leg of rally.
Are we done for the correction or do you expect more cuts in the indices?
We cannot rule out a further correction because the markets definitely are very expensive; they are trading about three standard deviations above the mean indicating that this definitely is not a cheap market.
In my opinion, some bit of correction is still possible even from the current levels (The Nifty closed Friday January 29 at 13635 from 14500 levels on Monday, January 25; January 26 was a trading holiday).
What sectors would you be picking at post this expected correction and by how much more could the market go do from here?
Another 1,000-point correction cannot be ruled out and as for sectors I would be interested in banking, including PSU banks, where I still see lot of value. Thereafter, I would prefer the auto sector where I see a secular trend sustaining and I am keenly focused on.
What stocks would you pick from these two sectors?
We do like ICICI Bank a lot and SBI in the banking space.
In the auto sector we are looking at auto-ancillary plays; we are also keen on Maruti after the correction given that they have a strong (product) pipeline and they have a good amount of waiting period; we are also interested in Bajaj Auto.
Bharti Airtel is something we are interested in the telecom sector.
What would be no-go sectors after the bBudget?
Difficult to say much at this point in time given the broad-based rally we have seen but pure capital goods plays is what I might avoid at this point in time. Apart from that we are considering lot of other sectors.
What will be your advice to retail investors in planning their investments after the Budget for the next three to five years?
Sit on healthy cash because market will give opportunities; it is going to be a buyers' market and you will get a good number of companies at reasonable valuations and that's when one has to be very greedy.
I think soon there will be this time to be greedy in the market and that's when one will be able to accumulate good stocks.
At what Nifty level would you be greedy?
Any level between 13000 and 12500, I would be very greedy.