'There are a lot of positive things these reforms are bringing about and it is only a matter of some quarters before the growth rate picks up momentum.'
'Until then we need to be a little bit patient.'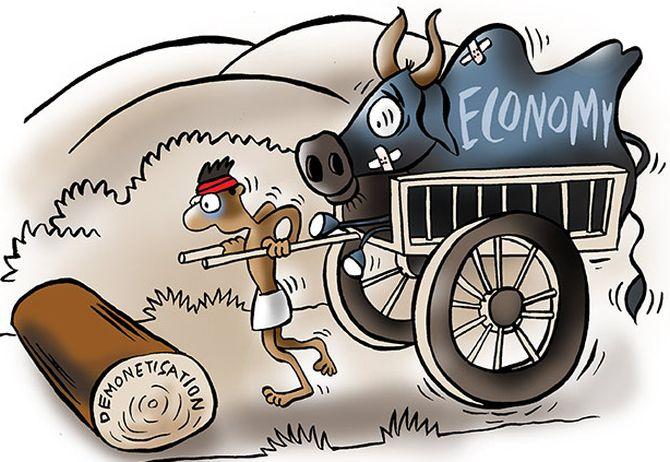 Illustration: Uttam Ghosh/Rediff.com
Soumya Kanti Ghosh, the group chief economic advisor at the State Bank of India, routinely offers his opinion on the Indian economy especially after Prime Minister Narendra D Modi took over the reins of government in May 2014.
Dr Ghosh -- who worked for the Tatas and American Express, for ICRA the credit agency, and was a senior fellow at the Indian Council for Research on International Economic Relations, a New Delhi-based think-tank before joining the SBI -- says his views are always guided by the macro number data before him. Not opinion.
Hence, his initial disbelief in the efficacy of demonetisation when it occurred on November 8, 2016. Or his standpoint that, in spite of the inherent challenges, GST and demonetisation could have been executed better.
And now his fresh re-analysis of how the back-to-back DeMo and GST implementation can yet help India in the long run.
An alumnus of Jawaharlal Nehru University and the Delhi School of Economics, when this economist is not reading up on the maverick theories of economics proposed by Dani Rodrik and Hyman Minksy, or going through his Agatha Christies, Jeffrey Archers and Tin Tins and listening to Asha Bhosle or R D Burman, he writes prolifically on financial issues for several publications.
The key benefit of demonetisation, Dr Ghosh believes, may be the message it put out to the world: India is cleaning house.
He tells Rediff.com's Vaihayasi Pande Daniel that part of next year India will spend recovering from demonetisation and GST and after that its key financial indicators should reflect a bounce back.
The first of a multi-part interview: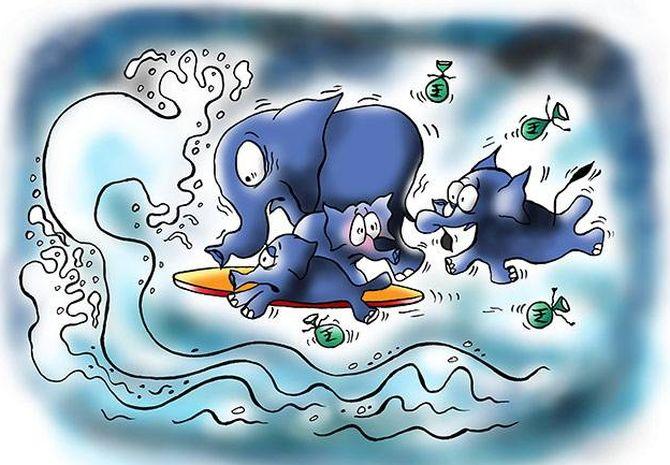 Illustration: Uttam Ghosh/Rediff.com
How do you feel the economy is doing?
The Indian economy is currently undergoing a structural transformation.
There is no denying the fact.
I believe that. Even the common person on the ground believes that. The business community believes that. Everyone believes that.
There are two sides to a structural transformation.
The first side is to talk about the (unprecedented) level of structural transformation India has done in the last one year.
The first was demonetisation. Eighty-six per cent of the currency was taken out of the system and that was an unprecedented reform.
Then there is the GST (which involved) replacing the entire spectrum of state taxes and central taxes with one common tax.
Then there was the RERA (the government enacted the Real Estate Regulation and Development Act 2016 in March last year to bring transparency in the real estate sector and strengthen the rights of home buyers)...
I think all these are fundamental reforms.
But the disadvantage with these reforms -- I would call them small disadvantages -- is that (all of them) have a short term pain to them.
This is exactly what is playing out right now.
We could see that there have been some disruptions.
GST has been implemented, there have been some disruptions. Now the government is going to modify some of the restrictions and make it even simpler.
But when you are (putting into effect) GST with the concurrence of 29 states in the country, I think there is bound to be some disruptions and the market had already factored in that.
Therefore, this GST disruption process could actually continue for some time more before it stabilises.
Until and unless all these taxation structure (issues) are not resolved, there will continue to be some nitty-gritty (issues) which basically will not be favourable for (our) economic outlook.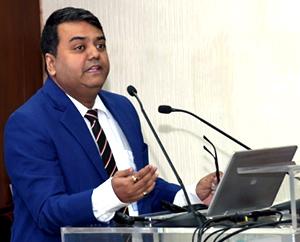 IMAGE: Dr Soumya Kanti Ghosh, group chief economic advisor, State Bank of India. Photograph: Kind courtesy Soumya Ghosh

But the good thing about these reforms is that -- as has been the experience of several other countries, for example the European economies or the German economy -- whenever there has been a structural transformation, there has always been short term pain.
Only after one or two years has there been a significant addition to the economy's growth and to the employment opportunities.
Experience shows that (for) this group of countries, the European Union countries, like Germany, there has been actually an increase in the unemployment, in the short term, and then it has stabilised to lower levels over the long term.
So if that is international criteria, and if you take that as the benchmark, we can expect that these disruptions will possibly continue for a couple of months or maybe one or two quarters, or maybe two or three quarters, and then the economy is going to benefit enormously from the (reforms).
Already, we are seeing some sort of comeback from the low GDP numbers in the first quarter. There have been some indications of the leading indicators picking up (pace).
The growth rate this year could be close to seven percent, or maybe lower than that.
Fundamentally, one or two quarters of low growth rates will not matter if you are able to log in a sustained growth rate, which India is currently achieving.
So my take is that we should not be bothered too much about these current disruptions.
There are a lot of positive things these reforms (are bringing about) and it is only a matter of some quarters before the growth rate picks up momentum.
Until then we need to be a little bit patient.
The government also needs to communicate that these are the possible benefits of the structural transformations the economy is currently undergoing.
Already, we are feeling some of the positive impact of these changes which the government has done.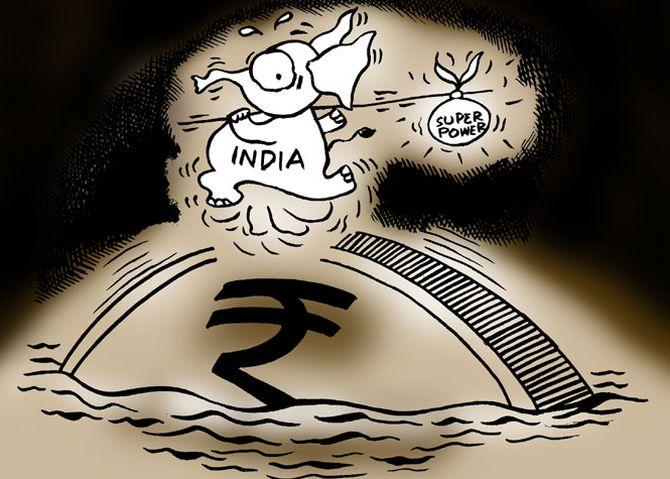 Illustration: Uttam Ghosh/Rediff.com
So the IMF's verdict that India's economy is on solid track is in your view correct? At least on a long term basis?
Yes.
But what is long term? Long term could be one year. Long term could be two years.
In this case I am very optimistic that the long term could actually be a couple of quarters away. If not, (then no) more than a year or two years.
Could demonetisation have been avoided? Was it actually successful?
Many say demonetisation and GST happened, back to back, too quickly.
These could have been staggered a bit, so we didn't have this downturn even if temporary?
Was it implemented in too much haste?
I would like to mention two things about demonetisation.
The first thing, demonetisation was done in November 2016 and then there has been (since) a lot of discussions on this.
The first discussion was on whether it was avoidable. We can debate on how it was implemented.
I think this was a bold step given the fact that the Indian economy in the past -- in the last couple of years -- has actually undergone a lot of governance issues.
Possibly, demonetisation is one of the many steps which the government is currently taking to reduce corruption.
There is plausible evidence that a lower level of corruption at the governance level boosts economic growth.
For example, if you compare India's economic growth over the last five years, it has actually improved by 50 basis points (100 basis points = one per cent), even as India has moved up 16 places in the corruption index, which is published by Transparency International (an international non-governmental, non-profit that combats corruption and prevents criminal activities arising from corruption).
That is a very creditable achievement. So over a point of time this will have a positive impact on economic growth.
The (government's) intention was a good message. Obviously, there could be some issues of implementation.
What are the positives of demonetisation and by when will they play out for the economy?
Some of the possible benefits of demonetisation are basically not visible right now. (That's what) is sometimes creating some doubts in the policy makers' mind or the people's mind and (making them wonder if) this move was actually necessary.
A couple of things I want to mention (in connection with demonetisation):
Firstly, if you look into the period of 2009 to 2014 the average number of direct tax assesses, which were added to the system were 50 lakh (5 million) per annum.
That means around 2.5 crore (25 million) tax assessees were added from 2009 to 2014.
Now fast forward and go to 2014 to March 2017 -- I am not taking this year's figures -- the total number of tax assesses (added) has been 80 lakh (8 million) per year. So the figure has gone up from 50 lakh to 80 lakh per annum.
An increase of nearly 1.5 times.
So basically demonetisation only aided more people to come under the tax net.
At this rate I am confident that by March 2018, 6.5 crore (65 million) new direct tax assessees will be added to the system. Sixty-five million is not a small number in any sense.
Secondly -- and again this is a number which is not visible -- if you look into the share of small currency circulation.
In 2004 -- small currency is basically notes of Rs 20, Rs 50, Rs 100 -- the share of that small currency notes was 54 percent.
In 2009 this figure declined to 28 per cent.
And in 2016, before demonetisation was carried out, this figure was only 13 per cent.
As all of you know, a lower amount of small note currency always begets more corruption.
Today this number is back to 28 per cent, as of March 2017, for which the latest figures were released.
Basically we are already back to 2009 levels. And this number could have actually gone up even higher, because the numbers after March 2017 have not yet been published.
This is again a positive development. But for a common man to understand what are the disadvantages or advantages of having a smaller share of currency in total circulation is difficult.
Thirdly, if I look into the March 2016 numbers of the digital transactions that were happening -- for example the transactions that were happening at the POS (point of sale) machines, ATM machines, credit card, debit card others -- and then if you do simple arithmetic and look at what would have been the trend in growth rate, if demonetisation had not happened, and also the jump in the growth rate because of demonetisation happening, you will find that the digital transactions are actually pushed three years in advance.
So basically what we would have reached in March 2019, we have already reached that level of transactions at the POS (point of sale) levels, and in terms of the digital transactions as of now.
Demonetisation effectively (brought the levels) of digital transactions of the country (ahead by) three years than what it would have done.
In essence, I think, much of the benefits of demonetisation will only be visible over a (period) of time. (They) may not be visible now in the short term. (They) may only be visible over a (period) of time or in the long term.
Part 2 of the Interview: 'You have to give very good credit to Modi'