'In FY21, as of October, LIC has booked a profit of Rs 18,800 crore through sale of equities.'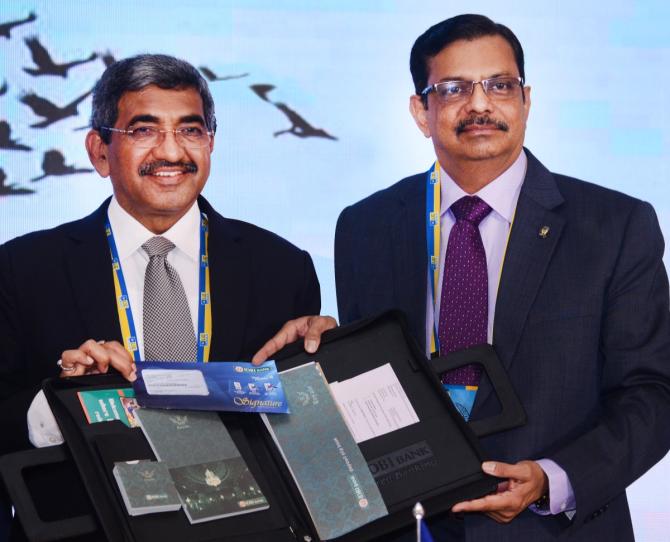 "Customers are more inclined towards pure-protection covers as well as providing for regular income in case of loss of employment or retirement," M R Kumar, chairman, Life Insurance Corporation of India, tells Subrata Panda.
The second quarter was much better for life insurers than the preceding one. Where do you see the life insurance industry headed by the end of 2020-2021 in terms of growth?
The economic activities that came to a standstill during lockdown gradually started looking up once the unlock process started in June.
The economy started moving north and an upturn was reflected in the performance of life insurers in Q2.
The pandemic has shed light on the importance of life insurance.
It may become an essential part of the new reality of our economy in the long term.
We expect the life insurance business to continue to grow steadily over the rest of the current financial year.
Backed by digital innovations and marketing initiatives, we are confident of returning to double-digit growth by the end of FY21.
Which are the product segments doing well now?
Customers are more inclined towards pure-protection covers as well as providing for regular income in case of loss of employment or retirement.
This awareness is leading to more demand for term insurance and annuity products. Annuity as a segment has always been performing well.
The increasing life expectancy is a source of potential financial risk, if not planned properly.
With a majority of the population working in unorganised sectors, there is demand for annuity products, which we foresee will increase further in the coming years, keeping in mind the fall in bank interest rates.
The pandemic has made term insurance policies popular. Our term insurance product is one of the most competitively priced, rendering it very attractive.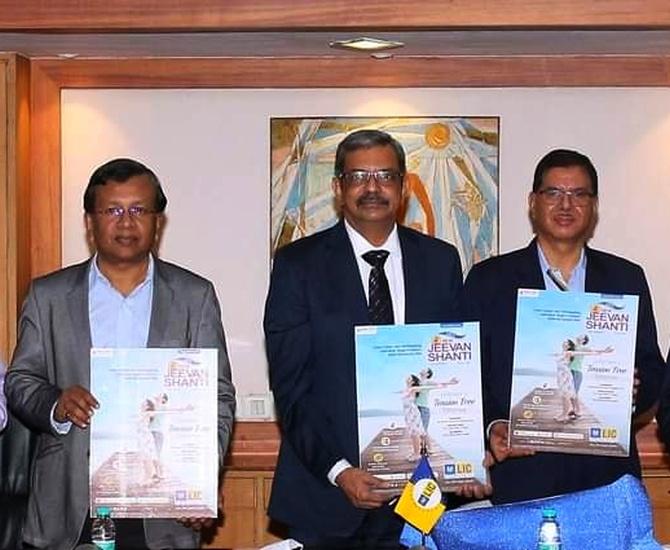 What is your take on the Insurance Regulatory and Development Authority of India's standard term product?
Keeping in mind the term products available in the market with varying terms and conditions, it is difficult for prospective customers to make an informed decision.
A standardised term insurance policy will ease the decision-making process.
Moreover, the minimum sum assured in most of the term products available in the market is high.
The minimum sum assured of Rs 5 lakh in standard term products will help in financial inclusion and bridge the protection gap in India.
What has been LIC's profit from equity investments so far?
In FY21, as of October, LIC has booked a profit of Rs 18,800 crore through sale of equities.
In 2019-2020, LIC had booked a total profit of Rs 18,400 crore through sale of equities.
The total equity investments in FY21 will depend on the investible surplus available with the corporation.
As of October, LIC has invested Rs 55,000 crore in the equity market, against Rs 32,800 crore during the corresponding period last year.
Is there any stress building in LIC's debt portfolio?
To date, we don't see any stress building up in our debt portfolio. We have a dedicated review system and continuous monitoring of our investments.
LIC has focused on millennials in the past few years. What is the corporation's strategy as far as millennials are concerned?
It is very heartening to see this generation being far more independent. They don't need to be pushed into buying insurance.
Whether it is because of information available at their fingertips or the awareness created through media, millennials understand the importance of life insurance.
Nearly 50 per cent of policies sold in FY21 were to them. We have products that suit their needs at all life stages - right from term insurance and health to savings and annuity plans.
We have further streamlined our online platform where customers can pay online, raise demand for policy loans online, and change address online.
All our ULIP and annuity products are available for purchase online. We have introduced the chatbot LIC Mitra to answer queries and increase financial awareness.
How hopeful are you of completing the initial public offering in FY21?
The Department of Investment and Public Asset Management and the Government of India are looking after the IPO aspects of LIC. It is, therefore, not appropriate to offer any comments on this.
Do you think with the digitisation of processes, LIC will eventually look at reducing its agent numbers?
To this day, a majority of the new business of LIC is brought in by its tied channel agents.
LIC will, therefore, strive to carry its field personnel along on this digital journey.
The focus will be on educating the field personnel on the benefits of technology and empowering them to provide sales and servicing functions at the doorstep of customers.
Instead of feeling threatened by the digitisation process, they would be encouraged to actively adapt and reap the benefits by way of anytime and anywhere service capability, thus, saving cost, time, and effort.
IDBI Bank has been a good partner as far as bancassurance is concerned. It has returned to profit as well. What is LIC's plan for IDBI Bank now?
It is heartening to note that IDBI Bank has returned to profit. It has registered profit for three successive quarters.
IDBI Bank has become LIC's best bancassurance partner within a short time.
LIC will progressively bring down the stake in IDBI Bank within the Irdai (Investment) Regulations, 2016, over a period of time as stipulated by Irdai.
LIC has been working with IDBI Bank to leverage points of synergy for optimum mutual benefit.
Has the persistency ratio gone down for LIC due to the pandemic?
Our 13-month persistency ratio for annualised premium was 72 per cent in the quarter ended June 2019, whereas for the June 2020 quarter, it was 70 per cent.
For the 61st month, persistency ratio for June 2019 was 52 per cent, whereas this June quarter, it was 53 per cent.
In the number of policies, too, there was not much difference. For the 61st month, it was 43 per cent in both years.
For the 13th month, it was 62 per cent in the June 2019 quarter and 59 per cent in the June 2020 quarter.
How much has LIC paid in terms of maturity claims and death claims so far and how many Covid claims have you settled?
As of October-end, we have settled 9.75 million maturity claims for an amount of Rs 49,331.22 crore and around 450,000 death claims amounting to Rs 8,361.92 crore.
Covid death claims settled by us, as of November 4, are 771 under 1,655 policies worth Rs 70.53 crore.
Is insurance becoming a nudge product from a push product due to Covid?
Consumer awareness of life Insurance has increased in India due to the collective effort of the regulator, the government, and life insurance companies, but we have a long way to go.
Ideally, life insurance should be a demand-led product, but due to lack of awareness among customers, it has remained a push product.
The pandemic has made people aware of the importance of life insurance and it may be a defining moment for insurance becoming a nudge product that will ultimately benefit the population.
Feature Presentation: Rajesh Alva/Rediff.com