'Government shouldn't be in the business of running airlines, instead it should develop the ecosystem of civil aviation.'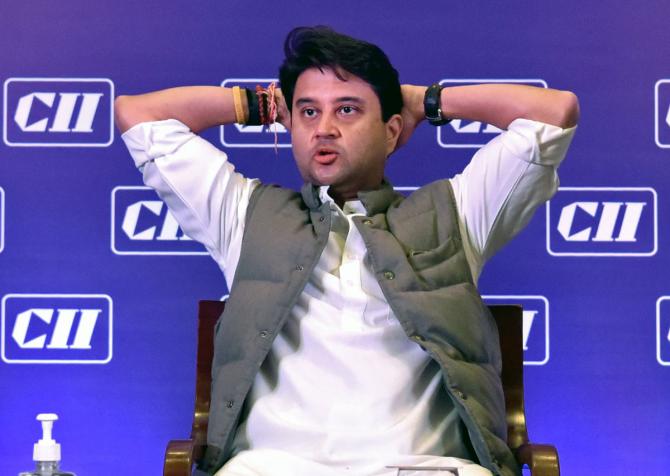 For Jyotiraditya Scindia, becoming the minister of civil aviation is a homecoming of sorts.
Nearly 30 years ago, his father Madhavrao Scindia held the same position in the P V Narasimha Rao government from 1991 to 1993.
The step Madhavrao took to repeal the Air Corporation Act of 1953 which would legally allow private airlines to operate has now come full circle with the privatisation of Air India.
"It is a huge dividend for any honest taxpayer that their money will no longer be utilised to fund losses of the airline which was registering losses of Rs 20 crore (Rs 200 million) per day," Jyotiraditya Scindia tells Arindam Majumder/Business Standard.
What will the impact of privatisation of Air India be on the civil aviation sector?
Air India had a loss of over Rs 80,000 crore (Rs 800 billion) over the past 14 years and if you add up all the equity, debt and guarantees given, we are talking about close to Rs 250,000 crore (Rs 2.5 trillion) of taxpayer money just to run an airline.
If we look at India's needs, that money could be utilised more efficiently for multiplier effects in other areas.
Therefore, this important decision was taken by the prime minister that we no longer operate an airline which is leading to huge losses for the exchequer and that is only because of his dedication and resolve that this transaction has been possible.
It is a huge dividend for any honest taxpayer that their money will no longer be utilised to fund losses of the airline which was registering losses of Rs 20 crore (Rs 200 million) per day.
I do believe that Tata group will put its full strength to develop its strategy like human resource and marketing capability, financial strength etc.
Therefore, it will present a huge upside for the customers both in terms of product and new service benchmark.
We are already seeing changes happening in terms of on-time performance, in-flight amenities, and service capabilities.
This transaction will also allow a much more competitive landscape to emerge.
There will be a second major player in the sector which was heavily fragmented with one major player. This is very healthy from the point of view of competition.
This is an airline which has a large international footprint -- 141 aircraft, around 4,000 domestic and 2,700 international slots.
So, this provides a footprint for not only the Tatas, but for India to leave its mark on the map of international civil aviation.
Hence, this is a win-win transaction for all concerned and I think this will be transformational for both domestic and international air travel.
What role do you think the civil aviation ministry will play after Air India's divestment?
Please understand that the ministry of civil aviation is not about running Air India.
Those who understand this sector will realise that this ministry is not about airlines alone.
It's about the entire civil aviation ecosystem of which airlines are just a part.
The ecosystem like in case of auto companies is not only the automakers.
There are a host of companies around the automakers that make the sector viable.
Similar is the case of aviation. It is about creating a feasible regulatory environment for the airlines, and developing other ecosystems like airports, flying schools, cargo, ground handling, MRO.
It is about increasing the reach of air transport to unknown destinations like what UDAN has done with Jhasuguda or Rupsi or Darbhanga.
It is also about developing aircraft manufacturing and handling the convergence of civil and defence.
There are myriad areas that need to be taken forward in civil aviation space.
Unfortunately, past governments had made it only about interfering with Air India.
But I firmly believe it is not the government's job to run business.
Even when Air India was with the government, this government left it to the professional CEOs or CMDs for operating the airline.
One important part of this ecosystem is the safety regulator DGCA.
Unlike developed aviation markets, the DGCA here is an extended arm of the ministry.
What steps have you taken to increase the autonomy of the DGCA?
Whether it's DGCA or BCAS (Bureau of Civil Aviation Security), both regulators are important arms in ensuring a safe and secure aviation environment.
It is not the job of the ministry of civil aviation to interfere in the work of regulators.
Let me tell you under my watch, both DGCA and BCAS have worked with complete independence.
In fact, I rely on DGCA and BCAS in terms of efficiently running the system.
Under my watch, the ministry doesn't work as a restrictive regulator, but a constructive collaborator not only with government arms but also with stakeholders.
How has been your engagement with the private sector, now that a large part of civil aviation infrastructure is handled by private companies?
I have set up advisory committees each for airline, airports, ground handling, cargo, flying training organisation, MRO, aircraft manufacturing and for consultants and academia.
To date, I have had 26 meetings of the advisory groups where not only we have taken suggestions but also revert to the groups with action taken reports.
On many occasions, the advisory group and I have worked together to represent a third ministry whether it is the ministry of finance or external affairs.
I firmly believe in working together as people around a round table, as opposed to heading a peg on a square table.
Reduction of tax on ATF has been one of the long pending demands of airlines. Multiple states have responded to your call of reducing VAT on ATF. What has been the impact?
What we have been able to achieve is monumental.
ATF is close to 39 percent of the cost structure of an airline.
So 40 percent of their topline goes away straight to fuel.
So airlines are left with only 60 percent revenue to take care of cost. Therefore, it is prohibitive for business.
Prior to my taking over in July, among the 36 states and Uuion territories, we had close to 12 states that had VAT on ATF of 5 percent and 24 states that had VAT of 15-30 per cent.
Today after four months of perseverance, we had 11 states that have lowered their VAT from 25-28 per cent down to 1-4 percent.
This is something that had been waiting for decades to happen.
There are large states with important airports like Uttar Pradesh which have reduced VAT on ATF from 21 per cent to 1 per cent or Gujarat from 30 per cent to 5 per cent and Karnataka housing Bangalore airport reducing it to 18 per cent from 28 per cent.
The states have realised the dividend they can get by lowering tax on ATF refueling takes place at much higher level.
So, today 24 states have VAT on ATF below 5 per cent and 13 states are above 5 per cent. This has resulted in a huge dividend for the civil aviation sector.
Feature Presentation: Rajesh Alva/Rediff.com