'GST does open up the domestic market for acquisitions.'
'I will not be surprised if we get into double-digit GDP growth in the next financial year.'
'With rising incomes and a good monsoon, both urban and rural demand should improve.'
Illustration: Dominic Xavier/Rediff.com
Godrej group Chairman Adi Godrej, bottom, left, describes in an interview to Viveat Susan Pinto the way forward for the conglomerate after the implementation of the GST. Excerpts:
What will be the group's strategy post GST?
We are expecting strong growth and are getting ready for it. This could mean putting up additional capacity. We are working on that.
Additionally, there are gains that accrue on the warehousing and logistics front. We are taking steps there, too.
Will you focus on the domestic market for acquisitions?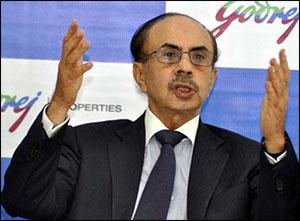 We are looking at the domestic market for acquisitions in addition to international markets, where our buys have been more. A few acquisitions have been done by us in the past in the domestic market.
Acquisition opportunities are expected to grow post GST.
It could because there will be players who were dodging taxes and may have difficulty continuing with their business post GST. So yes, it does open up the domestic market for acquisitions.
Are you happy that the government has stuck to the July 1 deadline for rolling out the GST?
The government has done an excellent job of finalising the details of the GST and is committed to rolling it out on the said date.
The GST Council has done an excellent job too of organising regular meetings and getting the fine print of the new tax regime in place.
This was not easy by any stretch of the imagination. But they have done this on time.
I have maintained all along that the GST will accelerate growth.
And with a good monsoon expected this year, I will not be surprised if we get into double-digit GDP growth in the next financial year.
There has been some concern expressed about the variable GST rates.
I don't think that is an issue at all. In a country like India you can't have the same rate across the board. That is not possible.
While there will be a few concerns, you will have different GST rates because the type of goods consumed vary from person to person.
We always knew there were going to be different rates. Many countries have different rates. There is nothing unusual about this.
Have transition gains and losses been addressed appropriately?
Transition gains and losses have been addressed to the extent the government could have.
I won't say they have been fully addressed. But the government has done its best here.
It has been accommodative. All further issues might be looked at with an open mind by the government.
What is your sense of the beauty and personal care market post GST?
With rising incomes and a good monsoon, both urban and rural demand should improve, which should spur consumption. Consumer categories and markets, in general, including beauty and personal care, will benefit from this.