'We have had $ 2.8 billion in large deal wins in Q2 and 11.4 per cent revenue growth.'
'We don't see any impact of macros on deal conversions.'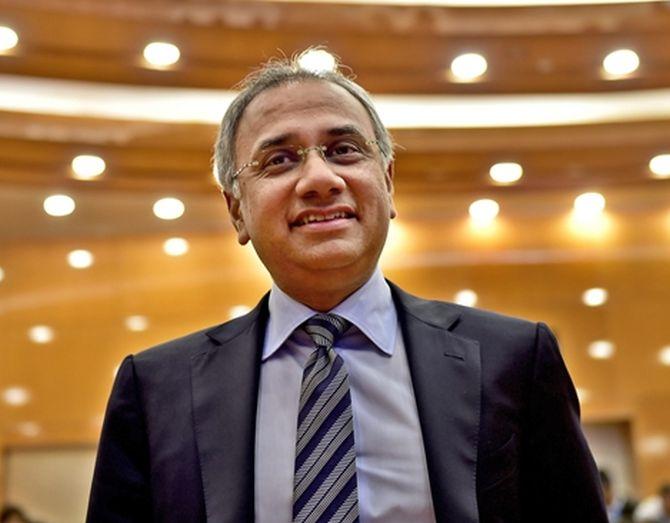 Infosys is not facing any major macroeconomic headwinds as of now that will impact its growth in the coming quarters.
After posting double-digit growth for the fourth consecutive quarter, chief executive officer and managing director Salil Parekh tells Yuvraj Malik and Debasis Mohapatra that the firm is not facing any delay in ramping up of large deals. Edited excerpts:
How do you see the overall demand in the IT outsourcing market? Has Infosys witnessed any headwinds in its key verticals like BFSI and retail?
We have not experienced any significant change in the demand environment.
Six of the seven large segments have shown double-digit growth in the second quarter.
We see a good traction in areas like energy and utilities, high-tech and telecom.
In financial services, we had good growth in Q2 and see good demand going forward.
During the last quarter, we called out some weakness in the capital market, and also about general softness in financial institutions.
But, for now, we have had good demand and good outcome (in Q2).
We will see how this plays out in the rest of the financial year.
The market was expecting revision in revenue guidance on the upper end. What is the reason for not raising it? Also, will margins improve further?
We have increased the lower band of our guidance, which is 9-10 per cent now, instead of 8.5-10 per cent guided earlier.
From the start of the year, we had a view for the year and every quarter, we have strengthened that view.
The second half is usually weaker in our sector, which is because of normal seasonality, but overall our deal pipeline remains strong.
On the margin side, we guided for 21-23 per cent and we are now at 21.7 per cent, which is within that band.
I think this is a good platform for us to build on.
We remain committed to the margin guidance.
Was the margin improvement largely due to cross currency gain or some operational metrics play their role?
We have taken a hit because of cross currency.
While we got over 13 basis points (bps) improvement from the rupee depreciation against dollar, we actually took a hit of 15 bps on cross currency, because rupee appreciated against the pound sterling and euro.
There is a sense in the market that the deal conversion rate is getting slower due to the macroeconomic headwinds.
We have had $ 2.8 billion in large deal wins in Q2 and 11.4 per cent revenue growth.
We can't get those outcomes if deal conversion is not happening.
So, we don't see any impact of macros on deal conversions.
Photograph: PTI Photo