'If jobs do not happen, the demographic dividend we have will become a demographic disaster.'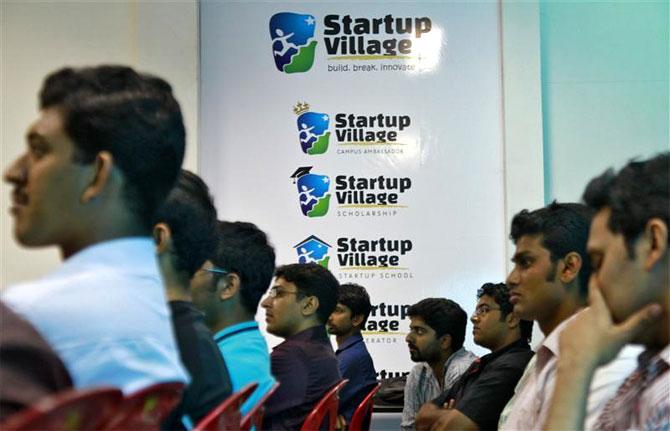 With the United States changing its H-1B visa rules, will India's information technology sector suffer, or will it turn out to be an opportunity for it to rediscover its true strengths?
Financial wizard V Balakrishnan -- former chief financial officer, Infosys -- below, left, discusses the challenges confronting the Indian IT industry, the annual need for 15 million to 20 million jobs and more in a conversation with Rediff.com's Shobha Warrier.
Ever since US President Donald Trump announced the new visa rules, many IT companies in India are worried. Do you think Indian IT industry will suffer?
There is going to be a short-term impact because it will put restriction on the companies that send people to work on projects in the US. But in the long term, these companies will manage. It's mainly because the US has a shortage of technology workers.
If you look at the unemployment rate of technology workers in the US, it is less than 2%. All the large corporations are worried about the shortage of skilled workers there.
India is the only country that has a large ecosystem of good software engineers. Like China dominates the manufacturing sector, India dominates the software services sector.
What should Indian companies do to not lose the advantage they already have?
I think Indian companies will try to find more offshore jobs. If you look at any job, you see that 70% of the work happens in India and 30% outside India.
I don't see why it can't be 90% in India and 10% outside India. That's why I feel they will reconfigure the model and more offshoring will happen in India.
Yes, there will be a short-term impact, but in the long term, the industry will manage.
Do you think offshoring will start soon as when a certain work has to be done, it has to be done immediately?
There is not much software talent in the US, so it is but natural that the centre of gravity has to move to countries like India where there is talent.
So, offshoring will definitely increase.
And it will take time for the recent regulatory changes to take place. The US president has appointed a committee through an executive order to look at the issue. It will take some time to bring in the legislative changes.
So, there is some breathing space for the IT industry to reconfigure the model and manage it.
Will India continue to be the service providers of the world?
Definitely, India will continue to dominate, but more work will move to India.
That is because work will move to where there is talent and India is one country that has abundance of talent.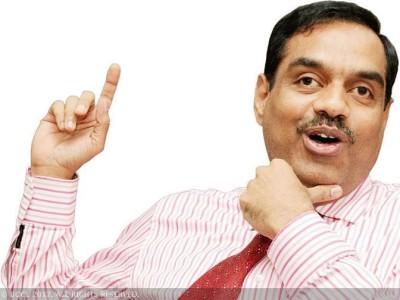 It is because of democracy and the ecosystem that helps develop talented software engineers. So, more offshoring will happen over a period of time, which is inevitable.
With Indian companies focussing on digital work, it will get opportunities to work in foreign countries.
Although the industry is evolving, this situation will accelerate its process of evolving.
You mean job losses may not happen because of the new visa rules?
No, job losses will not happen. But the chance to travel outside India for projects may not happen. Like I said, when offshoring happens in India, a lot more jobs take place in India.
The US and UK are the biggest markets for the Indian IT industry. With the US turning protectionist and the UK slowing down after Brexit, how will it affect the Indian IT industry?
It will definitely affect the growth rate as the US and the UK are the largest markets for Indian IT companies. We are already seeing it in the numbers.
But technology spending is going up globally. If you look at the Gartner report, it talks about a 2% to 3% increase in IT spending this year.
As the spending is not coming down and India has the talent base, despite the US and the UK, Indian companies will not be affected much.
Do you expect India to dominate the global IT scene?
I think India will continue to dominate the global IT scene because of the ecosystem. No other country has so large a pool of talented engineers.
Everybody talks about the huge Indian market. Can the industry tap the domestic market now?
In India, domestic spending is mostly done by the government. It is a very big but a challenging market, not like the outside market. That's why Indian companies focus on the external market. They are now trying to tap this market too.
How long do you think it will take for the Indian market to evolve?
It is not going to be immediate; it will take some more time, definitely.
The more India gets globalised, Indian companies should focus on technology as it is going to be the key differentiator.
India has the potential to be a large market for IT.
How will Trump's 'Buy American, hire American' slogan affect Silicon Valley?
You have to see it like this; there is a political reality and there is also an economic reality.
Politics takes a short term view of everything, but the economic reality is that you can't stop globalisation. Today, every country is well integrated into the global market.
Look at the manufacturing ecosystem China has built for manufacturing. It is very difficult for the US to replicate it soon; it may take one or two decades.
So, despite the slogans, these changes will not happen tomorrow.
Similarly, India has built an ecosystem for IT servicing which other countries will not be able to replicate immediately.
These are all great political statements, but the economic reality is different.
The economic reality is globalisation is real and you can't ignore it.
Yes, transitions can happen over a period of time, but not immediately.
A couple of decades ago, the same countries wanted all the walls to be broken, but today, they want isolation. Do you think the world will go back to the protectionist era again?
It is a cycle; it goes up and down.
When global growth comes down, there will be unemployment in many economies.
There will be anger among those who have not benefitted from globalisation and politicians will try to use the sentiment and talk about creating walls.
But the fact is, globalisation is real and no country can change it now.
Every country depends on another country for something. I don't think globalisation will go away.
In the case of the US also, it cannot be a success if it remains isolated from the rest of the world.
The USP of the US is that the best talents from across the world assembled to build the US that we see today.
If not for the diverse talent, the country would not have been what it is.
What these politicians utter are only for short term gains and nobody can reverse globalisation.
Many surveys say that hiring engineers for the Indian IT sector is going to come down.
Hiring has already come down because the industry growth has come down.
It was growing at 15% to 20% earlier, now it is less than 10%. But it is a $150 billion industry.
Hiring has also come down because automation is happening in a big way.
Areas like maintenance, BPO work, etc will get automated big time.
Indian IT companies had been hiring in the tens of thousands and we have been producing millions of engineers every year. What will happen when hiring comes down?
The IT industry will not be hiring like they were doing earlier. But then the other industries should start doing it.
Unemployment will be a big issue for India.
If the unemployment rate increases, it will have its social impact.
The social unrest you see today is because of unemployment.
India needs to create 1.5 crore to 2 crore jobs (15 million to 20 million) a year, but we have not created many jobs in the last two years.
Though we are growing at 7%, what we are seeing is jobless growth.
Job creation should be the major focus of the government, but it is not focussing on it.
If jobs do not happen, the demographic dividend we have will become a demographic disaster.
Where do you see the Indian IT industry in the next 5 years or so?
The Indian IT industry will still grow, but it will only be in high single digits.
They will be using a lot more technology and I see a lot more innovation happening on the technology side.
I think India will definitely do well in the long run because of its talent and innovation.
You mean other than services, India can dominate in innovation?
If you look at the start-up ecosystem, it has evolved in the last 4, 5 years. You see a lot of innovation happening here already.
Many companies are now coming out with extraordinary products.
In the next 5 to 10 years, you will see a lot more product innovation happening in India, and you will see Indian companies making products for the global market. I have no doubts about it.
Kindly note: Photograph posted only for representational purposes. Photograph: Sivaram V Reuters
DON'T MISS reading the features in the RELATED LINKS BELOW...