'It is entering growth territory on a month-on-month basis.'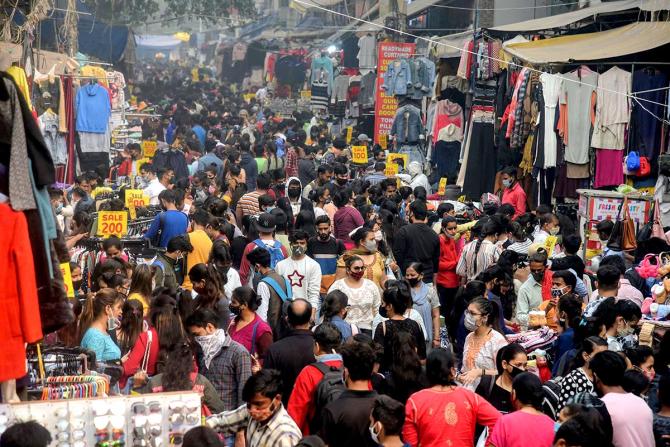 Finance Secretary Ajay Bhushan Pandey, below, tells Dilasha Seth and Indivjal Dhasmana that there are positive indications that economic activity is picking up.
While green shoots in the economy are visible, critics attribute it to pent-up demand.
We have seen signs of recovery over the past few months on various parameters, including electricity consumption, purchasing managers index, and GST collection.
GST collection in October had breached Rs 1.05 trillion. This was 10 per cent higher than October last year.
Besides, e-way bill generation in October was 21 per cent higher, compared to last year's. In September, it was 10 per cent higher year-on-year.
If there was pent-up demand, it should have reflected higher in September. In October, it should have come down.
We are noticing the generation of e-invoices, which started this month for companies with a turnover of Rs 500 crore and above.
Last Friday (of October), 2.9 million e-invoices were generated. All these figures are testament to the strength of the economy.
The pent-up demand or past demand carry-over will be a small component, but the economy is touching pre-Covid levels. It is entering growth territory on a month-on-month basis.
Are you suggesting there will be economic growth in the second half (H2)?
When you talk about the year's growth in certain months, we were in negative territory. Even for a near-zero situation, you have to show strong positive performance in H2.
What is the finance ministry's estimate for gross domestic product growth this fiscal year?
We are trying to estimate on the basis of the current data and trend. Indicators over the past two-three months give us a reasonable degree of confidence that we are entering the growth stage.
In H2, we will be in a position to furnish higher figures. 2020-21 will possibly see near zero growth.
Will the finance ministry come out with another stimulus package before Diwali as is widely expected?
We have been and still are monitoring the situation closely. It is not a question of a second or third stimulus.
Ever since the pandemic struck, there have been a series of packages, interventions, and stimulus measures.
Liquidity in the hands of taxpayers was ensured, with Rs 2 trillion worth of refunds issued in the past seven months.
Stimulus is not a one-time affair, but a continuous process.
We are coming out with appropriate responses to address the concerns in the stressed sectors.
Do we expect another round of stimulus in November?
We have received suggestions from the Confederation of Indian Industry, Federation of Indian Chambers of Commerce & Industry, Confederation of All India Traders, micro, small, and medium enterprises and other ministries to identify the stressed sectors.
Over the past seven months, we have kept our lines of communication and dialogue open with the industry and other sections of the population to frame our response.
We are receiving their suggestions and will take a holistic view. But it is very difficult to give a timeline.
How different will be the Budget-making exercise this year?
There is demand revival. Goods have started moving, indicated by e-way bill generation. Covid numbers are coming down and the recovery rate is higher.
For the budgetary exercise, we are constantly reviewing the situation. Each sector will get reflected in our Budget proposals.
What will be the focus of next year's Budget?
We are in discussions with stakeholders. The department of expenditure is meeting every department on a daily basis and collating suggestions and requirements.
I have written to all states, asking them to send in their suggestions. We have also written to industry bodies, MSMEs, and trade associations for their suggestions.
The Budget discussions will be via videoconferencing this year as it has become the norm.
Amid lingering uncertainty due to Covid, will next year's Budget targets be reviewed mid-year?
In the entire budgetary system, we have a Budget Estimate. The first revision happens during the monsoon session. The inbuilt system is there to review and keep revising estimates through supplementary proposals.
How much shortfall are you expecting in this year's revenue targets?
In certain months this fiscal, we have had lower revenue -- both direct tax and indirect tax. It is now starting to show positive signs.
At a broader level, the economy will see near-zero growth. If that happens, the actual tax collections will also be in that range.
We need to sustain this growth momentum. For that, we need to take adequate precautions to rein in the pandemic without compromising on economic activity.
How much slippage in fiscal deficit are you expecting this year?
We will know when we work out the Revised Estimates.
Have any of the opposing states responded to the GST compensation proposal of borrowing Rs 1.1 trillion yet?
The finance minister has written to the chief ministers and requested them to avail of the options, so that the money can be given to them.
We remain engaged with them and will continue to convince them to avail of the option and take the money. They are welcome to join any time.