'When you have both cancer and fever, you cannot have just paracetamol. You have to give paracetamol for the fever and chemotherapy for cancer.'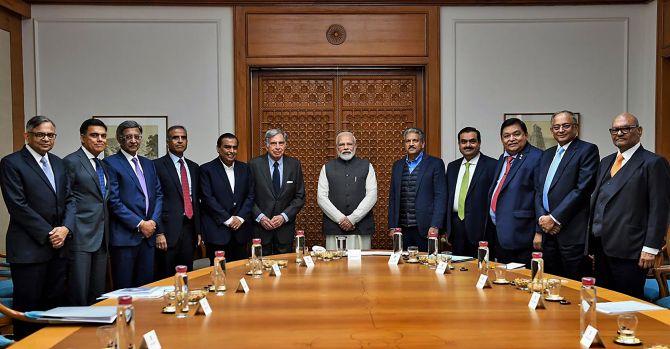 In 2019, it was said the Indian economy was slowing down. Now in 2020, people have started talking about recession.
After registering a growth of 8% in 2016, India's growth has fallen steeply to below 5%.
Where is the Economy heading to?
"The economy will pick up in 2020 or a little later... When it picks up, will it reach 10%, 8% or still lower? It all depends on how realistic are the diagnosis and the prescriptions that follow," Professor K J Joseph, director, Gulati Institute of Finance and Taxation, tells Rediff.com's Shobha Warrier.
Are we moving towards recession, or are we already in recession?
We are already in recession. How do you describe recession? When you clock declining GDP growth for six consecutive quarters, it is recession.
Anyway, it is by now well understood that the economy is slowing down. Economists have even termed it as the great decline.
The question now is where is this decline happening? After India started liberalising in the 1980s and globalising in the 1990s, India's economic growth has steadily increased.
India's growth rate from 1991 to 2000 was 5.5% to 5.6%, and from 2001-2010 it was 6.5%. The growth rate accelerated by one per cent.
But after 2010 till 2018, it was 6.8%, which means that the growth rate was merely 0.3% higher than the previous decade.
Coming to the present, the current year's growth rate is expected to be only around 5%. It is quite likely that this decade is going to record a lower growth rate than previous decades.
If it so happens, it also means India appears to have already peaked its performance. Deceleration has set in, which we cannot afford.
Peaking at less than 7%? Does that mean it can only decline from now onwards?
If you are good enough, you may stabilise. Else, you will decline.
Now, we have to compare this performance with that of China. How has it been in the case of China?
China registered a growth rate of 9.6% from the 1980s till 2017. If you look at India's performance, you will see that it was never a steady growth. It had occasional downs.
For example, in 1991, we had a growth rate of just 1%, in 2000, it was 3% and 2003, 3% and now again, it is coming down to 5%.
But it has been said we were growing at 7%, 8%, 9%...
After growing at 3% in 2003, it picked up to almost 8.1% in 2016 which was the highest among many of the comparable countries at that time.
But the point is today China is recording a growth rate of 6% which is after achieving 9.6% for nearly 37 years!
The Japanese economy doesn't grow now; even a growth rate of 1% is great for them.
Can we afford to stagnate?
Exactly. And that is a point of major concern.
It is not for the first time after globalisation that the economy is facing this kind of recession. I will consider liberalisation as a 1980s phenomenon. In 1991, we had a slowdown, early 2000s we had a slowdown, and now we are experiencing one.
What I want to argue is that Indian economic performance was never steady; it has always been fluctuating.
If you look at the annual growth rate from the 1980s, you will see that it always had violent fluctuations unlike China. If at all China had fluctuations, it was much less violent as compared to India.
Why is it that we experience violent fluctuations? Has it anything to do with uncertain political situations?
No, it is not so much due to the political atmosphere. It can be due to endogenous and exogenous factors, that is something very specific to the economy and also something external to the economy.
I would like to compare this kind of economic situation to a human being. For example, what enables a baby to grow physically, mentally and intellectually strong? If the baby is malnourished, it catches cold and fever quite often. That is because it is not healthy. On the other hand, a healthy child can fight the viruses.
You mean the Indian economy is an unhealthy economy?
Precisely. That's why I said we had structural problems.
When your fundamentals are not sound enough to sustain a growth that India badly needs. When you take the example of China, it has been shown that it is possible for large economies like India to grow steadily.
Compared to China, what is it that India lacks?
That is the question we need to answer. What generates growth? Growth does not come from the heavens.
The basic thing you need is capability.
And the most important capability is human capability. That human capability has to be manifested in terms of the capability of individuals and organisations to survive in the fiercely competitive global environment in which they operate.
Today it is more competitive than ever before. To survive in a highly competitive economy, you need the capability.
Does that mean people themselves are responsible for the violent fluctuations in the economy?
Exactly. Who are the agents of an economy? The labour force.
They should be educated, they should be knowledgeable, they should be competent. These qualities make entrepreneurs. It is the people who make the enterprises.
Entrepreneurial capability is nothing but the manifestation of the overall capability of the people who manage them.
Today you are living in a world where knowledge is the key resource; not capital, not land. You can survive in a globalised open economy only if you are competitive.
And that competitiveness depends upon your capability, and that capability is essentially a function of your knowledge and learning capability.
We are all the time talking about the large human capital that we have...
I would say that human capital is used in a very wrong way.
For example, when you talk about learning capability, it can be in terms of science-based learning, research and development. It can be the number of scientists, engineers, R&D expenditure and patents you generate.
India has been talking about spending 2% of the GDP on R&D from the 8th Plan onwards. But it is not even 0.9% today. Compare this to the 2.1% of the GDP in China. With respect to patents, India is nowhere near China.
Secondly, the experience-based knowledge, which is different from science-based knowledge.
Perhaps you can describe it as scientific knowledge and synthetic knowledge.
In fact, under globalisation, India's strategy has been to make use of synthetic knowledge, by borrowing from others, by attracting FDI, by importing and other such means.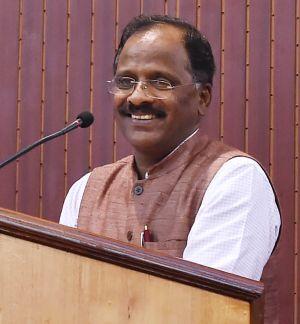 What about ideas like Start up India, Make in India, Skill India, etc? The intention was to encourage new ideas, and not synthetic knowledge.
These are all wonderful ideas. But unless you have a judicious mix of scientific knowledge with synthetic knowledge, none of this will succeed. This has to come from stronger Academia-Industry collaboration which is very much missing in India.
What is happening to the best brains? In fact, today India has been facing a brain drain of much severe intensity than what we faced before liberalisation.
Whether you succeed or not depends on the knowledge economy in the Fourth Industrial Revolution.
Compare India's software capability with that of China. Today, China has a software market of about $550 billion, and they export around $70 billion. That means $480 billion worth of software is used in the domestic economy.
This domestic use of software, in fact, makes the Chinese economy in general more competitive and efficient. They are able to flood the world market with their products so much so that they have generated huge employment in manufacturing.
Now, in the case of India, we have around $150 billion worth of software, out of which $100 billion is exported. Our domestic consumption may be around $50 billion only. This is as against the $480 billion in China.
Why are we exporting $100 billion worth of software instead of exploiting the huge domestic market?
The best minds of India do not work for India, but for other countries. By exporting, they are working for the companies outside this country.
In an economy where there are no barriers to import, we are actually working against our own domestic firms and working for our competitors.
We hear about India's huge domestic market all the time, but why is it that nobody is really exploiting it?
Exactly. I would even go on to say that there may not be any county in the US which is working so hard for the American economy like Bangalore!
I am not against software exports.
In 1991, when India was facing a severe imbalance in the external sector, it was ideal to promote software exports. Today, we are sitting on a foreign exchange reserve of $450 billion.
We should have changed our policies according to the needs of the time.
What we miss is an ability to change according to the changing needs and contexts.
Do you think this is why China could produce an Alibaba while we have not been able to produce a single global company like that?
Do you know Alibaba has a domestic arm which has created 600 Taobao villages all over China? (Taobao village is a cluster of rural e-tailers where at least 10% of village households engage in e-commerce or at least 100 online shops have been opened by villagers.)
This is entirely for rural China. The turnover of Taobao villages is double that of Alibaba.
How much have Indian IT companies done to make the Indian agricultural sector competitive which is lagging behind by centuries?
How much have they done to transform India's rural and agrarian economy which would have increased domestic demand? The truth is, they haven't done much.
For the last almost three decades, we have been hearing about the need to use technology in rural India and the need to have food processing units, but even today, we waste 16% of our fruits and vegetables produced and 10% of our oil seeds, pulses and cereal production...
Yes, in the case of agriculture, makers of value are not the takers of value. In enabling the makers of value to be its takers, IT has a huge role to play.
Because of the dominance of the IT sector, there is reason to believe that other industries are also suffering because of competition for skilled manpower and the so-called resource movement effect. And it has affected India's manufacturing capability.
If we were to ask the question, why do we not have sustained growth, I would say it is because after globalisation, the kind of growth India have had only aggravated inequality.
Today, we have a service sector, including IT and software, that contributes 62% of GDP which is produced by 33% of the workforce.
But take agriculture, 50% of the population is involved in it, but it contributes only 17% of GDP, indicative of very low productivity.
This essentially is the first manifestation of inequality.
In the case of manufacturing, it contributes about 16% of GDP and employs about 13% to 14% of the population. But this is the sector that is suffering the most.
In 1950-1951, India had 9% of GDP coming from manufacturing which increased to 15% by 1996.
After 1996, despite new manufacturing policies, it has not gone up. It is only 16% of GDP now.
What we need for the economy to grow is there has to be a seamless transfer of people from agriculture to industry. It was made possible in China. And it was only because people got educated that they could move to industry. Even today, our rural folks cannot be transferred to industry.
Even if our agricultural contribution did not increase, industry's contribution should increase and for that, their productivity has to increase. 50% of the people contributing only 17% of the GDP is unsustainable.
Is it because they are not educated or skilled that the seamless movement of people from agriculture to industry not happening?
Yes, lack of skill. We should ensure that at least for the next generation, it happens.
Who is to be blamed, the policymakers?
Instead of blaming anyone, what we should do is change our approach.
We have one monetary policy for the whole country. One size doesn't fit all.
Further, simple reduction in interest rates will not induce investment when investors don't find demand for their products due to low purchasing power on account of growing inequality.
India being a country that is more diverse than all the continents, we should have location specific, region specific and state specific policies with the states having the freedom to articulate policies.
Unfortunately, the fiscal federalism as it exists today hardly leaves any scope.
More autonomy?
Yes, more autonomy to the states. The states should have more freedom to decide the destiny of their people.
Would you say the problem the economy faces now is more structural?
I am rather puzzled to see the great divide among the scholars of eminence. While one group considers it as an outcome of structural factors like labour market rigidity and inequity, others consider it as emanating from cyclical factors -- slump in demand, demonetisation, GST etc.
To my mind, the key ingredients in the making of the current economic problem are both structural and cyclical.
Since your child is already weak due to growing inequality and capability deficit, any external shock like demonetisation or faulty imposition of GST affects the child and it suffers more.
Further, slump in demand cannot be delinked from the increasing inequality in the distribution of income.
We are prematurely ageing. And we have to be careful about it.
What is the quality of growth we have? You take the problems faced by agriculture, manufacturing -- all structural.
Economies with structural problems are bound to have such cyclical problems. So, you have to address both cyclical and structural problems.
When you have both cancer and fever, you cannot have just paracetamol. You have to give paracetamol for the fever and chemotherapy for cancer.
What kind of 2020 awaits India?
I would say the economy will pick up in 2020 or a little later because our past experience indicates that such slowdowns are not happening for the first time; it has been happening quite often.
The question is: When it picks up, will it reach 10%, 8% or still lower? It all depends on how realistic are the diagnosis and the prescriptions that follow.