'Tata Steel has doubled, Tata Motors has more than doubled, and Tata Chemicals too has more than doubled.'
'So, Cyrus Mistry was getting accepted by the market for bringing in the change that was good for the group companies.'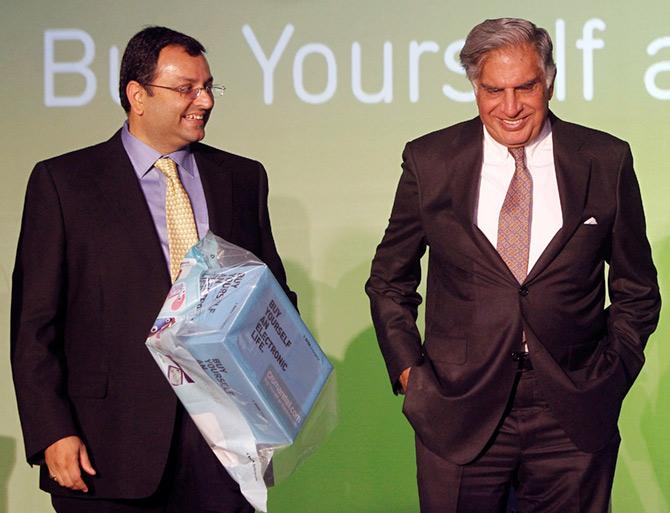 IMAGE: April 23, 2012, Cyrus Mistry, then deputy chairman, Tata group, with Ratan Tata, then and now chairman, Tata Sons. Photograph: Vivek Prakash/Reuters
Market expert Ambareesh Baliga, who has been tracking the stockmarket and corporate governance issues for nearly three decades, believes that more dirt will fly around before the Tata-Mistry saga settles down.
"One thing is very clear: He (Cyrus Mistry, the ousted chairman, Tata Sons) is not going to take it lying down," says Baliga.
"That's the most important thing to bear in mind and we don't know how much more dirt is going to fly further," Baliga tells Rediff.com's Prasanna D Zore.
After Cyrus Mistry's letter talking about a $18 billion writedowns in Tata group companies like Tata Steel, Indian Hotels and Tata Motors, the markets haven't reacted much.
Do you think the market has absorbed this news without much ado or are they waiting for more to come out before reacting adversely?
I don't see much reaction going ahead, but the worse thing which investors don't like is uncertainty.
That too at a senior management level; and that too in a group like that of the Tatas.
Here, we don't know how much more is likely to come out.
Slowly, everybody is focusing on corporate governance issues, which was the last thing the market expected from the Tatas.
The ousted chairman Cyrus Mistry's letter talks about $18 billion in writedowns?
One thing is very clear that he (Mistry) is not going to take it lying down. That's the most important thing to bear in mind and we don't know how much more dirt is going to fly further.
Also, getting a chairman who is acceptable to everyone... although Mr N Chandrashekharan's (CEO and MD, TCS) name is going around, to get a stalwart acceptable to everyone will be difficult.
Now, it is also becoming clearer that he (the new chairman of Tata Sons) will have to be someone who will toe the Ratan Tata line.
Talking about stocks, where can one expect value to emerge in Tata group companies once the dust settles down?
That is definitely a moving goalpost.
Corporate governance among Tata group companies was never an issue, but if that becomes an issue, then valuations change. That is the big thing that is coming up right now.
There is speculation that the Union finance ministry is mulling a CBI enquiry over Mr Mistry's allegations of $18 billion writedowns...
That's the reason I tweeted today saying 'Corporate governance is like a Diaper -- Everything looks perfect & clean till it's opened.'
As long as it is shut and sealed there are no issues. The day it is opened...
If you were to bet your money with a two to three year investment horizon, what would be your top pick among the Tata group companies at this juncture?
Tata Motors, but one should wait for a very decent correction before nibbling at this stock.
Do you see Tata group stocks falling more from here?
Yes.
Looking back, could you tell us how the Tata group companies performed under Cyrus Mistry?
Generally, what happens is in the initial years, the market takes the wait-and-watch line.
It was seen in the last 18 months that things were changing positively in the Tata group, because of which most of the group stocks were outperforming the market.
This outperformance is highlighted by Mr Mistry in his letter.
Tata Steel has doubled, Tata Motors has more than doubled, and Tata Chemicals too has more than doubled.
Name any of these stocks and they did extremely well (under Cyrus Mistry).
So, he was getting accepted by the market for bringing in the change that was good for the group companies.
Do you think the way the Tata-Mistry saga has unfolded is very, very disruptive of the change that was happening in the Tata group?
Absolutely! Absolutely!
If it had to be done, it should have been done in a better manner.
Now that Ratan Tata is back for four months, what are your expectations from this short tenure?
Do you expect him to continue for more than four months?
This is something similar to what we saw in Infosys. But then I would say getting a CEO for Infosys could be seen as a cakewalk as compared to the problems which the Tatas are facing today.
As a market expert what are the three things you expect Ratan Tata should be doing?
Address the corporate governance concerns; communicate; and try and come as clean as possible.
The other important thing he must be doing is get a chairman for Tata Sons in less than four months or as early as possible.
Who do you think should succeed Mr Tata as the next chairman of Tata Sons?
Someone within the family normally gets accepted quite fast.
Although when Ratan Tata became the chairman of Tata Sons, he faced opposition too.
Still, someone within the family, in India, will have higher chances of acceptance.
Now, there is hardly anybody within the family except Noel Tata (Ratan Tata's half-brother who is married to Cyrus Mistry's sister).
But then, I am not sure if he will be accepted by the market.
What would be your advice to investors as far as Tata group companies are concerned?
As of now, stay away.
Let us first see how this saga unfolds.... though it is just the beginning and nobody would bet when this will end.