'COVID-19 is just an excuse to pass anti-labour laws.'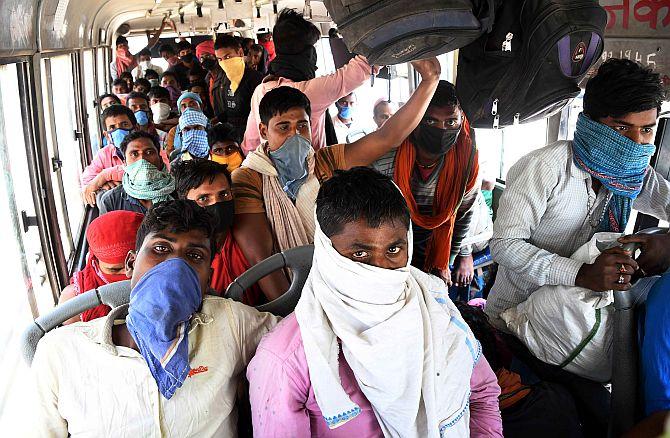 Central trade unions have denounced the exemptions given to employers from labour laws by the governments of Uttar Pradesh, Madhya Pradesh, Gujarat and Assam.
Post the COVID-19 crisis these state governments have promulgated an ordinance to exempt employers from the stringent labour laws for three years.
UP, for instance, has done away with the Minimum Wages Act, Industrial Disputes Act, Maternity Benefit Act, Employees State Insurance Act, among many others, all meant to benefit the workers.
"By killing the labour force you cannot revive the economy," All India Trade Union Congress General Secretary Amarjeet Kaur tells Syed Firdaus Ashraf/Rediff.com.
Spain became the first country in 1919 to make 8 hours work for labour across the country which was the norm followed across the world, but it looks like the Bharatiya Janata Party's state governments are making 12 hours work time compulsory.
These changes in labour laws, what the BJP is doing in their respective state governments, are not new.
If you recollect, this kind of anti-labour laws were brought in by Vasundhara Raje's BJP government in Rajasthan in July 2014. She brought about changes in the Industrial Disputes Act, Apprentices Act, Contract Act, Factories Act and Labour Act to make Rajasthan a favoured destination for business.
Did that help business in any way to grow in Rajasthan?
It did not help.
Six years after this anti-labour law was passed, business in Rajasthan has not picked up and employment has not grown.
In fact, the employment scenario in Rajasthan has been badly affected post demonetisation.
COVID-19 is just an excuse to pass anti-labour laws.
But who will invest in such times? Isn't that why we need to change the rigid labour laws?
Laws have changed from 2014 after the Modi government came in, but has the scenario changed as far as investments are concerned?
Nothing. Even existing labour laws are not fully implemented.
Business has not improved even after diluting labour laws as we have seen in the past.
By killing the labour force you cannot revive the economy.
India is not an export-oriented country, our major market is within the country.
And if our own people do not have money in their hands, how will the economy revive?
Is it not good that Inspector Raj will go away as factories with nearly 50 employees need not report to babudom?
Already, they had increased the threshold from 10 to 40 employees in 10 states.
It means that almost 80 percent of small units were out of the purview of any labour laws.
Now employers are saying they do not need more than 1/3rd of the workforce available in the country.
And they want this 1/3rd workforce to work for 12 hours.
Workers are in surplus, so why can't employers make them work in two shifts?
Instead of that, the government wants workers to work for 12 hours in unhealthy conditions with no laws applicable to employers.
In other words, 92 percent of the MSMEs (micro, small and medium enterprises) will be out of the purview of any labour laws.
The government is killing all labour laws as 95 percent of the workforce will be out of the ambit of any labour law.
Are these new rules only applicable in BJP-ruled states or in other states which are not ruled by the BJP?
Like the Vasundhara Raje government's laws, which were anti-labour, are being continued in the current Congress regime too.
The same anti-labour laws which were introduced by Raman Singh's BJP government in Chhattisgarh are being continued by the Congress government.
The same is happening in Jharkhand and Punjab where previous BJP and Akali governments had passed anti-labour laws that are being continued by the present non-BJP governments.
Some 12 crore workers are out of a job, so what option do they have now than to work for 12 hours a day as there are no jobs available?
Out of 12 crore unemployed people employers don't want to employ everybody. They are saying they will employ only 1/3rd.
I am saying let them make three shifts, but the employers will not do so.
If you keep 65 percent of the workforce out of jobs, then there is no way the economy will revive.
Headcount is not good for business in these days of automation, isn't it?
I am talking of industries which are providing the maximum number of jobs, and that is the MSME.
Big sectors, we know, are highly modernised. They have less workforce and high production.
These MSMEs work as auxiliaries of big sectors. And in this MSME sector, more than 100 years of struggle has gone to bring about some protection for the labour force.
The government wants to kill all that effort in one single stroke by bringing this COVID-19 ordinance in different states.
No trade unions in factories, and no first aid box will be provided.
The government does not want to give even simple health benefits to workers.
By abolishing labour laws the BJP wants to have jungle raj.
The BJP is only working for employers, and not for workers.
There is a documentary, American Factory, which says that in competitive times though labour laws are good in real life they does not work because in competitive countries like China the labour force works for 12 hours a day.
But they are not suspending other benefits. In India they are suspending all other benefits.
Here in India labourers will not be paid for the extra four hours they are going to work.
It is a provision under the Factories Act but now the government wants to do away with this law.
No working hours should remain fixed, according to them. It can go beyond 12 hours.
(Madhya Pradesh Chief Minister) Shivraj Singh Chouhan said shops will be open from 6 am to midnight. They want labour to work for 18 hours. And when will the labour sleep?
They (the BJP) want to treat labour like animals. It is just the way Britishers treated us.
It is feared that migrant workers will not come back and that will result in a complete halt in economic activity.
Workers want to come back to cities after things improve. Lies are being spread against them.
Those who are staying in cities just want to go to their villages and meet their loved ones in this time of crisis.
Some of them also say if their needs are taken care of they will stay back.
But there is no thinking and planning from the government side and they are creating this whole mess by not caring for workers.
No law in India stops workers from going and meeting their families.
Those workers who are ready to stay back, the government must listen to them and ensure that they get their wages for March, April and May.
They are saying does the government want our flesh and let us live in bones?
Finance Minister Nirmala Sitharaman said corporate houses are wealth creators, now let them show how they create wealth without workers.
Corporate houses don't create wealth, it is the workers who create wealth.
And if my statement is not true, why are corporate houses crying for workers after they have left for their villages?