'We are going to have a recession this year, maybe next year too...'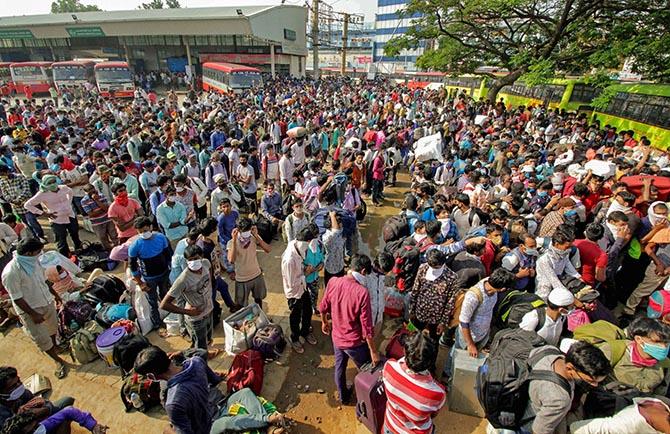 "Hopefully, the recovery will start next year, maybe a year after... It will only be gradual recovery; it is not going to come back suddenly," economist Professor Sudipto Mundle, Distinguished Fellow at the National Council of Applied Economic Research, New Delhi, and a former member of the 14th Finance Commission, tells Shobha Warrier/ in the concluding segment of a two-part interview:
Do you think restarting transport should be a priority for the government?
No. You should be careful in restarting something that can increase the spread of the infection. That should not be the first priority. Anything that will spread the disease should not be done.
So, if transport cannot be revived soon, it cannot be.
Yes, lack of transport will affect other things like domestic trade. But you can't help it.
The situation is such that in some areas, we have to suffer to win this battle against the pandemic.
Many lakh migrant labourers have returned to their hometowns. If they don't come back, there will be a huge shortage of labour in the southern states and other business centres.
The UP chief minister says his government will create 5 lakh jobs for migrant labourers from UP.
Do you think they will be confident enough to come back to where they were working once the lockdown is over?
I doubt it.
In the green zones some manufacturing has restarted and labour is available there locally because a lot of migrant workers are stuck there. Other than migrant workers, there will be local daily wage workers who are without work now.
I don't think there will be a shortage of labour.
In countries like the US and Russia, people have come to the streets protesting against the lockdown. Do you think that kind of eruption will start in India also because so many daily wage workers and their families are going hungry?
To some extent, it has already happened.
In many cities like Delhi, Mumbai, Kerala, etc, it has already been happening.
Things can only get worse the longer the lockdown lasts.
I also want to say that lifting the lockdown does not mean that the war against the virus is won.
I am afraid once the lockdown is lifted, people may rush out and it will start another spike.
So, it is very important to gradually resume economic activities in the green zone areas with the locally available labour.
Don't expect the migrant labour to come immediately.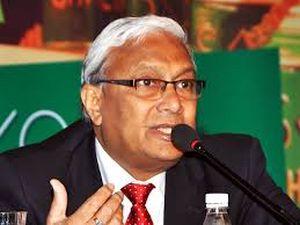 When I spoke to those in the small-scale sector in Coimbatore, they were worried that several small-scale industries might shut shop once the lockdown was over...
I don't think the small-scale sector in India has fully recovered from the demonetisation shock even though it happened a few years ago. Many of them died then.
Even those that were limping around, had a second shock now. More will die now.
They are in a very difficult situation especially the medium and small enterprises. Now they cannot get credit, they cannot sell their goods easily.
They are in a dire situation, there is no question about it.
Let them start functioning in the green zones. The main help they need is credit. They are starved of credit because banks do not want to lend them money.
Here, the RBI should come in and help with some kind of credit guarantee arrangement so that banks can be encouraged to lend to medium and small enterprises.
How huge will be the unemployment situation in the country?
We had very high-level joblessness even before the pandemic happened. It will only increase. But it may not always show up in the statistics.
What we have noticed is that people do not report as they are unemployed. They are just treated as not in the workforce. Only the participation rate goes down.
You don't count them as unemployed, but they are unemployed.
It was reported that India was facing the worst unemployment crisis in 45 years...
Yes, we were already in a very difficult situation; the economy was slowing down and unemployment going up. It is going to be much worse.
The growth rate was slowing down from 5% to 6% and this year it will be negative, according to me.
You mean, a recession?
Yes. Actual recession, which means a reduction in output.
Globally also, many expect the economic scenario to be the worst after the Second World War...
It is the worst economic scenario after the Great Depression of 1929. We have not seen anything like that but now, we are seeing it. And this is happening not because of any economic reasons, but due to a pandemic!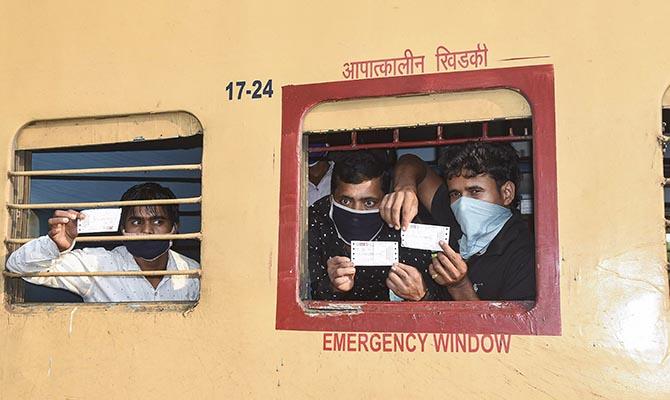 So, the future of the entire world is going to be quite grim....
Certainly this year, it is going to be very grim. Then, there will be a slow, gradual recovery, but we do not know when that will happen.
We also don't know what's going to be the bottom.
But one can say we are going to have a recession this year, maybe next year too. I don't know. And hopefully, the recovery will start next year, maybe a year after...
It will only be gradual recovery; it is not going to come back suddenly.
In India, we have not yet recovered from the demonetisation shock. Gradually the effect was waning off and then this happened.
So, it is going to take us a few years before we get completely away from all these shocks.
In economics we call it hysteresis when effects get spread out over years, that is, even after the initial causes giving rise to the effects are removed.
We were suffering from the hysteresis of demonetisation and before that was over, we are hit by a bigger shock.
Would you include the bad implementation of GST?
Yes, quite right. Demonetisation and then a bad implementation of GST.
A good idea introduced in a very poor way, without any preparation.
Like we needed GST, now we needed a lockdown, but it was introduced without any preparation, again. That's why we have the humanitarian crisis of the migrant workers.
So, it has been shock after shock after shock...
We are in a recession, and it will take us a few years to get fully out of the effect.
What is going to be our new normal?
All I would speculate is that at least for a few years, we will be in the territory of pretty low growth.
The services sector will continue to perform more or less normally.
Agriculture will be normal, but again, it will depend on the monsoon. It will be like, good monsoon, good year and bad monsoon, bad year.
The manufacturing industry will take the longest to recover.