'We plan to touch Rs 1 trillion of Amul brand's turnover in the next five years.'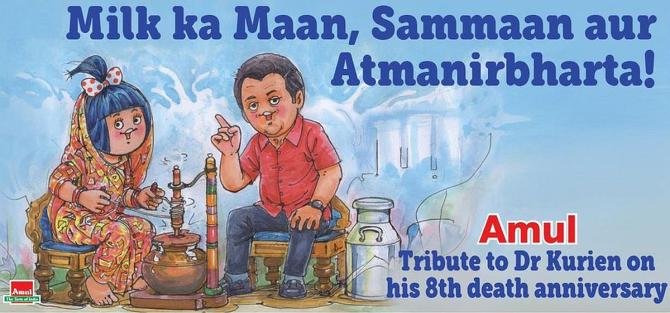 For the first time in its history, dairy major Gujarat Co-operative Milk Marketing Federation -- popularly known as Amul -- made it into Rabobank's Global Top 20 Dairy Companies list, debuting at the 16th position for its dairy turnover of $5.5 billion.
Not only did this make GCMMF, which markets milk and milk products under the brand name of 'Amul', the only dairy company from India among the top 20 but also the only dairy cooperative.
"If you go by our milk handling capacity, we do 11 billion litres of milk per annum which is equal to Australia's milk production," GCMMF Managing Director R S Sodhi, below, tells Vinay Umarji.
GCMMF has finally debuted in the top 20 global dairy list of Rabobank...
Yes. While the dairy co-operative GCMMF has been ranked at 16th globally taking its balance sheet turnover of Rs 38,500 crore ($5.5 billion), Amul brand's turnover is worth Rs 52,000 crore or $7 billion.
In case of the latter, we would be ranked at 11th position.
However, the GCMMF balance sheet doesn't include Amul's local dairy sales within the cities where these dairies are set up in order to avoid duplication.
One of the noteworthy aspects of the rankings is that we are not multinational unlike others who have been ranked in the top 20.
Amul is mainly Gujarat-based with marketing all over India.
Hence, we have been able to garner such a huge turnover from such a small part of the world.
In the last 10 years, our CAGR is 16 per cent.
Today, with Rs 52,000 crore, we are India's biggest FMCG company, much larger than other multinationals in India.
This is because of multiple factors including India being a growing food market where consumers are shifting towards branded, healthy, trustworthy and affordable brands.
India is a country of lower middle class where consumers look for taste, brand, quality and affordability and we were able to encash this opportunity.
On the other hand, to ensure quality consistency in dairy, especially milk, Amul always offers an average of 15 to 20 per cent higher price to Indian farmers for milk procurement than other private dairies and 5 to 7 per cent higher than other cooperatives.
In fact, these days we are offering roughly 25 per cent higher prices than our competitors to farmers.
How has India, as a food and dairy market, helped Amul's success?
Indian farmers get 15 to 20 per cent higher prices than their counterparts in developed countries like the US and European markets, but Indian consumers pay 15= to 20 per cent lower prices than these markets.
This is because affordability is a very important aspect in India as far as food is concerned.
However, we have been able to encash this without lowering the quality or the image of Amul brand.
Our brand appeals to and is consumed by both upscale high streets and rural villages alike.
Why is there a difference between GCMMF and Amul turnovers?
GCMMF markets Amul branded products all over India.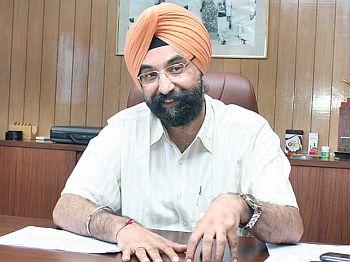 But districts in Gujarat like Surat, Vadodara and Anand have their own dairies which sell milk and milk products under brand 'Amul'.
To avoid duplication, these are not reflected in GCMMF's balance sheet since these are not distributed by the federation, but the dairies themselves.
Hence, the Amul brand's turnover is bigger than GCMMF's balance sheet turnover though the latter has been considered for the latest ranking.
Do you believe GCMMF should have been ranked earlier?
Most of the dairy companies and brands ranked are mainly based out of saturated markets while GCMMF is from India, one of the leading emerging markets.
If a domestic dairy or food player can become a market leader in a region like India, it shows that it can become a global player.
This is now getting reflected in the latest rankings.
On the back of Prime Minister Narendra Modi's mantra of local to global, Amul -- which is owned and managed by farmers -- first became a leader in the domestic market and is now being recognised at the global level.
What best practices, as a dairy cooperative, helped GCMMF in this global recognition?
As a dairy cooperative where owners (farmers) are the suppliers, we tend to procure milk at as high price as possible but sell at as low price as possible so that we can keep a minimum loss margin or EBITDA.
So benefits of supply chain efficiency and scale are passed on to either the supplier farmers or consumers so that both are happy and they keep associating with GCMMF.
Currently, our EBITDA is not more than 4 to 5 per cent.
In India, even a private dairy cannot survive if they try to target an EBITDA of more than 6-7 per cent.
Several multinational private dairies have tried but failed either on procurement side or on marketing side with such targets.
This is because of the competitive environment created in India by dairy cooperatives like us.
This is also because unlike in European and American markets where farmers get only 36 per cent of consumer price, Indian farmers get 80 per cent due to competition from cooperatives like us.
How has supply chain efficiency and scale helped you?
What does any supply chain need, especially in FMCG?
It is either profitability or return on investment (RoI).
If you are able to provide scale to your supply chain, even at half the industry margins, they will be happy with their turnover.
Our margins to distributors or retailers is 30 to 50 per cent lower than that of other FMCG players but our turnover to the same distributor or retailer will be 2 to 3 times than other brands.
Retailers have limited shelf space.
If one brand offers 20 per cent margins but is able to sell only two pieces and another is able to give less than 10 per cent but sells in volume, the dealer's profitability increases with the latter.
In milk alone, we give 3.5 per cent margin, but it sells in volume.
So distributors' or retailers' shelf space investments for Amul yield more returns for them.
Secondly, consistency is business volumes.
We have got product range that cater to every season, apart from milk which is consumed throughout the year.
Thirdly, our ability to build relationships with the supply chain.
For instance, during the lockdown due to COVID-19, we ensured that supply chain businesses are not disrupted as well as our milk procurement and marketing.
We also gave due compensation to our partners and workers by 20 to 25 per cent extra for 120 days for the risk they took during the pandemic.
Where does GCMMF stand today in terms of milk procurement?
Value of dairy products in India is lower as compared to other countries.
But dairy is nothing but basically how much milk you handle.
If you go by our milk handling capacity, we do 11 billion litres of milk per annum which is equal to Australia's milk production.
If you go by that, Amul is number ninth globally as recognised by the International Farm Comparison Network.
What are your expansion plans going from here?
We plan to touch Rs 1 trillion of Amul brand's turnover in the next five years.
We are well penetrated in Gujarat. Hence, our expansion will now come from other states.
For instance, we are going in a big way into south India.
We have signed a memorandum of understanding (MoU) with Andhra Pradesh government for an Amul plant.
We are expanding in Maharashtra and also putting up a new plant in West Bengal at a project cost of Rs 250 crore.
There are other states like Bihar, Jharkhand, Odisha and other north eastern states where it is largely unorganised dairy market and we intend to explore them.
Our current milk handling capacity is 38 million litres per day which in another five years will grow to 50 million litres per day on the back of these expansion plans.
Every year we have an investment plan of around $150 million or roughly Rs 1000 crore for expansion.
With this our milk procurement strategy will also evolve.
Currently, around 83-84 per cent of milk is procured from Gujarat with the rest coming from other states.
In next five years, other states will contribute 30-35 per cent in terms of milk procurement though in terms of volume Gujarat will not see any decline.
What are your plans to repeat Amul's success in non-dairy products?
We will get into only those segments where our dairy farmers' produce is being utilised, be it honey, potato or edible oil in Gujarat.
For instance, we are going big in bakery using only butter fat and no vegetable oil.
We are also sourcing potatos from our milk farmers for making frozen foods and ready-to-eat products where we intend to compete with similar food companies.
In Gujarat, we are sourcing cottonseed, mustard, sunflower edible oil from our dairy farmers and recently launched an edible oil brand in the state.
We are also experimenting on honey.
However, in non-dairy segments, we will continue to focus only on Gujarat as a market for now.