The Bajaj Super could not be called a pretty scooter, but it was sturdy and reliable, remembers Veenu Sandhu.
Two colleagues, both in their 20s, were talking about times gone by one day in office when the Internet connection was particularly poor and Web sites were taking forever to load.
I couldn't help but laugh out loud when the younger of the two remarked, "This reminds me of those dial-up days. Remember, when you waited and waited while the computer made all sorts of sounds?"
It indeed used to be quite an orchestra of bleeps, bloops, screeches and darrrarrrums, which would -- if you were lucky -- culminate in the blessed sound of Windows starting up.
The symphony of the machines engaging in a 'handshake' -- that's how the technicians described this very audible exchange of data between computers -- did in fact inspire a piece of music.
Windows Waltz, a composition by British-German conductor and comedian Rainer Hersch created by putting together all these sounds, including that of the computer crashing, was performed at the Royal Festival Hall in London in 2014.
It's quite a unique piece, and if you want to hear it, here's where you can find it (external link).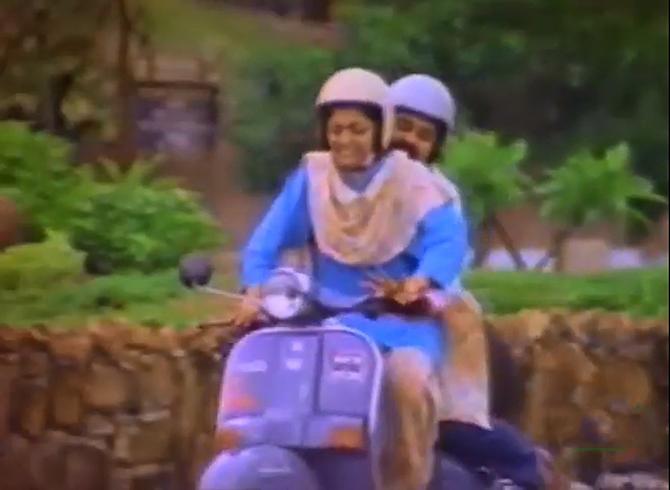 The musings of the two millennials got me thinking about my first encounter with the Iinternet, and thereon of many other such things of the past that I haven't revisited in a long time.
Anyone born in the pre-computer, pre-television and pre-telephone era will tell you how much there is to recall and be amazed about if you decide to retrace that path.
For example, I still distinctly remember the first TV set we owned -- a black-and-white Weston with a wooden frame and a sliding shutter that gave it the appearance of a small almirah.
But I have no recollection of the fancier TV sets that followed it.
I do, however, remember sitting through even Krishi Darshan, a show about agriculture meant for farmers, when we got our first colour TV -- so mesmerising was it to see the green fields, until then available to us only in shades of grey.
Incidentally, Krishi Darshan, which was first broadcast on January 26, 1967 on Doordarshan to some 80 villages around Delhi, is today India's longest running television series.
And then came the Internet, in 1996.
The Confederation of Indian Industries in Chandigarh, the city where I had just started working as a newly minted journalist, made an event of it.
A carpeted room was reserved to give a demonstration.
In it was placed a computer on a table covered with a crisp, white tablecloth.
Two engineers gave curious visitors a sombre introduction to the World Wide Web.
We all peered into the screen, one by one, expecting to see God knows what (perhaps God).
Change was upon us and we had not the faintest inkling of how drastically it was about to transform our lives.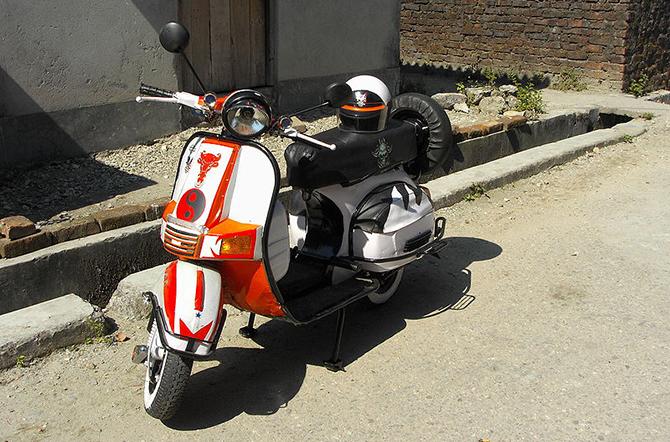 Now, through all these events, I had one unwavering companion.
An aqua green Bajaj Super.
It had come into our family in 1987 as my father's scooter, but once I learnt to ride a geared two-wheeler, it became mine and I said goodbye to my Luna, another trusted mate.
The Bajaj Super could not be called a pretty scooter, but it was sturdy and reliable.
For the reed-thin person I was back then, it was rather bulky, but also no-fuss and functional.
It was a safe ride that took me to college, then university, then to my first job and also accompanied me to my new home after marriage.
It stayed with us for 16 significant years of my life.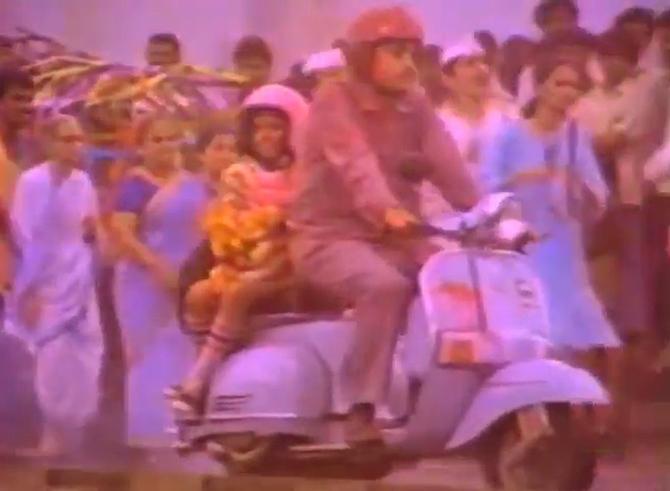 'Buland bharat ki buland tasveer, hamara Bajaj (a strong and prosperous image of a strong and prosperous nation, our Bajaj).'
As I watched this memorable 1989 advertisement with a deep-throated jingle on YouTube a few days ago, what struck me was that every person shown on a scooter in it -- men, women, pillion riders (including children), across social classes -- is wearing a helmet.
Like them, I did too.
Bajaj cared enough for the safety of its riders to depict that protective shield on their heads as being an intrinsic part of riding a two-wheeler.
I wish the same could be said for the Gujarat government which diluted road safety rules and decided to make it optional for people to wear helmets within city limits.
Bajaj was super, and continues to be, as I discovered last week.
At a time when India Inc has chosen to stay silent through all the grim news about the economy, it took a Bajaj, the man behind my scooter, to stand up and question the government.
---
Veenu Sandhu is a columnist for Business Standard.
---