For 2017-18 and 2018-19, investors are better off focusing on the quality of measures announced in the Budget and outside it rather than on the Budget numbers themselves, says T T Ram Mohan.
Illustration: Uttam Ghosh/Rediff.com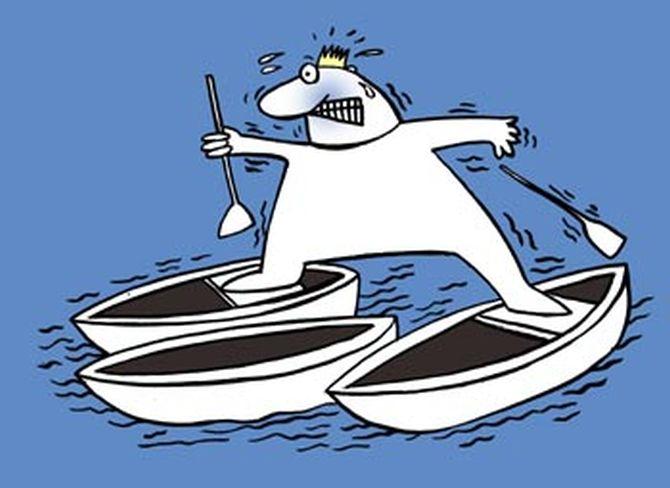 Spare a thought for Finance Minister Arun Jaitley.
When Mr Jaitley presents his Budget next week, he must know that he doesn't have a handle on the all-important number, namely, the growth estimate for India's gross domestic product (GDP).
The growth in GDP (along with the inflation rate) determines the increase in tax revenue.
It also determines the denominator in the fiscal deficit to GDP ratio, perhaps the most closely watched number in any Budget.
Mr Jaitley's estimate of GDP growth of 7.5 per cent for 2017-18 in the Budget for 2017-18 is turning out to be nearly a full percentage point off the mark.
He cannot expect to have greater luck with his estimate for 2018-19.
Thanks to the disruption caused by demonetisation and the introduction of the Goods and Services Tax (GST), at least for another year or two, we have no means of having accurate estimates for GDP growth for 2017-18 and 2018-19.
For this reason, all Budget numbers must be suspect. Rating agencies, please note.
There is optimism about the growth outlook based on the numbers we now have.
The second-quarter GDP showed growth accelerating from 5.7 per cent in the first quarter to 6.3 per cent, which gives an average GDP for the first two quarters of 6 per cent.
The Central Statistics Office's (CSO's) first estimate for GDP growth for 2017-18 is 6.5 per cent.
This translates into 7 per cent growth in the second half, which could mean growth of, say, 6.7 per cent in the third quarter and 7.3 per cent in the fourth quarter.
If this is accepted, the Indian economy should be on course to touch 7.5-8 per cent in 2018-19.
Many observers base their optimism on a simple extrapolation of this sort.
They also believe that in 2017-18, India could not benefit from the revival in the global economy because of the disruptions caused by government policies.
With the disruptions now out of the way, India will do better in 2018-19.
Former Reserve Bank of India (RBI) governor Y V Reddy, one of the most sagacious observers of the Indian economy, doesn't share this optimism.
He told reporters recently that India should aim for growth of 7.5-8 per cent in two years' time (and not one year's time).
This would mean that we wait until 2019-20 to get back to a higher growth trajectory.
Dr Reddy is not impressed with recent indications of an incipient recovery in the Indian economy.
He thinks that shocks such as demonetisation, the GST and a high level of non-performing assets in the banking system render estimates of growth unreliable in the short-run.
Dr Reddy said, "In the short-term, you don't get all the data. You will say this is a proportion of that. In a way, the methodology for short-term forecasting is approximation.
"And when such a shock has occurred, then the methodology itself is undependable.
"And therefore, whatever number comes, don't even look at it."
Estimation problems apart, there are three factors that give rise to uncertainty about growth.
The first is the price of oil. For 2017-18, official projections had assumed a level of around $45 per barrel.
The oil price has since shot up to the $60-65 range. If it stays there for long, a return to growth of 7.5-8 per cent will certainly be delayed.
Second, the finance ministry is finding it difficult to meet the fiscal deficit target for 2017-18 of 3.2 per cent of GDP as revenues are falling short of projections.
There is talk of pruning capital expenditure planned for 2017-18 and limiting growth in capital expenditure in 2018-19.
If these happen, it is bound to dampen any revival in the economy.
Third, there are doubts about the sustainability of the global recovery.
The World Bank expects the world economy to accelerate slightly in the next couple of years but warns that these projections are subject to downside risks: Financial stress (following loose monetary policies over several years), protectionism and geopolitical tensions.
The Bank for International Settlements thinks global economic conditions resemble those in the era that preceded the crash of 2008.
At a recent conference in Mumbai, another former governor of RBI, Dr Bimal Jalan, argued that it was time for us to move away from the "fixation" with fiscal deficit targets.
Dr Jalan said, "Just ask yourself, does it matter so much, whether it is 3.2 per cent or 3.4 (per cent of GDP)?"
Dr Jalan is right to question the logic of having one number for the fiscal deficit target instead of a range.
In today's context, a more basic point surely is that when growth estimates are so unreliable, it makes little sense to focus heroically on one number.
The finance minister may declare that he has met the fiscal deficit target of 3.2 per cent of GDP for 2017-18, only for the world to discover a year later that the number was actually 3.5 per cent!
At least for 2017-18 and 2018-19, investors are better off focusing on the quality of measures announced in the Budget and outside it rather than on the Budget numbers themselves.
T T Ram Mohan is professor at IIM Ahmedabad.