Trai's regulatory intervention was supposed to stimulate the market, but the latest order seems quite on the contrary, asks Nivedita Mookerji.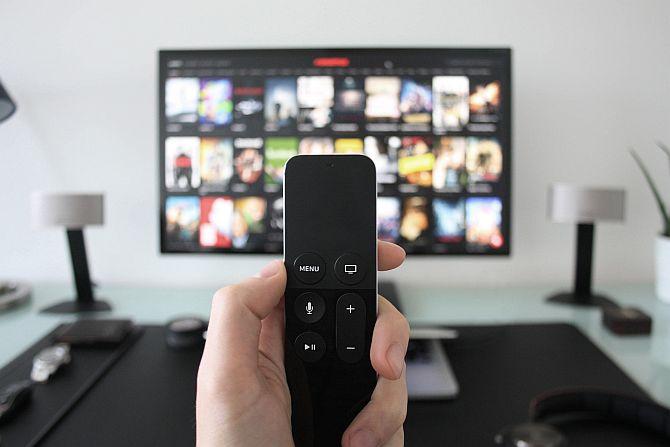 It's the 2003 syndrome hitting us all over again 15 years later.
The idiot box is once more under attack and so is our TV viewing habit, whatever is left of it post Netflix and Facebook.
Ironically enough, while the Telecom Regulatory Authority of India got additional mandate for managing the television broadcasting sector to settle the mess after the government-ordered conditional access system or CAS went completely out of hand in 2003, this time the regulator itself has triggered a situation that is no less messy.
Trai, originally just a telecom super regulator, has set a February 1 deadline for broadcasters and platform owners such as direct-to-home (DTH) and cable services to comply with its new tariff order.
The essence of that order is that a consumer should get the channels of her choice and pay for only that, instead of her being charged for a package or a bouquet tailored by a DTH or a cable company.
The idea is to reduce the monthly TV bill for a consumer by offering every channel a la carte, with the price displayed on the electronic programme guide.
If there are packages, the prices must be published in a transparent manner too, rather than camouflaging things in the fine print.
Since the order has gone against the way a broadcasting company would like to do business, all hell has broken loose, threatening a blackout if the companies in question don't comply by February 1.
This is not very different from what happened when the government believed (or did it?) CAS -- watching channels of choice through a set top box -- was the only way to bring order to the unorganised broadcasting industry.
The entire Atal Bihari Vajpayee government, including the Prime Minister's Office, was at work for months trying to put together a policy that would streamline the sector, which was at the mercy of a handful of cable sharks and thousands of small corner shop operators who got us hooked to those prime time soaps.
Needless to say, the government failed miserably even after much brainstorming with all stakeholders including state governments.
By this time, the set top box for cable TV had become a dirty word, prompting then Delhi chief minister Sheila Dikshit to say, "I don't want the ugly box in my drawing room".
The CAS politics was unfolding too close to the upcoming 2004 Lok Sabha elections and it had to end.
The best option before the government was to roll it back.
It did that, while getting Trai to expand its role so that it could manage broadcasting along with telecom.
The first thing that Trai did was to cap prices at the existing level, while saying it was a temporary measure.
The regulator didn't want to lose any time in sending a message across -- that consumers wouldn't be hurt.
It was necessary because while trying to bring transparency into the system, it was found that getting pay channels through CAS was pushing up the monthly bill for a large number of consumers.
That's the reason, Chennai -- predominantly a free to air market at that point -- was the only city to roll out CAS rather successfully.
On the whole, regulation in broadcasting, through Trai, was meant to promote growth and competition in the sector so that consumers have affordable prices for their home entertainment and can choose between alternative platforms and channels.
This was stated in the Trai preamble for the broadcasting sector.
"Regulatory intervention is required to bring in a radical change and to stimulate the market to provide choice of viewing", Trai had said in 2004.
The latest Trai order may not meet the vision with which it started regulating the broadcasting industry.
For instance, growth and competition of businesses could be stifled through the diktat on a la carte pricing, as packaging holds the key to success in the broadcasting industry where content offered across platforms is mostly similar.
Where packages and bouquets will be allowed, those must come with transparent pricing.
The catch lies there. What exactly would transparent pricing of packages be?
The second point is about affordability.
Just like in the case of CAS, a consumer wanting a host of pay channels of her choice would shell out a large sum, possibly much more than she would get in a package tailored by a DTH or a cable operator even if it means getting a bundle of irrelevant and silly channels with some good ones of your choice.
The regulatory intervention was supposed to stimulate the market, but the latest order seems quite on the contrary.
Ahead of another Lok Sabha election, should the government allow another CAS like confusion when it can be very well avoided?