Thalaiva's name and photo will appear on the logo and label of the channel.
T E Narasimhan reports.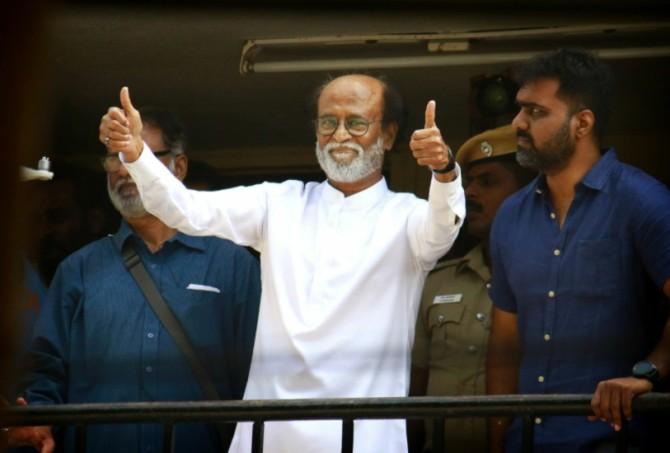 Rajinikanth, who first announced his political debut last year, will soon launch a news channel as well as a general entertainment channel in Tamil Nadu.
The development acquires significance since most political parties in Tamil Nadu have a presence on television mainly through news channels, intended to convey their points of view.
Some like Sun TV, which is promoted by Kalanithi Maran, grandnephew of the late Dravida Munnetra Kazhagam chief M Karunanidhi, is now a huge media empire with TV channels, radio stations et al.
The preliminary steps of registering trademarks for the Rajinikanth-promoted channels, particularly the news channel, have been taken with the star's media representative confirming that he has given a no-objection certificate for using his name and photo on the logo and label of the channel.
The media representative declined to give further details. But market sources say the trademark application was filed by V M Sudhakar, a close confidante of Rajinikanth.
Some of the names under consideration include Rajini TV, Superstar TV and Thalaivar TV.
Sudhakar is also attached to the star's political outfit Rajini Makkal Mandram, which is presently conducting a membership drive in Tamil Nadu to strengthen its base.
Rajinikanth is popularly referred to as Thailaivar or Thalaiva in Tamil Nadu, which means leader in Tamil.
While it is unclear whether Rajinikanth will directly fund the channel to avoid it being branded as his 'mouthpiece', experts say the star is taking a leaf out of the strategy deployed by the late Tamil Nadu chief minister J Jayalalithaa, who also opted to keep a distance from Jaya TV, a channel promoted by her party workers.
The Tamil Nadu broadcast market is crowded with as many as 63 Tamil channels, including 18 general entertainment and 11 news channels.
The television advertising market for Tamil channels, on the other hand, is estimated to be around Rs 20 billion, of which the Sun TV Network alone controls nearly 25 per cent, said media planners and buyers familiar with the market.
Apart from Sun TV, which is now a pure commercial player with no party affiliations, the Karunanidhi family has Kalaignar TV, which was launched after the Marans and the late DMK supremo's family had a fallout in 2007.