It is meaningless to discuss what the government can do. The road map is unknown, the first principles are missing, and the eyes and ears of policymakers are shut, says Debashis Basu.
Illustration: Uttam Ghosh/Rediff.com.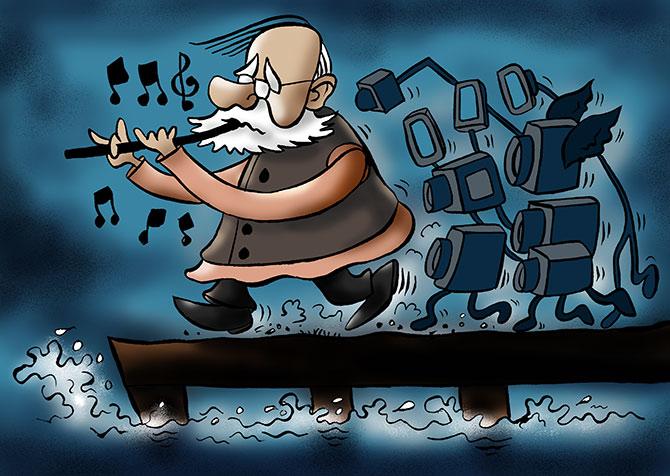 It has been an eventful time. The founder of Café Coffee Day, V G Siddhartha, killed himself, leaving a note. The note confessed to large-scale but unspecified wrongdoing and a hint of harassment by the revenue authorities.
His suicide note catalysed a chain of reactions that covered politics, entrepreneurship, risk-taking, and excessive debt.
Most of those w­e­re tinged with strong emotion and hence misplaced. (For a more rational understanding, one must rememb­e­r that suicides are not always correlated to a physical st­ate but to a mental one. After all, many people who have lost virtually everything, including their loved ones, don't commit suicide.)
The fallout of his death has been a re-examination of the current economic slowdown.
Maruti Suzuki, which produces about 50 per cent India's domestic passenger vehicles, reported a 33.5 per cent decline in sales in July this year over July last year and cut its temporary workforce by 6 per cent.
Air travel to and from India during the January-March quarter of this calendar year grew at 3.8 per cent, the slowest pace in the last four years. More such depressing bits of data are splashed all over the media.
The slowdown is so severe that businessmen, 90 per cent of whom have been gung-ho about this government's intent and execution since 2014, have started voicing their frustration.
T V Mohandas Pai, until recently an aggressive champion of every move of this government, has come out all guns blazing. "Tax terrorism has gone rampant. Compliance burden has gone up massively. There is a fear psychosis. There is a feeling among government officials that all businessmen are crooks and we must go after them. I have never seen mood and morale so down in Mumbai. Businessmen have given up hope."
Rahul Bajaj, chairman of Bajaj Auto, said: "There is no demand and no private investment. So where will growth come from? It doesn't fall from the heavens."
A M Naik of Larsen & Toubro said we should feel lucky even if GDP growth comes at 6.5 per cent, adding that he did not believe in the government data anyway (his words were the "situation is challenging" on data credibility) and so one has to use one's judgement to get a sense of actual growth.
Economic growth has slipped to a five-year low of 5.8 per cent in the March quarter.
Amusingly, just a few months ago in March, Mr Pai was one of the 131 chartered accountants who trashed the concerns of 108 scholars who had questioned India's economic data and had alleged political interference in the country's statistical bodies.
The chorus of disappointment has become so loud that a few English TV channels that set new lows every day in giving sycophantic publicity to this government's agenda while trashing the non-existent opposition, have suddenly flipped. They are now giving airtime to disaffected businessmen.
From the fire to the frying pan…: The UPA rule of 10 years was characterised by two memorable expressions: Policy paralysis and crony capitalism. Nobody mentions these expressions any more.
You can accuse this government of many things but not these two ills that sapped the Indian economy for decades. Far from paralysis, this is a hyperactive government that has unleashed hundreds of legal changes and schemes.
Why then do we have such poor outcomes?
…But no first principles: The reason is simple -- its policies and actions are not founded on fundamental principles.
The first principle of growth and justice is to reduce the intrusion and domination of the State. It is too much to expect the State to have empathy for businesses and citizens, although almost all growth in jobs and taxes comes from them.
The least the gove­r­n­ment can do is not increase despondency and anger by calling everyone a crook and unleashing mindlessly co­ercive actions. After all, we know who the real crooks are among netas, babus, and the aam aadmi.
Without the first principles in place, we will have cyclical ups and downs but no fundamental and rapid change, wh­i­ch is defined by higher productivity of capital and labour.
What's your plan?
I see a lot of discussion on what the government should do. Like the story of seven blind men, each expert sees one part of the problem and prescribes a solution that he thinks will work for the whole.
Someone thinks a drastic cut in interest rates will solve all problems, someone else wants personal income tax abolished. Amitabh Kant, chief executive officer of the NITI Aayog, blamed the "economic reforms" for the current slowdown!
The problem is much deeper. While the prime minister called himself a pradhan sevak in 2014, almost all the current leaders appear as adamant and arrogant as those of the previous dispensation.
A businessman described a minister (whom he met recently as part of a delegation) as "combative, unsympathetic (about) the slowdown, and not keen to listen".
There is little hope that issues that affect the subjects will reach the rulers. Clearly, practical people should not expect the government to do anything other than minor tinkering.
It is meaningless to discuss what the government can do. The road map is unknown, the first principles are missing, and the eyes and ears of policymakers are shut.
The current economic slowdown will turn on its own, in the next few years, but the structural issues that have prevented a rapid improvement in the quality of life at the bottom of the pyramid and rapid economic growth will remain.
Debashis Basu is the editor of www.moneylife.in. Twitter: @Moneylifers