'We are looking at the Budget with the hope that it will address all issues even at the cost of exceeding the fiscal deficit target.'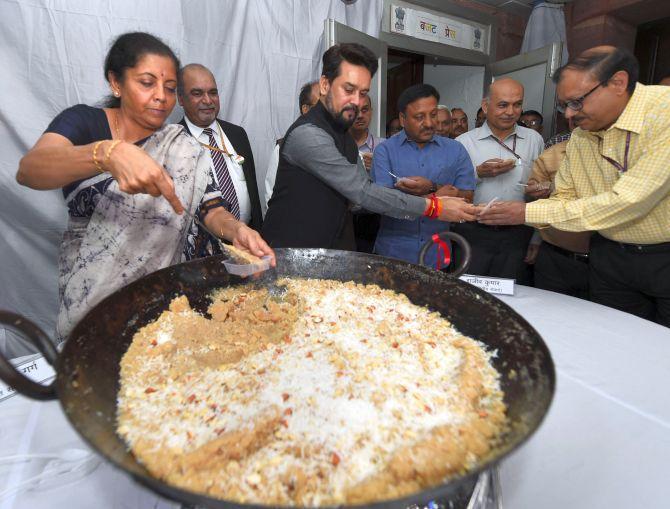 The debate is, like former chief economic advisor Arvind Subramanian wrote, did India grow only by 4.5% or, as the government claims, by 7.5% in the last few years?
Last year, the National Statistical Commission, which reports to the ministry of statistics and programme implementation, decided to conduct a back series data going all the way back to 1993-1994, to compare the growth trends between the two different methodologies and base years (2004-2005 and 2011-2012).
The committee, which undertook its work through various sub-committees, and the sub-committee on linking new and old series GDP, was chaired by N R Bhanumurthy, professor of economics at the National Institute of Public Finance and Policy.
"The slowdown is still here... Indications are that we will have sub-7% growth in 2019-2020 as well," Professor Bhanumurthy, below, tells Rediff.com's Shobha Warrier.
After Arvind Subramanian released a study that says India grew only at 4.5%, the prime minister's Economic Advisory Council stated that his paper would not stand up to academic scrutiny. Would you agree?
I have a mixed view.
What Arvind has done is, as many other forecasters do, co-relate India's GDP growth with some leading indicators.
The co-relations appear to be weak post 2011-2012 is something many analysts have highlighted in the past. This is especially true for the period 2016-2017 and 2017-2018.
Ultimately, what we want to know is the reliability of the GDP data that India is estimating and to what extent it is showing on the ground (the leading indicators).
In the absence of the database that was used by CSO (Central Statistics Office), everybody would look at alternate sources. This is exactly what Arvind has done.
My guess is this is how most analysts (including government agencies) would do for forecasting GDP and other variables, especially when the relevant variables are not available in time.
Where I don't agree with him is putting a number (2.5%) based on cross-sectional regressions.
He could have used India specific time series data. The problem is the MCA-21 data used by CSO is not in the public domain to replicate GDP growth.
The Economic Advisory Council said the 17 indicators used by Dr Subramanian looked only at industry while 80% of India's growth comes from services and agriculture, and he has not used them.
The CII chairman said rural infrastructure registered double-digit growth.
All these things would have some impact in the indicators Arvind has used.
Even if there is growth in agriculture and rural infrastructure and services, it would have some impact, direct or indirect, on the indicators. That's why we call them leading indicators.
There are many models in India that use leading indicators to predict GDP numbers. Most of the indicators used by Arvind were used by others too.
Where Arvind has gone wrong more than necessary is predicting India's GDP using cross sectional data. That, I think, was a little over-stretching. Everybody accepts what he has done until that point.
Unfortunately, the debate has moved away from whether India's GDP is sacrosanct or not. Earlier, there was a lot of debate on the employment scenario also.
The question I want to ask here is, if we were growing at 7%, 7.5%, why was there an unemployment rate of 6.1%?
Why are we debating about GDP growth in 2011-2012 and 2016-2017 now?
It is necessary. Many people expressed doubts over the methodology and data used in the GDP estimation in the past too. I feel those are very legitimate doubts and it is necessary to look at them and resolve.
Unfortunately, we are taking the debate away from that by saying that India is overestimating the GDP number. We want to know what the right GDP number is.
Are we really growing at 7%? Not only Arvind, but many people believe that we are not growing at 7%.
MoSPI (ministry of statistics and programme implementation) needs to address this issue.
Though Arvind has included only one year, I have a problem with the data for 2016-2017 and 2017-2018 when we were supposed to be growing at 7.5%, 7.7%.
I have a huge concern about these figures, especially because there was a huge setback because of demonetisation and GST.
In fact, even today the MSME sector and the unorganised sector appear to be suffering from financial problems.
We can see this in one of the major sectors like construction. The real estate sector is still reeling under a slowdown.
Instead of talking about a number like Arvind has done, what we need to look at is whether there is a serious issue with the methodology and the database that was used in GDP estimations.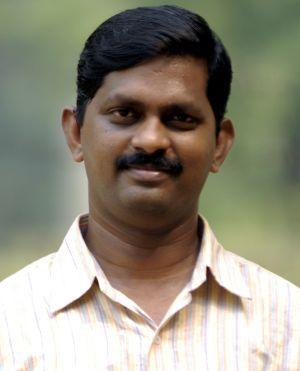 You were part of the committee that revised the GDP numbers. Did you feel there was some issue with the data used?
I am still part of the advisory committee on National Accounts Statistics that revised the GDP numbers.
One part of the problem is non-availability of MCA-21 data. We don't know if there are any problems there.
The recent NSSO survey suggests there could be some issues. But that needs to be verified. There may be another area where we might possibly be overestimating.
For example, we undertook a quinquennial survey on the unincorporated enterprise survey of unregistered manufacturing, trade and other services in 2010-2011 and those results are used for the unorganised sector component.
This data is used till the new numbers come in. So, we may be using the same share of unorganised sector in 2016-2017 and 2017-2018 when the unorganised sector had taken a huge hit.
When we use the same numbers that we got in 2010-2011, it might be resulting in some overestimation. Now for that we will have to wait for the next survey results.
Many criticise the new methodology being used now. Is the new methodology not transparent?
I would defend the new methodology. The old methodology is no more used anywhere in the world.
When you use the old methodology, it does not allow us to compare data with other countries.
So, we adapted internationally accepted methodology, which was suggested by the United Nations. This was vetted by IMF, World Bank and other agencies as well.
I have no doubt about the methodology that India uses now. There could be some issues with the new databases that we are using in estimating GDP.
We have been suggesting to the ministry to provide the MCA-21 data to researchers so that they could work on it. In fact, they can even make suggestions to improve the data. But for some reasons, they have not provided the data to the public.
You mean, though the Economic Advisory Council says data is transparent, it is not transparent?
All I am saying is in the past, we use to have all the data that are used for any estimations (GDP, poverty, unemployment, inflation, etc) in the public domain. That certainly helped in strengthening the national statistical system.
This time round, we don't. MCA-21, that is used for estimating both manufacturing and services output, is still not in (the) public (domain).
Do you think they want to fudge the data as has been alleged by some?
I don't think so. There may be error in some data, which even statistical authorities are unable to identify. Or the estimates provided by the ministry may be absolutely right. It is not right to use the word 'fudge'.
All the estimates that we have will ultimately go through scrutiny, if not now, certainly later.
My guess is that they may be looking at some legal issues before making the MCA-21 data public as these are all company data. It is like, not making income-tax returns data public.
How important are the GDP growth numbers for the future growth of the economy?
We have been saying that India's potential growth is 7% to 8%. But when the GDP number suggests 4.5%, we are on a slowdown path.
When you are on a slowdown, you will have a different prescription for it. That is one of the reasons why we need to have the right number so that we will have the right macro policy to address those issues.
The right numbers are needed for investors too. When you say you are growing at 7%, an investor will expect a return of at least 7% from that economy. That's the way investment decisions are taken.
Do you think this debate on the right GDP numbers is good in a way to take proper decisions for the country?
Arvind is not the first person to argue on the GDP numbers. There were many people who felt the numbers were not right. In fact, the debate on GDP growth started with the NSC committee report in August 2018.
Last year I wrote an article for The Week and titled it 'Unreal growth'. In my view the slowdown started in early 2018-2019. But almost all analysts were predicting close to 7.5% growth.
Now all of a sudden everyone is saying the economy is slowing down.
I would say a debate is very important and it is good that we are debating it. If it leads to the strengthening of the statistical system, it is good.
You said, unreal growth. By unreal growth, you mean growth is happening, but very slowly?
When I used my model to come out with a projection, I was not getting anywhere near 7% for 2018-2019 while the ministry of finance, the RBI, and almost all analysts were saying our growth would about 7.5%.
There were many leading indicators around that time suggested a slowdown.
My forecast that I made in August 2018 for 2018-2019 was 6.7%. Now, official estimates are suggesting 6.8%.
I feel when the final numbers come in, it will be a little lower than 6.8%.
Even for 2019-2020, my numbers are less than 7%. I would say, we will see sub-7% growth for the second consecutive year.
The slowdown is still here. Monsoon is one major indicator for us. Similarly, private investments and the banking sector crisis which still continues.
All these are indications that we will have sub-7% growth in 2019-20 as well.
Can the perception change?
That's what we are looking for from the forthcoming Budget, particularly whether the government is going to give a fiscal push to revive the growth.
We are looking for these kinds of positive impulses in the Budget.
My argument on the fiscal policy is that when you have an economy that is in slowing down mode, you have less option for tightening fiscal policy.
That is why it is very important for the government to accept that the economy is in distress now.
When you accept that, I guess not many would argue for a tight fiscal policy. Rather, you should go for a counter-cyclical measure.
The irony is, we want the monetary policy to be loose but we don't want fiscal policy to support it.
I would have expected fiscal policy to be loosened first and then monetary policy, but they did it the other way.
And the impact of the interest cut is not yet seen on investments!!
We need to go for an increase in public capital expenditure.
We need to identify the production sectors where more allocations should be made.
This will have immediate multiplier effects on the overall economy.
We are looking at the Budget with the hope that it will address these issues even at the cost of exceeding the fiscal deficit target.
I used to be fiscally conservative, but at present there are not many options to revive the economy other than relaxing fiscal targets.
And as per the FRBM (Fiscal Responsibility and Budget Management Act, 2003), the government need to follow an expenditure switching mechanism.
Instead, it is the expenditure compression policy that is being followed, which need not be expansionary. Rather, it could be contractionary.