'Everybody knows that any solution would upstage and expose official bungling.'
'That is something Mrs Sitharaman's masters will not allow.'
'No matter how high the cost in human misery, they will squander a fortune on the unnecessary Central Vista extravaganza,' notes Sunanda K Datta-Ray.
Illustration: Dominic Xavier/Rediff.com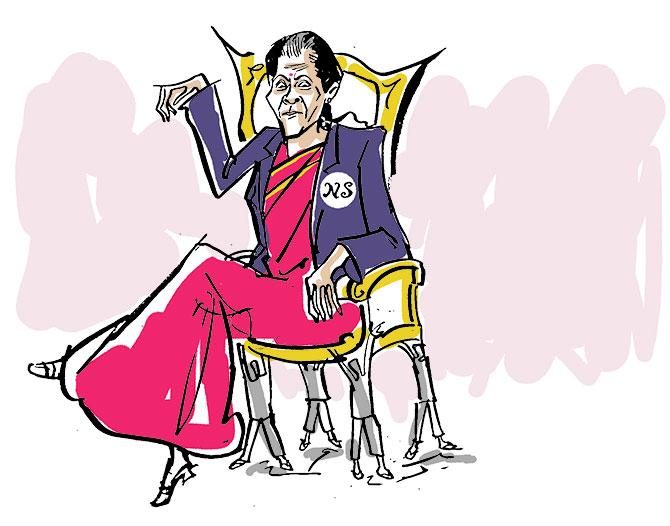 Shri Narendra Modi-ji doesn't have to be the 'Jagadguru of Jhoot' just because a Congress functionary says so.
But Nirmala Sitharaman is surely the Marie Antoinette of Indian politics.
She would not otherwise have spoken of an annual income of 'only' -- stressing the only -- Rs 18 lakh.
Nor would she have dismissed those who wallow in such wealth as the 'lowest rung' of the middle class, again emphasising the 'lowest', in the same television programme.
Clearly, the finance minister, who has emerged in recent weeks as the prime Mminister's most articulate spokesman and ardent champion, believes that a farmer is someone who owns a farmhouse in Delhi's Chhattarpur.
Aam Aadmi Party activists must be mango sellers. Warned that migrants are revolting, she might retort like the French queen, 'Yes, aren't they?'
These are bewildering times for stalwarts of what Rahul Gandhi calls the 'Suit-Boot Party'.
They can't fathom the contrary streak in the desi psyche, the stubbornness that refuses to be locked down even when wise men proclaim 'lockdown all day keeps Covid away'.
Nor can they reconcile Modi-ji's triumphalist hugging and hand-holding with global VIPs with social-distancing.
Diplomatic nirvana may elude the prime minister until he can enclose China's Xi Jinping with his enigmatic cat-that-got-at-the-cream smile in a tight bear's hug.
But not every ruler of a limping Third World nation can boast of being on embracing terms with the Lone Superpower or even Israel's 'Bibi'.
The elbow-bumping alternative seems like surrendering an enviable privilege. If social-distancing is coldly Indian, anti-social proximity is cosily Bharatiya for touchy-feely natives.
Another paradox. Shri Amit Shah-ji, our revered home minister, has himself announced there is food aplenty in the Food Corporation of India's godowns (presumably after allowing for rodents, rotting and robbery) to feed every one of 1.3 billion Indians.
Yet, the migrants perversely insist on starving amidst this abundance. Suit-Boot wallahs would wonder with Oscar Wilde why people don't ring the bell for dinner when they feel hungry.
Why don't they eat cakes, Mrs Sitharaman might ask. Perhaps they are like the legendary Bengali Brahmin purohit, who, when asked how many rosogollas he could wolf down, shot back, 'In whose house?'
So many people going walkabout in the heat and dust is yet another mystery. Those who wanted to escape the sizzling sun or being lashed by Cyclone Amphan -- and quite rightly too -- should have avoided the pestilential plains altogether.
The British considerately created ideal getaways for every region -- Ooty, Darj, Naini -- where India and its grim truths could be blissfully forgotten.
Now that Modi-ji has sorted out those pesky Pakis -- sorry, Kashmiris --remote Gulmarg provides an even more attractive respite from reality.
That's where walkers should have walked instead of obstructing oncoming trains, blocking hell-for-leather lorries, climbing trucks laden with bursting sacks, filling tempos with sweating humanity and nudging putrefying corpses in morgue vans. No regard for hygiene or road safety!
When the Centre provided trains, migrants grumbled there were not enough of them, they didn't leave from or go to the right towns, and, ultimate horror, tickets had to be paid for. Where did they think they lived? Boris Johnson's welfare State?
Think, too, of the lack of consideration for overworked policemen who must keep roads clear for cars.
It's tiring -- and tiresome -- to have to stand in line in the heat with their lathis, whacking every passing back and backside.
That's why Yashwant Sinha wants the army with its greater experience of whacking to take over.
He must also show that his Bharatiya Janata Party was more efficient than this one and that he administered finance more diligently than today's incumbent.
The Rashtriya Janata Dal supports him because it is a party in search of a purpose. Sinha's other ally, the Aam Aadmi Party, can't afford not to plunge into every show in town.
That leaves the Marxists who first sought the military's efficient, disciplined and disinterested help in a crisis that the Union government has worsened with its heartless cheeseparing and squabbling with state leaders, the sleight of hand of an illusory Rs 20 trillion bonanza, and the megalomaniacal posturing of politicians.
Nobody knows whether the Marxist commitment really is to a sympathetic solution.
But everybody knows that any solution would upstage and expose official bungling. That is something Mrs Sitharaman's masters will not allow.
No matter how high the cost in human misery, they will squander a fortune on the unnecessary Central Vista extravaganza while a Pune auto driver spends his meagre savings on feeding hungry migrants.
Production: Rajesh Alva/Rediff.com