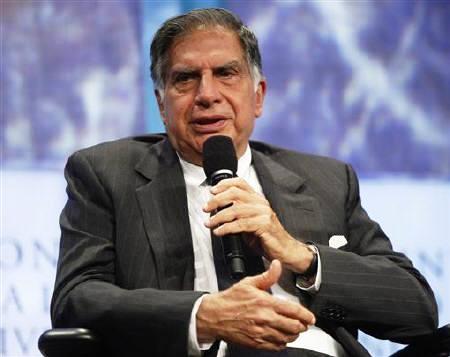 About time the Tata companies that are owned by the public are freed from the clutches of Tata Sons, says Sudhir Bisht.
Whenever there is a mention of a well known public figure, a well-set image conjures up in our minds. The image is often a result of what we read about that person. So the moment one mentions Steve Waugh, my favourite sportsperson, the image that comes to my mind is that of a "win-at-all-costs" captain who played endless mind games, often going overboard with his opponents to ensure that they disintegrated mentally and capitulated in the playing field.
Ever since he retired he has carried out lot of charity work through Udayan, a children's home in Kolkata. But when the name of Steve Waugh is mentioned I think of a captain who specialised in browbeating his opponents mentally by comments as demoralising as 'You just dropped the World Cup, mate."
Let me now turn my attention to Ratan Tata, the iconic Indian business leader -- the one who grew the revenue of the Tata empire manifold during his regime. Ratan Tata is seen as the ultimate philanthropist-businessman under whose leadership the profits of Tata companies were used to fund tens of charitable causes. He is considered the ultimate professional and visionary CEO who acquired businesses outside India and managed to create the first truly transnational Indian company.
Many of these images are the product of Ratan's lifetime achievements. There are a few tall ones, too -- like the one that he refused to sell products to Pakistan since they could be used by the Pakistani army against India!
But by and large Ratan Tata was the epitome of a business icon who attained Himalayan heights when he ran the Tata empire and when he gave it up, he put all his might behind helping the young and budding entrepreneurs of India. One regularly heard of his angelic efforts in funding a venture here and supporting a dream there.
The perfect avuncular funding father is what we thought Ratan Tata had become. The retired man had no interest in the way his chosen successor ran the vast empire that he once ruled. No doubt the old man was still the chairman emeritus but the title was more to bestow upon him an honour well deserved but it wasn't meant to burden him with the responsibility of an executive or even a non-executive chairman.
But the developments in Bombay House shook that image of an old man blissfully enjoying his retirement. The old man had removed himself from the scene but his eyes and ears were there, dutifully reporting the board proceedings and even leaving meetings briefly to brief him and take further instructions.
Ratan Tata soon found out that the new chairman was his choice but had a mind of his own.
The young chairman was more old school than the old man. He believed in earnings per share and book value per share and not so much about legacy, sentiments and pride that come with fathering a product that was as colossal a flop like the Nano!
The young man didn't believe that brick-and-mortar businesses like steel plants and chemicals and car manufacturing could be run on the hope that one day they will become profitable, even when no strategies existed to turn them around. For Cyrus Mistry the manufacturing companies were not the Amazons of the e-business that lived on perennial hope. The manufacturer must be able to manufacture goods profitably after amortising the cost of setting up the business over a finite number of years.
Mistry also believed that charity and business were separate issues. The organisations needed to generate profits and the profits needed to be ploughed back into business and needed to be distributed among the shareholders. The shareholders then were free to decide what they did with their dividend. So Tata Sons would get their share of dividend from, say, Tata Steel and then Tata Sons would give Tata Trust its share of dividend and Tata Trust could do whatever charity it wanted to do with their money.
Tata Sons, however, couldn't dictate what charity work needed to be done by Tata Steel. That was to be decided by the Tata Steel board that was answerable to the shareholders and a majority of these shareholders were the investing public, not people with Tata surnames.
The young chairman similarly believed that a company like Tata Motors couldn't continue to be a company where Tata Sons ruled the roost indefinitely. It was owned by the public as the ordinary public's share in Tata Motors was more than 60 per cent of the conpany. "How could Tata Sons dictate to Tata Motors to continue with the white elephant called the Nano?" Mistry must have often thought.
The young man also started to question the not so transparent manner in which investments in Air Asia and Vistara were made. As chairman he was responsible for the overall corporate governance and he did appear to be uncomfortable.
He was disturbing the apple cart of the retiree who was a strange combination of venture fund-like instincts married to the old school of never hiving off old, non-yielding assets.
So Ratan Tata struck and the head of Cyrus Mistry was chopped off, figuratively speaking.
Just as he had ousted Ajit Kerkar, Darbari Seth and Russi Mody back in the 1990s, he removed his successor in 2016. Kerkar was the father of the immensely profitable hospitality business, a business that was destroyed during Ratan Tata's era. Seth was the chemicals man which was thriving when he was made to quit. It may not be in robust health today. Russi Mody was the principal architect of the steel business which appears to be in doldrums today.
If it were not due to TCS, the entire Tata group may probably have folded up today.
Ratan Tata may have grown the Tata empire to a $100 billion business but did he leave a very robust profitable business for Mistry to run? Of course not, if one excludes the TCS financials.
So I call into question Ratan Tata's legacy. It is highly overrated and the revenue growth can be attributed to inflation which would make turnover double every 6-7 years anyway. The real success should be measured in terms of market share in the businesses where Tata operated. Did the market share of the Tatas increase in hospitality business or in trucking business or in steel business or in refrigerator business or in air conditioner business? Deafening silence!
Is Ratan Tata's squeaky clean image more of an exercise in public relations or is there more to the real Ratan Tata than it meets the eye? Was he, like all business honchos, also trying to curry favour with politicians in the usual Indian way?
Not so long ago Ratan Tata spoke about intolerance in society. But he preached what he practised not. A near octogenarian couldn't tolerate the business methodology of a younger man. And he connived in a most ugly fashion to evict his successor. He says he would stick around till his new successor arrives. Sure he would leave when his mirror image arrives. But he will keep a close watch after that, make no mistake.
The halo around Ratan Tata should have gone with the Radia tapes. But the PR machinery kept the radiant figure around his head aglow. It is time to let that halo go.
And about time Tata companies that are owned by the public and not by Tata Sons alone to be freed from the clutches of Tata Sons.
Sudhir Bisht is an author and a columnist based in New Delhi. He tweets at @sudhir_bisht.