'In many parts of the country, the empty nest-and-empty-nest egg story is a painful boom-to-bust saga.'
'Among the old and young, it is hitting pockets hard, in a linked chain of debt-laden banks, corrupt politicians and builder mafias and disastrous government policies,' says Sunil Sethi.
Illustration: Dominic Xavier/Rediff.com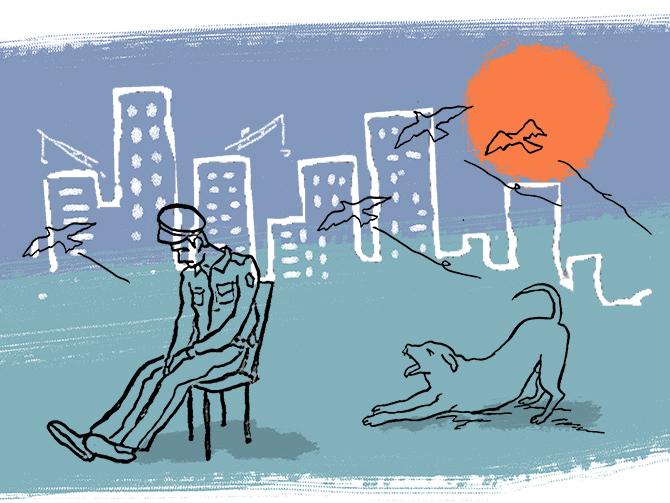 A civil servant I know, retired in Kolkata, has been sitting and biting his nails all the way up in Noida for many months now.
He is trying to sell a flat he purchased in the building boom a decade ago to buy a home for his twilight years.
Even at a 20% loss on his investment, he cannot find a buyer.
His daughter, a mid-career Noida resident, is also stuck.
Her husband and she took out a loan to buy a small flat, hoping the rental, once the mortgage was over, would supplement their income.
Months later, the flat is vacant.
They can't find a suitable tenant, even at a discount.
In many parts of the country, and glaringly so in the National Capital Region, the empty nest-and-empty-nest egg story is a painful boom-to-bust saga.
Inter-generationally, among the old and young, it is hitting pockets hard, in a linked chain of debt-laden banks, corrupt politicians and builder mafias and disastrous government policies -- from inflated land acquisition prices to heavy stamp duties, often higher than prevailing market rates.
According to some estimates, there may be as many as 200,000 housing units in Delhi-NCR either lagging years behind delivery dates, or languishing for want of buyers or tenants.
That figure is not exaggerated when the headline-grabbing Amrapali group alone has shortchanged about 42,000 homeowners and gone down with a debt of Rs 40 billion to banks and other institutions.
The Supreme Court sent three promoters of Amrapali to jail where they will join Sanjay Chandra of Unitech who has been in for more than a year.
Unitech is yet to deliver on 16,299 flats, for which buyers have paid nearly Rs 80 billion.
No two operators could be in greater contrast -- Mr Chandra, suave, public school and US-educated, to Amrapali's Amit Kumar Sharma from a hick town in Bihar who siphoned off buyers's money into other trades, from manufacturing consumer goods, making movies and lobbying frantically for a Rajya Sabha seat.
In Delhi itself there is no land to spare.
Galloping growth has centred on agricultural land in neighbouring Uttar Pradesh (Greater Noida halfway to Agra, and Ghaziabad, halfway to Meerut) or Haryana and Rajasthan (Gurgaon and beyond, halfway to Jaipur).
Both states have been powered by a succession of corrupt, land-controlling governments and developers, private and public.
Robert Vadra is one high-profile beneficiary of allegedly acquiring, and converting, parcels of agricultural land for commercial purposes in sweetheart deals with politicians and developers.
There are numerous other eye-watering examples of promoters and patrons cashing in during the suburban gold rush.
A well-known scam involves a powerful group of high-ranking civil servants's wives led by the silken spouse of a former Cabinet secretary.
Under the guise of a welfare society for disadvantaged women, this group acted as intermediary to dubious builders, and sold hundreds of flats to officials, lawyers and journalists.
When deliveries were delayed by years, the do-gooding ladies evaporated; pleas and threats to the builder also fell on deaf ears.
In one impasse, a few desperate journalists sought the urban development ministry's help.
A sympathetic official managed to track down the builder.
"Do you know what diverting the public's money is called?" he told him before the media group. "It's called fraud." The journalists managed to extract their flats (with penalties) but thousands of others have been "mugged and dumped" as one first-time home buyer put it.
Many are at mercy of intervention by courts.
The housing glut and aftereffects of demonetisation have only hastened the great property crash, but they are not the only reasons for the "price correction" in real estate, as some analysts politely call it.
There is very little by way of regulated town planning, infrastructure and construction standards.
Middle-class homeowners complain that the gap between what the builder promised and what they got is so great that it often requires a gutting and thorough refurb.
And across the social spectrum residents of Noida and Gurgaon are bitter about lack of basic amenities: Awful roads, non-existent parks, garbage disposal, water treatment plants or public security.
"One of the filthiest streets in Noida is where Minister of Culture Mahesh Sharma's family runs his chain of hospitals. Please come and see," a disgusted resident told me.
The view from the palatial penthouses in gated high rises -- all manicured lawns, glittering lobbies and rooftop lap pools -- may not be all that rosy. "We can't afford these for our staff," an international banker from Mumbai said.
"There are almost no decent, compact one or two-bedroom apartments available in these areas. Mumbai offers better per square foot value for money."
At the heart of the recent crisis between the Reserve Bank of India and government that has boiled over is a simple question: Who controls and regulates credit and money supply?
The government believes it is its birthright.
The main reason for the treacherous downturn in real estate is the same.
Governments control land, access to bank credit, and urban development as forms of political largesse.
Any wonder that the paying public's nest eggs are emptying fast?