'Much as I have been enjoying the anti-GST jokes on WhatsApp and also worrying about the economy in a tailspin in more serious moments, there is a tiny part of me that is thankful to Modi and Jaitley,' notes Keya Sarkar.
Illustration: Uttam Ghosh/Rediff.com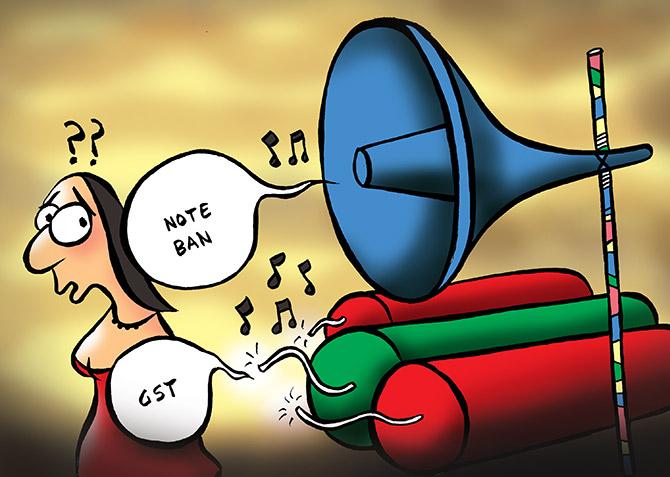 In West Bengal, television channels start a countdown for the Pujas about a month-and-a-half in advance.
The ticker at the corner of the screen tells you how many more days there are to go. Thanks to the Trinamool Congress regime, which has encouraged the Pujas as an industry, Durga Puja now comes much earlier than it did in my younger years.
While earlier the official Pujas began only a week after Mahalaya, now they actually start from Mahalaya itself.
So a five-day event has been masterfully turned into a 10-day one by Mamata Banerjee and all Bengalis bless her for it.
More new clothes, more restaurant hopping, more photo opportunities -- all help to hold up the state economy even if other investments are few and far between.
In small towns though, festivities make us anxious.
With the administration making no attempt to rein in blaring music, our enjoyment is indirectly proportional to the level of noise.
Strangely, our closest police station pioneered a senior citizens' helpline and they came around to ask for suggestions regarding the kind of help that would be useful. We had many suggestions.
On top of the list was, of course, enabling all citizens to call a number if they felt that the boom boxes were going to give them a heart attack.
I am certain the police constable, who was writing down suggestions in an exercise book as we spoke, didn't even bother to record this one.
Another major change, which the firecracker industry seems to have managed as dexterously as Banerjee to give their industry a boost, is to ensure that now firecrackers are not limited to Diwali.
They are now part of not only all Pujas but also Holi or Chhat and, of course, cricket matches.
This time, too, I braced myself for the firecrackers, which typically wake you up at 3.30 am. And then they go on till about 6 am.
That is when (I imagine in my mind's eye) the DJ wakes up to take over from those with the firecracker duty. And then we are subjected to his playlist.
Sometimes boring and sometimes eclectic, but always loud enough to choke conversation at home.
This time, too, I approached the Pujas with my usual trepidation. But the firecrackers didn't sound so loud or frequent.
The DJ didn't seem to be waking up early enough and his boom box sounded rather muted.
I thought this was the situation for the Puja committee or club which puts up a pandal nearest to our house.
But as we drove round, we realised that the noise level seemed to be far more restrained. In fact, even when we visited our milkman's vlllage to take part in a puja performed at his house no noise greeted us as we got off the car.
Last year, I remember the mikes were blaring You Are My Honey Bunny and I remember being hysterical at the incongruity of this music in a tiny Bengal village.
Curious, I started asking around. The consistent feedback from those working with me in my business or at home was that this year the Puja organisers seemed to be a little less generous.
Normally, the prasad or the bhog, which is distributed on all the days of the Pujas, this year was down to just two days or even one.
So obviously there was less money this time.
Much as I have been enjoying the anti-GST jokes on WhatsApp and also worrying about the economy in a tailspin in more serious moments, there is a tiny part of me that is thankful to Narendra Modi and Arun Jaitley.
Where the administration and police failed, just demonetisation and GST did the trick.