In the era of the fourth industrial revolution, mere tinkering with existing government procedures will not enhance India's economic competitiveness, says Pranjal Sharma.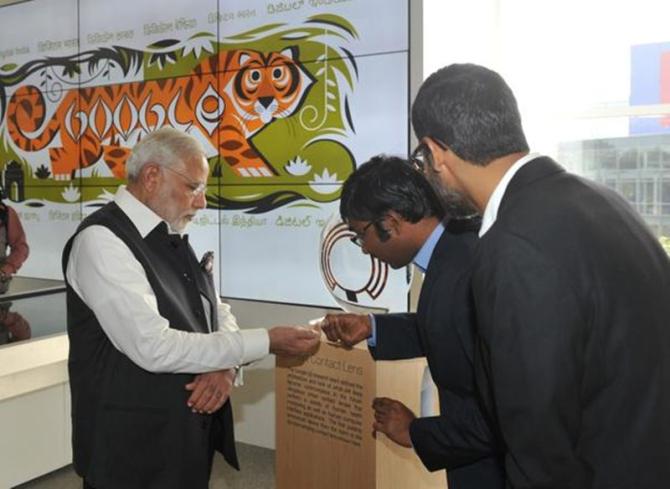 India's effort at improving competitiveness has been so far focused on ease of doing business.
The government has been making efforts to improve the environment for approvals while enhancing physical infrastructure.
In its second term, the NDA government, led by Prime Minister Narendra Modi, should now target improving India's technological competitiveness.
In the era of the fourth industrial revolution, mere tinkering with existing government procedures will not enhance its economic competitiveness.
A large part of national competitiveness derives from its ability to create and deploy technology for development, welfare and industrial activity.
According to the IMD Digital Competitiveness report, the ranking of India improved from 56 to 48 between 2014 and 2018.
Luasanne based business school IMD says, 'the objective of the digital competitiveness ranking is to assess the extent to which a country adopts and explores digital technologies leading to transformation in government practices, business models and society in general.'
The linkage between technological and overall competitiveness is very high.
Countries that tend to invest in their technological prowess improve their overall competitiveness.
While earlier, the investment was mostly in physical machines, factories and industrial products, now the shift is towards smart solutions.
In many ways, it is easier for developing countries to adopt artificial intelligence (AI)-based solutions that enhance productivity and efficiency for business and government.
"Countries that rank high in technological aspects tend to rank high in overall competitiveness," says Dr Jose Caballero, senior economist at IMD.
The IMD World Competitiveness Report 2019 bears out the importance of technological prowess.
Singapore ranks 1st in technological infrastructure while topping the overall ranking, the USA is 6th in technology, Sweden is 5th, Denmark is 7th and Switzerland is 8th.
They rank 3rd, 9th, 8th and 4th (respectively) in overall competitiveness.
India's overall level has improved marginally to 43 from 44 out of 63 countries ranked.
Within the sub-factors India ranks at the bottom at 63 for education.
However, it has better ranking in technological infrastructure (28) and scientific infrastructure (36).
This means that while India has the ability, it has not been able to develop its strengths because of weak foundations in education.
"Technological infrastructure is closely related to the scientific infrastructure and education.
"Therefore, to improve in the technological sub-factor, countries need to increase not only, for example, funding for technological development but also their total expenditure on R&D and education in general," Dr Caballero says.
"It is also necessary to develop high levels of knowledge transfer between companies and universities to ensure knowledge spill-overs, and to strengthen the quality of education."
AI is now an important medium for delivering government and business solutions.
The need for understanding data science has extended to nearly all professions in the world.
The Indian education systems is still divided by silos that prevent students from blending skills for specific objectives.
AI and data science are needed by doctors, engineers, but also town planners and tax officers.
Accountants and human resource managers need to understand data science as do dairy businesses and retail sales force.
An overhaul of the education system will allow students and professionals to go beyond the labels of science and arts studies.
In today's world everybody has to understand basic technology.
Improvement in ease of doing business is necessary for the country but not sufficient.
India has to benchmark itself on technology to assess its competitiveness.
Dr Caballero sums it up well, "Education is at the core of the technological and scientific infrastructures.
"To sustain India's technological and scientific performance, therefore, education needs to be strengthened."