'The cost of the lockdown so far is the loss of about 11 million jobs.'
'It is important that a fresh lockdown does not make this worse,' asserts Mahesh Vyas.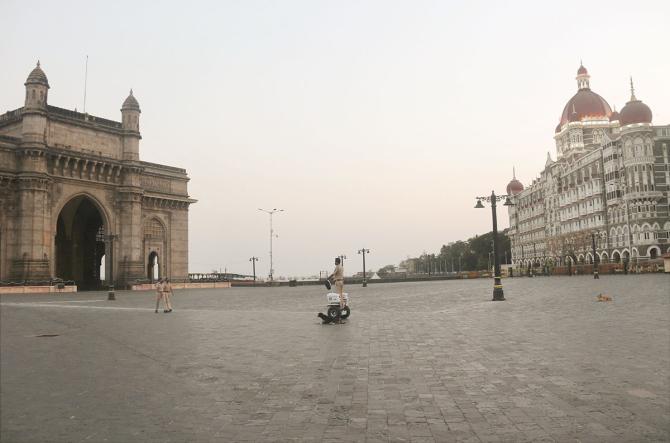 COVID-19 infections have been rising in recent times. In Maharashtra, the rise is alarming enough for the chief minister to warn of the possibility of a return to lockdown times.
However, unlike a year ago, there are several voices that suggest that a lockdown is not a solution. Science has delivered vaccines against the virus. Efficient administration of inoculations along with sustained discipline in maintaining physical distances is a better strategy than a draconian lockdown.
We read the chief minister's warning more as a prod towards this discipline than a real threat of a real lockdown. The livelihoods cost of a lockdown is too high.
Average household incomes fell by 9.2 per cent in March 2020 and by 27.9 per cent in April 2020 as a result of the lockdown. The impact of that brutal lockdown lingers.
Household incomes had not repaired to their pre-lockdown levels even in October 2020, the latest month for which income data is available. Average household income in October 2020 was 12 per cent lower than it was a year ago.
Given that employment in October 2020 was also lower than it was a year ago, aggregate household income was even lower than the average household income.
The skewed distribution of household incomes has helped create the pent-up demand driven recovery in the second and third quarters of fiscal 2020-2021.
However, as the 12 per cent fall in average household incomes show, this recovery does not reflect the condition of the average household in India.
Labour statistics are available till February 2021. The month marks nearly a year since the lockdown began. Before the national lockdown began on March 24, many states had already started partial lockdowns.
For example, the lockdown began on March 21, 2020 in Maharashtra. February 2021 therefore marks the last of the normal pre-lockdown months.
Nearly one year after the lockdown, in February 2021, employment was seven million lower than it was in February 2020. Employment in February 2020 was 406 million. This was down to 399 million in February 2020.
Qualitatively, employment in February 2021 is not the same as the employment in February 2020. The current employment is a lot less fruitful than it was a year ago.
Employment is not an end in itself. It is a means to a better life. Employment delivers a better life in at least two ways -- it provides gainful work and it provides income. Gainful work in employment is important.
It is belittling to be paid for staying at home with no work (apologies to proponents of universal basic income). It is also demeaning to be paid less for the same work (apologies to the proponents of market forces).
Employment that is belittling or demeaning is not a preferred option and therefore it is important to get to a better normal than where India seems to be headed.
We see a rise in employment with no work and a reduction in work hours conditional upon employment.
In a recent paper using Consumer Pyramids Household Survey record-level data, Arpit Gupta (New York University), Anup Malani, & Bartosz Woda (both, University of Chicago) show that male hours worked reduced by 1.5 hours on a base of 8 hours during the lockdown.
Earlier, we noticed that the proportion of people who worked zero hours in employment rose from about one per cent before the lockdown to 8 per cent during the lockdown.
Rosa Abraham, Amit Basole and Surbhi Kesar from the Azim Premji University found earlier from the same database that employment arrangements changed in the lockdown period such that people moved from wage employment to self-employment.
Evidently, mere employment status does not tell the entire story of the stress that households have gone through during the lockdown.
The churn within the labour markets towards employed-but-less-work and employed-but-less-income are significant. There are other problems of shifts within the labour markets.
While we estimate a loss of seven million jobs between February 2020 and February 2021, the loss in non-farm jobs is much higher.
Farm jobs are often just disguised unemployment. Productivity levels are low and they drop further when job losses in the non-farm sectors leads to an influx of additional labour. A recovery in employment needs to be seen in non-farm jobs.
However, the loss of jobs in non-farm sectors between February 2020 and February 2021 is of the order of 11.6 million.
Point-to-point comparisons can be misleading sometimes. So, we compare non-farm jobs in February 2021 against the average non-farm jobs during 2019-20 and find that the loss is of the order of 11 million.
The cost of the lockdown so far therefore is this loss of about 11 million jobs. The loss of 11 million jobs is almost equally spread between business persons, salaried employees and daily wage earners.
Employment in February 2021 compared to the average of 2019-2020 shows a loss of 3 million jobs among business persons, a loss of 3.8 million jobs among salaried employees and 4.2 million among daily wage earners. This is the loss of jobs because of the lockdown.
The recovery of jobs seems to have stopped two per cent short of its earlier level. And, recovery of non-farm jobs seems to have stopped four per cent short of its earlier level.
It is important that a fresh lockdown does not make this worse. Vaccines and masks are a better bet.
Mahesh Vyas is MD & CEO, CMIE Pvt Ltd.