'Loss of these urban salaried jobs is, therefore, likely to have a particularly debilitating impact on the economy, besides causing immediate hardship to middle-class households,' points out Mahesh Vyas.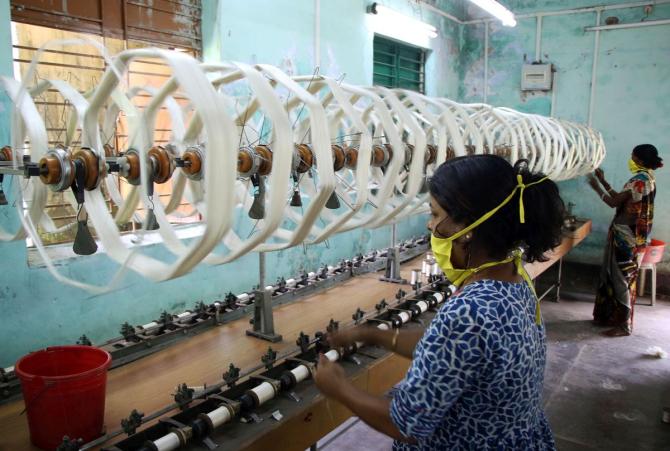 Salaried jobs have taken the biggest sustained hit in the current lockdown.
Salaried jobs are preferred forms of employment for most people. These jobs offer better terms of employment and also better wages.
Households with salaried jobs are better placed to build savings and plan a sustained improvement in their standard of living.
Such households are also better placed to borrow and service their borrowing because of the steady nature of their earnings.
While informal jobs have returned, and even increased after being hit by the lockdown, formal jobs have not.
Non-salaried forms of employment have increased from 317.6 million in 2019-2020 to 325.6 million in July 2020. This implies a growth of nearly 8 million jobs or an increase of 2.5 per cent in informal employment.
However, salaried jobs have declined by 18.9 million by the same comparison. Or, declined by a whopping 22 per cent during the lockdown.
Urban India has more salaried jobs than rural India.
Of the 86 million salaried jobs in India in 2019-2020, 58 per cent were in urban India and 42 per cent in rural India. Job losses are also in similar proportions.
Salaried jobs in urban India are likely to be the better paying jobs; they offer better terms of engagement and also are jobs that yield higher productivity compared to salaried jobs in rural India.
Loss of these urban salaried jobs is, therefore, likely to have a particularly debilitating impact on the economy, besides causing immediate hardship to middle-class households.
Financial statements of listed companies for the quarter ended June 2020 provide a few insights into salaried jobs.
Listed companies provide among the better salaried jobs.
Financial statements for the quarter ended June 2020 of 1,560 companies were available in CMIE's Prowess database. This is about a third of all companies that usually provide such data every quarter.
Usually, such data becomes available for all companies within 45 days of the end of the quarter, which would have been by August 15 for the June 2020 quarter. But, because of the COVID-19 crisis, companies have been allowed time till September 15 to publish their financial statements.
The wage bill of these 1,560 listed companies recorded a 2.9 per cent yoy increase in the June 2020 quarter. This is the lowest growth in the past 18 years.
What is revealing in this data is the stark differences between industries. A caveat before we discuss these is that these are still preliminary results and a better picture will emerge only after a month. Nevertheless, these results indicate a pattern that is worth noting even with these preliminary data.
Banks saw a 16.6 per cent increase in their wage bill and securities broking companies saw a 13.5 per cent increase in theirs but manufacturing companies saw a 7 per cent fall in their wage bill. The services sector was a mixed bag.
Within manufacturing, textiles has seen the biggest hit. Its wage bill fell by 29 per cent. Textiles is a labour-intensive industry and this sharp fall in the wage bill implies a very sharp fall in employment in the industry.
The same holds true for leather, another labour-intensive industry. This recorded a 22.5 per cent fall in its wage bill in the June 2020 quarter.
Automobile ancillaries reported a 21 per cent decline in its wage bill and the automobiles' wage bill was down by 18.6 per cent. These, again, are labour intensive.
In the services sectors, the wage bill of the tourism industry was down 30 per cent, hotels and restaurants down by 20.5 per cent, road transport down by 27.6 per cent, education by 28 per cent.
Wage bill of the real estate sector was down by 21 per cent.
The wage bill of the telecom sector increased by 10.7 per cent.
These are large inter-industry variations.
Although the net result shows up as a marginal increase in the wage bill, implying a very small loss of jobs, the data indicate big job losses in many industries in the first quarter of 2020-2021.
CPHS estimates show a loss of 17 million salaried jobs in the quarter.
We also know that this got worse in July.
Mahesh Vyas is MD and CEO, CMIE P Ltd.