Murugesh says he was doing fine in his own little world but his mother, who was the first manager of the first Indian women's cricket team, had other ideas.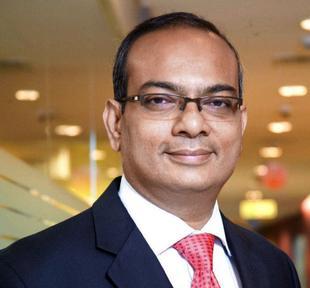 Keshav Murugesh, Group chief executive officer (CEO) of New York Stock Exchange(NYSE)-listed WNS Global Services, says he had never heard of the company till somebody from private equity giant Warburg Pincus called him to discuss a job opportunity.
The conversation didn't go anywhere as Murugesh was simply not interested and was well-entrenched in US-based Syntel, which had grown its headcount from 1,800 to 12,000 and revenues from $185 million to $410 million under him.
However, a few months later while he was on a business trip to Chicago, Warburg called again requesting a meeting at a hotel opposite the airport before Murugesh caught his flight back to India.
The meeting helped change his mind after he figured out that the gentleman from the private equity firm had flown into Chicago from the UK a short while ago just to meet him and was heading back to the airport to take the same plane back home.
The effort Warburg (which had acquired a controlling stake from British Airways in 2002) had put in to persuade him to come on board prompted Murugesh to read up a little more on WNS.
What he read wasn't comforting at all: WNS was up for sale till recently and the numbers were such a "horror story" that nobody, not even its investors, was willing to touch it.
But Murugesh says his "turnaround instincts" and willingness to test himself all over again took over as he dug deeper and found WNS was earlier a captive unit of British Airways and had an impressive roster of clients across the world. He signed up in 2010.
We are at the Point of View, the business lounge at ITC Grand Central, for a sandwich-and-coffee lunch and it's clear Murugesh is hardly interested in either of them. He dishes out figures that prove Warburg's persistence in getting him on board has paid off.
The 52-year-old CEO grins from ear to ear while recounting his experience when he rang the NYSE bell on July 20 this year for a dramatic appreciation in market capitalisation (around 50 per cent over the past six months to $1.4 billion).
The company now has 29,000-plus employees, 37 delivery locations and presence in 12 countries.
His strategy of moving away from the traditional people-based model to a more outcome-based one had other fallouts too: WNS is leading the business process management (BPM) industry in terms of revenue growth and its profitability on an adjustment operating margin is now the highest among its peers.
Among the many hats that Murugesh wears, the one which he is immensely proud of is chairmanship of industry body Nasscom's BPM Council whose focus is to carry forward the industry's rebranding process from BPO (business process outsourcing) to BPM.
The earlier selling point of 'your mess for less' — essentially taking on low-end commoditised work of international clientele — is passé, he says, adding that the public perception about the industry being all about dead-end jobs has to end.
The focus of the BPM industry now is to help clients with decision-making and become partners that can offer end-to-end seamless processes to help clients get competitive edge.
"We still hear terms like 'call centre', 'contact centre' being synonymous with the industry. While the contact centre business is key to outsourcing, it is just one part of the industry," says Murugesh.
The passion for being a change agent for the industry (he prefers being referred to as the chief sales executive for WNS and the rest of the industry) results in a rather long speech, the summary of which is as follows: The BPM industry today employs high-quality, specialised resources and drives excellence across various global brands and needs to be known for the innovations it enables and the thousands of patents it has created in the past decade.
The end-to-end transformation and client centrality in solutions will enable the BPM industry to touch $50 billion by 2020 from the present $26 billion as India is expected to be the 'nerve centre' or hub of the global BPM sourcing industry, developing best practices, as social media, enterprise mobility and other new technologies are set to drive demand for specialised services.
Murugesh is keen to explain how he has walked the talk at WNS, which became the first company in the BPM space to create an end-to-end vertically aligned structure and also created a model where revenue growth and headcount was delinked.
The company positioned senior domain experts with every client so that strategic discussions could take place.
"Today we have the ability to sit across the table with, say, the CFO (chief financial officer) of a global insurance company who knows he is dealing with highly specialised people in insurance. It's indeed a very high-cost model but we did it because we wanted to be his partner for many years," Murugesh says, adding that approach helps the insurance firm to associate WNS across broking, actuarial, retail, wholesale etc.
Not many people know that today's BPM industry gives specialists great career options.
For example, Murugesh says WNS employs 8,000 accountants, 3,000 research and analytics people that include statisticians, economics PhD holders, mathematicians and doctors.
That, however, does not preclude graduates from joining the industry as most industry players have robust programmes to train fresh graduates. For instance, WNS has domain universities (specialising in specific domains) in different areas to create specialists from generalists.
The hot cup of coffee finally prompts Murugesh to go down memory lane. He chose to become a chartered accountant simply because as a student in Visakhapatnam, he saw everyone being extra respectful to the treasurer of the club where his father was the secretary.
As a student, he dabbled with at least two businesses — the first was that of a sub-broker where his job was to go to all the club members and friends and advise them to buy shares of particular companies.
"Almost all of them listened to me as they knew I was doing CA and hence thought I knew a lot more than them," Murugesh says with a smile.
With the 1.5 per cent brokerage that he got, Murugesh invested in shares of ITC not because of any particular insights into the company but because he was highly impressed by the company's advertisement for its convertible bond issue.
The ad with a catchy caption — "Meet the new Bond in town" — had the picture of a man standing with a gun asking people to invest in the bonds.
Murugesh did. After the bonds were converted into shares, he started getting ITC's annual reports that he read copiously and underlined all the mistakes — a practice that played a critical role in later getting him a job at the Kolkata-based company.
Simultaneously, he started retailing generators made by Honda. The business picked up after he posted a series of small ads in local newspapers, saying, "Honda is selling like Bonda".
Bonda is the name of a must-have dish in a typical south Indian tiffin, and the ad worked magically for his audience — the rural folk in Andhra Pradesh.
Murugesh says he was doing fine in his own little world but his mother, who was the first manager of the first Indian women's cricket team, had other ideas.
It was she who spotted an ITC ad for a job in the company's internal audit department and applied on Murugesh's behalf — a decision that forced him to come out of his comfort zone.
He speaks fondly about his days at ITC from 1989 to 2002 where he rose to the position of general manager, Treasury group (investments and diversification group), which created businesses across financial services, agri-businesses and international trading.
He was also the first CFO of ITC Infotech, which he helped create.
Does he have enough time left to do anything else? Murugesh answers that with lightning speed: he still has enough time to travel with his family all over the world – for example, his next trip is to the North Pole.
Some people have the ability to squeeze in more in a 24-hour day!