Dissing rivals is not going to cut much ice with today's millennials who don't think what is "free" is any worse than what is paid for, says Ambi Parameswaran.
Illustration: Uttam Ghosh/Rediff.com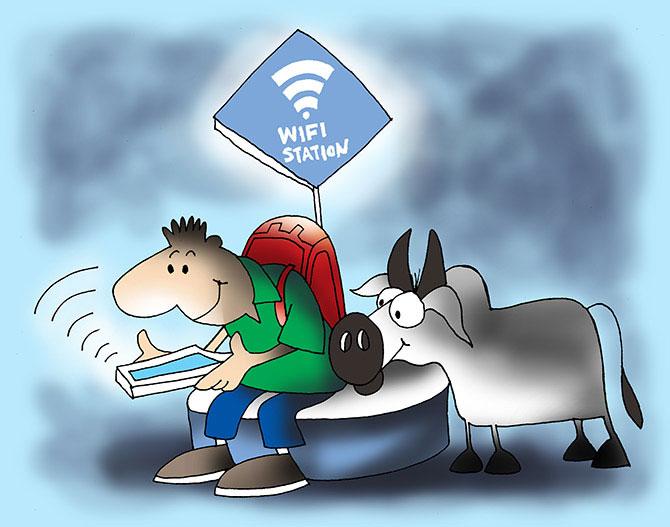 A friend pointed out a series of ads rolled out by Idea Cellular for their premium 4G service.
In one of the ads a young man parks his car in a "Free Parking" area only to see his car being towed away.
In another two girls are chatting and surfing, as young consumers are wont to these days. While the girl on Idea 4G has uninterrupted network, the girl on the "Free G" has a poor connection and gets ribbed by her "Premium 4G" friend.
Both ads end with the message "No Free G. Only Idea 4G".
The message was very clear. The brand was trying to sell its superior features by attacking a competitor who was giving "Free Network". But there was a question that lingered: Just because something is "free" is it always inferior to something that I paid for?
Let us turn to the book Free by Chris Anderson, who also wrote the eminently readable Long Tail.
Anderson explains that in the 21st century "free" is more than a promotional gimmick; it is essential to a company's future. The term "freemium" was coined to explain the process by which a brand offers a free version of a product only to get the consumer to upgrade to a premium variant later.
Coming to today's consumers, do they really think something "free" is really that inferior?
Maybe not, because most of the stuff they do on the net is free. Consumers also know that when something is "free" it may not really be "free".
So, they tolerate the Google Ad Word-sponsored ads. Not only do they tolerate sponsored ads on their Facebook page, they often share it with their friends (there are special tools that help a brand increase this "organic" sharing of ad messages).
They also know that if they made a trip to Vijayawada by SpiceJet, they are bound to get reminded by SpiceJet on their Facebook page to fly SpiceJet again. They at times wonder how it happened, but they tolerate it, without a murmur.
So on many levels attacking a competitor just because they are "free" may not cut ice with consumers. Consumers know what is "free" today may not be "free" tomorrow (sampling is an age-old marketing device).
They also know that something "free" today remains "free" tomorrow, they will have to give something in return, just as they've done with Google and Facebook.
I was also a little surprised that the brand, which has done some stellar ads through their long-serving agency partner, didn't pick something from what the agency had done for another upstart brand two decades ago.
I am referring to the Captain Cook Salt ad. Captain Cook Salt featured a satisfied consumer of their competitor (who was unnamed as in this case), and she was taken through a demo of Captain Cook Salt's free-flow benefits, and was made to eat humble pie, with a touch of excess salt.
That ad too didn't name the rival, but it dissed the competitor so elegantly that it will go down as one of the best "competitive" ads made in India.
The Captain Cook commercial used a tried and tested method of advertising, a product demo but dialled it up by using an interesting disbelieving character to tell the story.
This brings me back to the Idea 4G commercials.
They did not have to look far for inspiration. And they could have made the story a lot more charming and much less ham-handed. Instead of dissing all that is "free" they could have delved deeper to build an interesting story around their better service, if it is really that better.
Instead they seem to have taken a short-cut to say all that is "free" is inferior. That is not going to cut much ice with today's millennials who don't think what is "free" is any worse than what is paid for.