Given Indian corporates's high indebtedness, new credit will be used for servicing loans rather than building factories.
This is setting us up for more companies on life support and more zombie banks, warns Rahul Jacob.
Illustration: Uttam Ghosh/Rediff.com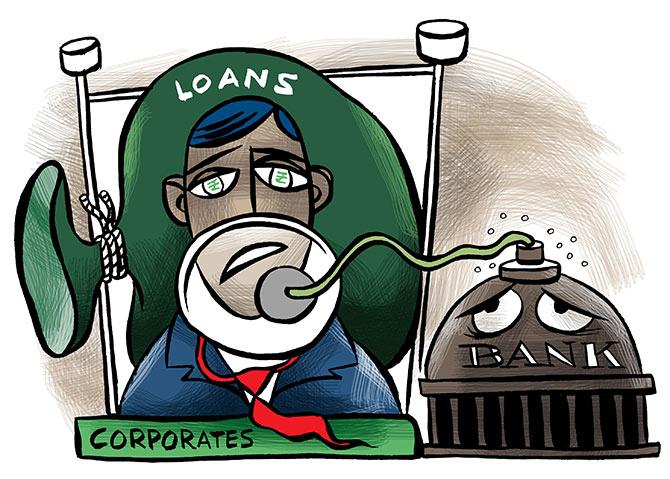 The old line that it was the job of the Federal Reserve 'to take away the punch bowl just as the party gets going' needs to be reworked.
The metaphor referred to the large silver bowls filled with juice, lemonade, fruit often spiked with alcohol that were so popular at parties in the 1950s and 1960s.
But what it meant is that it was the job of the central bank governor to raise interest rates when the economy was getting giddily overheated by way of retail prices or asset bubbles.
Today, it is the central bank governor who serves as a punching bag for politicians.
In late November, Donald J Trump told the Washington Post, 'I'm not even a little bit happy with my selection of Jay (Powell, the US Federal Reserve chairman)'.
Like Prime Minister Narendra Damodardas Modi's government, Trump chose not to ask a well-regarded Fed governor (Janet Yellen) to continue even though she had been in the post for just four years.
Modi is a somewhat more sophisticated politician than Trump.
His tweets are as saccharine sweet as he is sarcastic about the Opposition.
'He (then RBI governor Urjit R Patel) steered the banking system from chaos to order and ensured discipline,' the prime minister tweeted on December 11 (the evening Dr Patel resigned as RBI governor) even though the only chaos was in the aftermath of demonetisation.
In Britain, Tory politician Jacob Rees-Mogg described Mark Carney as being 'a failed second-tier Canadian politician'.
Never mind that Bank of England Governor Carney never was a politician.
Carney's crime? He warned that Britain would face economic decline if it crashed out of the European Union without a deal.
So it goes in the age of demagoguery.
Technical expertise is dismissed as just plain wrong.
Majoritarian hyper-nationalist leaders around the world do not shrink from rewriting the laws of economics.
If you see yourself as a de facto king, who cares what Keynes thought?
In Turkey, President Recep Tayyip Erdogan attacked the central bank in September, prompting the lira to decline.
Erdogan said interest rate hikes only lead to higher inflation.
In the absence of economic theory, we have in the post-truth era 'alternative facts'.
India's version is the new back series data for GDP whose flattering growth numbers for the Modi administration's four years are implausibly at odds with almost every other indicator, whether exports or car sales.
Perhaps this government uses old-fashioned abacuses instead of computers.
Being blindfolded on relative GDP growth rates is a child's game in comparison to not knowing when a bank is insolvent.
Watch this space for new leniency and perhaps new definitions of non-performing loans.
One of the many areas of contention between the government and the Reserve Bank of India after the IL&FS default has been whether there is adequate support for non-bank financial institutions.
There has been plenty.
Viral Acharya's confirmation that the RBI's open market operations in this financial year had exceeded Rs 1.36 trillion, and that it would buy another Rs 400 bn last December, immediately pushed down yields.
NBFCs have continued with business as complacently as usual as if IL&FS never happened.
Some of the weaker NBFCs issued bonds where the pricing differential with blue-chip HDFC was pretty much as it was before.
Government-owned financial institutions are thought to have been key supportive buyers.
As of November 23, credit to the commercial sector is growing at 15%, one-and-a-half times the rate of nominal GDP.
Given the high indebtedness of Indian corporates, much of this will be used for servicing loans rather than building factories.
This is setting us up for more companies on life support and more zombie banks.
The RBI's one-day overdue rule may be too rigid, but delaying meeting capital adequacy ratios, relaxing lending restrictions and ignoring the RBI's push to put State-owned banks under independent management is not sound policy.
By some estimates, four additional government-owned banks ought to be subject to lending restrictions.
Urjit Patel may have been a poor communicator, but not so long ago we were told by highly placed sources that Raghuram Rajan talked too much.
Both were guilty of pushing for reform.
Instead, we now have the speeches of leading Modi government ideologue and RBI board member Swaminathan Gurumurthy to decode.
Among the many segues in his rambling Vivekananda International Foundation speech last year was that 'the entire expertise of the world failed' to understand Trump's economic policies, prudential banking norms should apply to international banks and heavy import restrictions on capital goods are necessary.
His original thinking is impossible to summarise -- or even understand.
I am an agnostic, but reading and re-reading Gurumurthy's speech made me discover the need for prayer.
God help our economy.