If everyone had decent meaningful jobs, the rally maidans would be largely empty and, save for the Akhara babas and curious foreigners and the devout senior citizens, not very many would spare time for the Kumbh Mela, says Mahesh Vyas.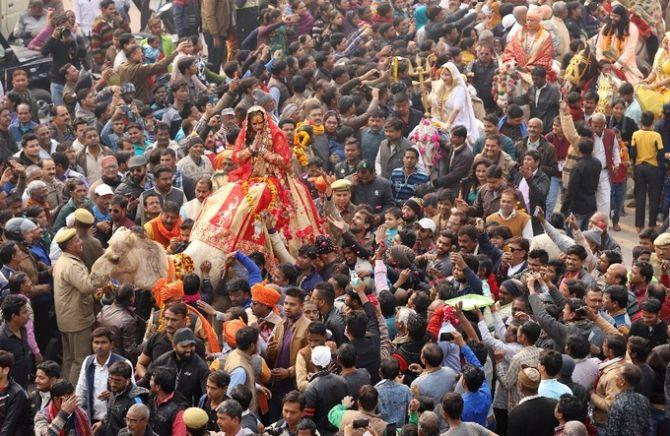 Fifteen or twenty million devotees took a dip in the Ganga in Prayagraj on Makar Sankranti which fell on Tuesday, January 15.
Assuming that these are not kids, and also assuming that one-third of these were women and elders, the number implies that about 2.5 per cent of India's labour force was on the banks of the Ganga taking a holy dip.
Estimates suggest that 150 million would visit Prayagraj for the Kumbh mela over the 48 days from January 15 through March 4.
This could imply that about a quarter of India's labour force would be visiting Prayagraj over about 10 weeks.
Less than six months ago we witnessed 30 million Kanwariyas trek to the Himalayas to fetch Ganga water for their local Shiv temples.
Now, many more have descended into the plains to take a dip in the Ganga, ostensibly to wash away their sins.
Estimates vary wildly from one million to three million on the number of people who attended the political rally in Kolkata on January 19.
It is amazing that millions of people move in different directions for different purposes in India all within a week.
This is only possible if the unemployment rate is high.
Melas and rallies are an interesting barometer of unemployment.
The larger the melas and rallies, the higher we expect the unemployment rate to be.
We don't measure unemployment by counting the numbers that attend these melas and rallies or, the number of people who apply for a government job.
But, their numbers do reflect the same problem -- the problem of unemployment.
It is much easier to mobilise large numbers of people for religious or political events if the unemployment rate is high compared to times when unemployment is low.
If everyone had decent meaningful jobs, the rally maidans would be largely empty and, save for the Akhara babas and curious foreigners and the devout senior citizens, not very many would spare time for the Kumbh.
The unemployment rate has averaged 7.3 per cent in recent times.
Urban unemployment has been rising sharply but rural unemployment has been declining equally sharply.
The worrying factor is the sharp rise in the urban unemployment rate. This had risen to a two-year high of 7.6 per cent in December 2018.
By January 20, this is estimated to have scaled much higher at 8.7 per cent.
This is a rather sharp increase of over 100 basis points in just 20 days.
In the past, we have not seen such a sharp increase in the unemployment rate in urban India even over a month. Such a sharp increase in 20 days is, therefore, a bit alarming.
While urban India seems to be seeing a sudden increase in unemployment during January, urban Uttar Pradesh has been witnessing high unemployment rate for several months now.
Urban unemployment rate in the state was at a 25-month high at 11.9 per cent in December 2018.
In the past six months, urban unemployment rate has averaged at 10 per cent.
The Kumbh Mela itself could have provided substantial employment to locals in preparation for the mela and also to participate in the commerce associated with the event.
It is therefore likely that the current 11.9 per cent unemployment rate could rise once the effect of the Kumbh wears out in March or April.
Unemployment in rural India has dropped -- from 7.25 per cent in December 2018 to 6.5 per cent by January 20.
Prices of agricultural commodities have risen in recent weeks and farmers are possibly making the best of the situation given that the rabi crop is not doing very well.
Farmers hope to make the best of the rise in prices by maximising output from a not-very promising crop.
Uttar Pradesh saw a big jump in rural unemployment in December.
The rate doubled from 5.4 per cent in November 2018 to 10.8 per cent in December.
Farmlands around Prayagraj have been temporarily acquired to accommodate a temporary township. Farmers will be compensated for this.
In the meanwhile, the farmers could be unemployed although there would be plenty of Kumbh Mela associated employment opportunities.
Reports from the state suggest that the December rise in unemployment could be a temporary phenomenon caused by the end of the rabi sowing season.
Rabi sowing was up by 0.8 per cent in Uttar Pradesh till end-December.
Possibly, rural unemployment in Uttar Pradesh could decline in the coming months.
But urban UP may continue to see high unemployment rates for some time.
Finally, hopefully, some part of the vast infrastructural arrangements made for the Kumbh Mela would survive and help Prayagraj become a city of better facilities and this in turn may help in alleviating the state's unemployment problems.
Photograph: Jitendra Prakash/Reuters.
Mahesh Vyas is managing director and CEO, Centre for Monitoring Indian Economy P Ltd.